The Man Who Changed The Way We Eat Pinoy Snacks
4 min read
Rey Lapid, the innovator behind R. Lapid's Chicharon & Barbeque, gives us a few vital success tips to munch on.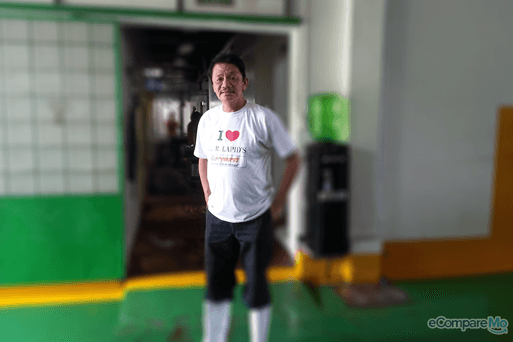 We don't need elaborate data to prove that crispy pork rind, known in these parts as chicharon, ranks high up on the list of all-time Filipino snack favorites. Just take a peek at your neighbor's pulutan table, or any local street vendor's food items on display.
For such a widely produced merienda staple, it's rare for a brand to actually become synonymous with the product. How Rey Lapid of R. Lapid's Chicharon & Barbeque was able to do just that required a lot of careful studying, making tough calls, and, yes, even popping the pork skin himself.
'Always ask yourself what's the best thing to do'
Twelve-year-old Rey started selling fresh pork with his parents in Quinta Market in Quiapo, Manila. Back then, a lot of customers would request to have the skin sliced off the meat. Not wanting a sizeable volume of it go to waste, he and his father started gathering the leftovers, cooked them at home, and served them at the dinner table. It was then that the idea hit the family: Why not turn all these excesses into extra income?
And so, in 1974, R. Lapid's was born.
More than 50 years later, R. Lapid's has remained the market leader in the chicharon industry, with close to 100 outlets in the country and 200 employees working in their plant in Valenzuela. But like most successful entrepreneurs, Lapid was not exempt from committing a few mistakes and went through difficult times as he was trying to cultivate his venture. "Ang dami kong ups and downs," the 63-year-old shares with eComparemo. "Ang lagi kong sinasabi sa sarili ko, 'Wag kang susuko. Ikaw ang nag-isip nyan.'"
Despite a number of challenges, he focused on staying positive and made it a point to be constructive in dealing with bad business situations. His advice: "Always ask yourself what's the best thing to do."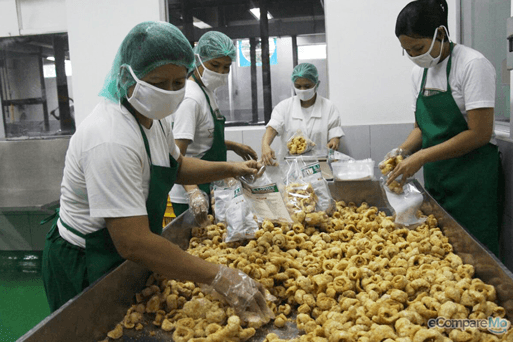 'There's always a better way'
In the beginning, Lapid improvised on the whole process. Every day he would wake up at 4 a.m. to gather raw materials. He would pop the pork skin himself, do the packaging himself, and ride the bus to Cartimar to deliver the stocks himself. His method of making the chicharon, however, came with a more personal touch: He would dip his own finger in the oil to measure the right temperature. He would also manually measure the weight of each packet by hands.
The Chicharon King takes pride in being observant, which he says is his way to spark more ideas on how he could improve on conventional ways. "Mahilig ako sa market studies," he shares. "I always assess my people: tama ba ang ginagawa niya o meron pang mas maganda?"
When asked what the real keys to success are, Lapid namechecks imagination and strategizing. A chess hobbyist, he says he always thinks of the best moves in business.  "There's always a better way," he stresses.
For instance, back in the day when a good processing system for pork skin was still inexistent, Lapid would be met with persistent sanitary concerns, like exposure to insects and pollution. He resolved these issues by ensuring that the whole process was clean and distinct. He has also made it a point to only deliver quality products imported from Korea, Canada, and the US.
Lapid himself innovates the business through careful experimenting with different variants. This way, he keeps the lineup fresh. True to R. Lapid's "Laging Bagong Luto" slogan, he reinvented a unique kind of French fries and made it into a ready-to-pop chicharon. He crafted his own vinegar formula that compliments not just R. Lapid's products but also most viands as well. The company is also famous for its Giant Chicharon—a meter-long pork skin goodness that could last one a whole night of serious crunch time.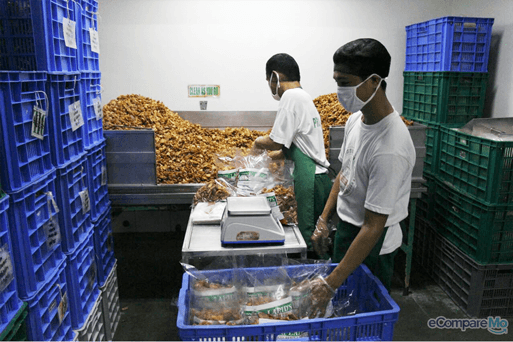 'Stay positive and focused'
Lapid admits that business growth wouldn't have been possible without the collaborative efforts of R. Lapid's dedicated employees. He maintains a good working relationship with his workforce by extending extra care for them. For one, the company provides free shuttle service and lodging for its employees. Even Lapid, the president, does not exclude himself from the workload. He puts on a uniform and works in the factory with his people.
Rey Lapid encourages other entrepreneurs to trust themselves, first and foremost. For him, one can neither conduct a business nor earn the trust of a partner without self-confidence and faith. He also stresses the significance of staying positive and focused. If you are happy, he says, you will keep making your customers happy too. DB