The Best Online Payment Providers For Small And Big Businesses: 2018 Update
4 min read
Over the years, payment gateways in the Philippines have made running a business so much easier. As the market continues to grow, both small and big business owners now have more online payment options to offer their customers.
The number of credit card users in the Philippines is growing at a faster rate, due in part to online financial marketplaces providing one-stop product comparison and online application with a touch of the finger. With this, more internet and physical store owners, commonly called 'Merchants', find themselves adapting to the growing demand of accepting online payments.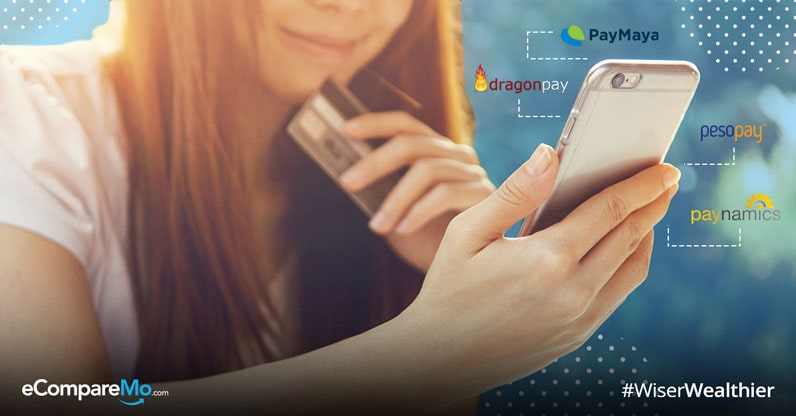 Businesses getting started with online payments look for a payment gateway with wide-ranging, easy-to-integrate payment options, and reasonable rates.
Below is a list of the best online payment providers as of 2018 that offer merchant solutions both for online and physical stores. They enable merchants to expand their market reach, consolidate transactions and accountability records, and provide better customer experience.
Online payment platforms
PayMaya Checkout enables businesses to accept credit, debit, and prepaid card payments. The integration comes with a dashboard showing the summary of sales and graphs for transaction reports.
They are PCI-DSS compliant, with a 3D Secure feature enabled for MasterCard SecureCode and Verified by Visa.
Mobile point-of-sale is also an available option for those who want to do business via a smartphone or tablet for easier and more convenient online payments.
This payment platform accepts Mastercard, Visa, and JCB credit, debit, and prepaid cards in Philippine peso currency.
AltPayNet is a payment service provider that offers a white-label platform for both international and local clients. They have grown to provide original and innovative solutions in payments since the company's foundation in 2015.
Their unique industry-specific payment products provide timely merchant solutions:
e-Snapped – e-Invoicing + ePayments
Kloudhouse -for real estate property management and payments
Drop and Snap Instant Online Checkout – for business who don't have a website yet
Pago de Caridad – an online crowdfunding platform for charities and other non-profit organizations
Hotel Reservation Platform – Hospitality Management merchant solutions
With AltPayNet's connections to the leading banks and financial institutions worldwide, integration and merchant account application is made easier for businesses wherever they are.
And for small and medium-sized enterprises (SMEs) , AltPayNet has conventional payment methods such as credit cards, e-wallets, and online transfer. They are also one of the few payment gateways in the country offering Bitcoin acceptance.
PesoPay
A member of Hong Kong's AsiaPay Group, they set up business in the country in 2006. PesoPay is one of the leading online payment gateway systems in the Philippines. Not limited to easy-to-integrate credit card payments platform, they also offer ATM debit card payments, over-the-counter through Bayad Centers and ECPay, via bank partners BDO and RCBC, and e-wallets with GCash and Smart Money.
They provide secure online payment solutions serving both small and medium-sized enterprises (SMEs) and large businesses.
Integration includes the 3D Secure feature for Verified by Visa, MasterCard SecureCode, J/Secure for JCB, and SafeKey for American Express transactions.
PesoPay charges merchants an annual set-up fee, with a commission for every transaction, as well as chargeback fees.
iPay88
iPay88 is one of the leading payment gateway providers in Southeast Asia with offices in Indonesia, Thailand, Singapore, and the Philippines.
Doing business in the country since 2012, they've grown from mere e-commerce to integrated mobile services. Merchants can choose from their various forms of payments such as credit card, ATM, Bancnet, GCash, Paypal, and over-the-counter via Dragonpay. They also have e-mail invoice options, recurring payment options, and Interactive Voice Response (IVR) for over the phone payments.
Paynamics
Founded by entrepreneurs "with a business background from a global payment solutions company," Payanamics provides online services to Filipino and Southeast Asian markets from web payment, e-mail billing, and virtual terminal, among others. Even startups who are not yet ready to accept credit cards may opt for cash payment options, via over the counter payments, and 7 Eleven branches.
Mobile payment options are also available, with "tokenization" or one-click checkout for a convenient customer experience.
Third-Party Cash Payments
CheckMeOut
New businesses with no e-commerce websites may start accepting payments using CheckMeOut, a pick-up and delivery service and multi-payment platform that makes accepting payments easier with more flexible payment options.
Unlike other online payment services, CheckMeOut require no monthly fees and charge a P25 or 3.5% transaction fee for Cash on Delivery whichever is higher, and P25 charge per transaction for Online Banking via their partner banks.
Dragonpay
Another popular online payment channel, Dragonpay offers online banking, over-the-counter payment through banks, and OTC solutions through non-bank partners such as PNB Remit for payments abroad specifically in Europe, North America, and Asia.
Other physical payment centers are available nationwide, such as Cebuana Lhuillier and M. Lhuillier branches, Bayad Centers, SM Payment Counters, LBC branches, and Robinsons Department stores.
They have fixed fees for every transaction. P10 for online banking, P15 for OTC banking, and P20 for OTC on non-bank channels.
7-Connect
With thousands of branches all over the Philippines, The Philippine Seven Corporation came up with an alternative payment solution for merchants. Customers can conveniently go to the nearest 7-eleven branch to pay for their transactions through the 7-Connect virtual system.
Their merchants include Air Asia, Metrodeal, and Cash Cash Pinoy. Customers only need to take note of the 7-Connect Reference Number and the exact amount to be paid. There are no service charges for customers in using 7-Connect. As of the moment, they are only accepting cash payments in all 7-Eleven locations.
Merchants and customers will be updated real-time as soon as the payment is made.