Who Is Dennis Uy, The Guy Behind The Country's Third Telco?
5 min read
The reality show "Philippines' Next Top Telco" is coming to a close and right now, there is one player ahead of the competition.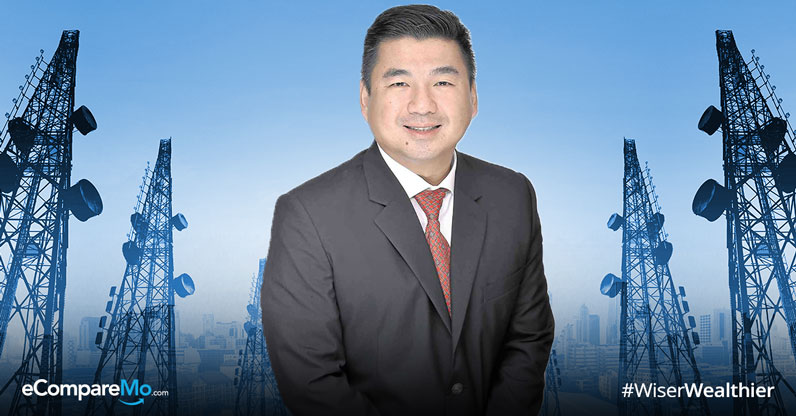 After three companies submitted their documentary requirements to the government, only one company met the requirements and was declared the provisional winner: Mislatel.
What is Mislatel?
Mislatel will be a consortium of different companies and the building blocks of the third potential telco.
It's comprised by the following companies:
Mindanao Islamic Telephone Company
Udenna Corporation
Chelsea Logistics
China Telecom
China Telecom is a state-owned communications company in, well, China. However, little is known about Mindanao Islamic Telephone Company.
The other companies that are part of the consortium are Udenna Corporation and Chelsea Logistics Holdings —and there is one guy behind these empires.
His name is Dennis Uy and he's on a meteoric rise to become one of the biggest and most successful businessmen in the country.
The President himself lauded Uy as a person who "exemplifies the resilience of the Filipino entrepreneurial spirit." His interests are diversified across numerous sectors and now he's out to get the lion's share in the telecom industry.
Just who exactly is Dennis Uy? Let's talk about his business activities.
(Read: How Will A Third Telco In The Philippines Affect Your Mobile Bills?)
The rising phoenix
The public may have just recently heard of his name, but Dennis Uy's empire has been in the making for a while now. Like most stories, his story must start in the beginning, going all the way to his roots in Davao .
In 1998, former President Fidel Ramos signed the Republic Act No. 8479, or more commonly known as the Oil Deregulation Law to liberalize the energy sector and to address the deficit caused by the oil price stabilization fund by the government. Since then, no new oil company made it to the major playing field because according to EPUS Global Energy, "even new oil industry players get their supply from the giants."
So that was the case until Dennis Uy came into the scene.
In 2002, a young Dennis Uy opened a petroleum company that would eventually be renamed to Phoenix Petroleum . The company went public in 2007, the first oil company to do so since the Oil Deregulation Law.
Since going public, the company has continued their expansion efforts, expanding its serviced areas beyond its home court. It even has a basketball team, the Phoenix Fuel Masters and a convenience store chain, FamilyMart.
In 2018, the company sold its petrochemical logistics and oil terminal ventures to its parent company, Udenna.
As of writing, Phoenix's market capitalization is around P15.4 billion .
The parents pay rents
Talking about Phoenix Petroleum is just scratching the surface of Uy's story.
Beyond Phoenix, Uy's success is tied to the parent company, Udenna . Registered a few months before Phoenix became officially a company, Udenna serves as the holding company for all of Uy's ventures, including Chelsea Logistics.
Under Udenna's highly diversified portfolio are the following subsidiaries:
Phoenix Petroleum
Chelsea Logistics Holding
Udenna Development Corporation
Phoenix Petroterminals and Industries
Udenna Investments
Udenna Management and Resources
Enderun Colleges
2GO
H2O Ventures
This October, Udenna is set to strike a deal with ISM Communications to make a share-swap deal. To absorb the Uy-led ventures, Udenna will issue two billion Udenna shares to ISM, making it wholly owned by the latter . In exchange, ISM will be transformed into Udenna Holdings and it will issue 24.05 billion shares to people with a stake in Udenna. This will bolster ISM's capital stock from P2.8 billion to P75 billion easily.
If deal pushes through this December, Uy's parent company will finally become a publicly listed company , just in time should it be declared that Mislatel will be the country's third telco. If both of Uy's companies are publicly traded, then it will become a big advantage to Mislatel's big for the lion's share.
What will the benefits that can be potentially reaped by Mislatel with this? For starters, having not one but two publicly traded companies in its conglomerate will secure its credibility with the public , which can further translate to sales and subscriptions once its network goes live.
In addition to brand equity and powerful advertising, they can also have the power to raise additional funds through stock issuance, both directly and indirectly. Should they issue more shares to the public, they can further boost their market capitalization and having a bearish trading can spur its prices upward. Meanwhile, they can secure loans from financial institutions because they have the leverage to do so. All in all, this is a win-win if Mislatel secures the spot for the third telco.
(Read: NTC Lowers Interconnection Fees for SMS And Voice Calls)
The timeline of a buying spree
Since President Duterte's ascent to the highest position in the country, Uy's success has been on a sizzle.
The Nikkei Asian Review even described his empire's growth as due to the Davao-based entrepreneur riding "the Philippine president's coattails to success. "
Since he unveiled his plans to acquire ISM Communications through a share-swap deal, details of his shopping spree have been made public.
Some of the spending Uy made since 2016 were the following:
Global Gateway Logistics City in Pampanga for P50.2 billion
Enderun Colleges for P2.2 billion
Starlite Ferries for P1.68
FamilyMart for an undisclosed amount
A 39.71 percent stake in 2GO Group through Chelsea Logistics
In a report by the Philippine Daily Inquirer, Udenna is reported to have acquired P85.8 billion in debt by the end of 2017. Currently, Udenna owed P3.74 billion in finance charges, which is almost double of its income last year at P1.88 billion.
Another deal the company bagged the $300-million deal in Cebu to construct a gaming hub in a beachfront property in Lapu-Lapu City.
Banks who supplied the holding company with the capital to do its binge shopping were BDO Unibank, Philippine National Bank, and the Bank of China, one of the foreign financial entities courted by Duterte in its overseas trips to China.
Uy's aggressiveness doesn't stop there, with its eyes trained on having more stakes in the infrastructure sector. According to reports, the company submitted an unsolicited offer to put up a monorail system in Davao . Meanwhile, Chelsea Logistics received tailwind as the original proponent status has been approved to pour P49 billion in the rehabilitation of the Davao International Airport.
Other Sources: Entrepreneur, The Philippine Star