A Complete Guide To TESDA Courses And Programs
5 min read
We've all heard of at least one person in our life who said that they will take a course in TESDA before applying for a specific job because they don't have enough experience for that field, right?
Sadly, the truth it that the employment status of Filipinos in their own country is decreasing because the demand for skilled workers is becoming more and more prevalent.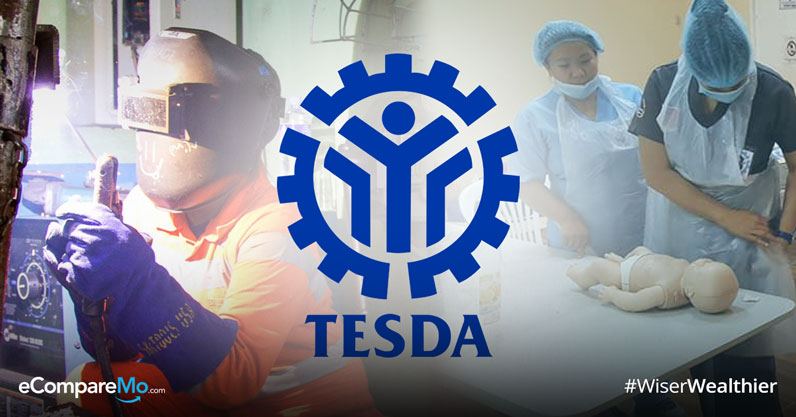 Not everyone is able to get a job, often due to lack of education (not a degree holder) or not being able to meet the standard of a specific company (must have at least three to five years of experience in the workplace). Training, extra schooling or even seminars are not cheap.
So how will the unemployed gain experience that will pass the companies standards? This is where TESDA comes in.
What is TESDA?
TESDA is an abbreviation of the Technical Education and Skills Development Authority. It is a government agency that manages and supervises technical education and skills development (TESD) in the Philippines.
TESDA basically helps Filipinos learn or even upgrade their technical and vocational skills in different areas like Culinary Arts, Information Technology, Healthcare, Construction or even community development services like Massage Therapy.
Are TESDA courses free?
The courses they offer online are absolutely FREE. You will only receive a certificate of completion once you have finished the course. If you aspire to earn a National Certificate, you should take the face-to-face assessment test given at the TESDA assessment center near your place.
For the courses offline, there are fees to be paid. The price would depend on the course that you chose to take, but rest assured that it will not cost you a ton of pesos like when you enrol in a university.
For price reference, TESDA released a list of assessment fees that can be found here.
(Read: Tuition Fee Guide: 2019 Cost Of College Education In The Philippines)
What are the requirements for a TESDA course?
Must be at least 18 years old
Completed the National Career Assessment Examination (NCAE)
If you are applying for an assessment and certification, visit their website for further instructions.
What are the short courses offered by training TESDA centers?
Here are just a few of the short courses that TESDA offers:
Call Center Training
Building and Construction related courses
Consumer Electronics Training Schools
Welding Technology Training Schools
Bartender Training Schools
Automotive Training Schools
Caregiver Training Schools
Butcher / Slaughtering Training Schools
Foreign Language Course
To find out more about all the short courses available at your TESDA center, click this link.
Where are the TESDA offices?
There are six offices in the National Capital Region and several more in the provinces.
Here is a listing of the offices in Metro Manila:
1. TESDA Caloocan, Malabon, Navotas, Valenzuela (CaMaNaVa) District Office
Address: 5/F Victory Mall, Bonifacio Monument, Caloocan City Tel. Nos. : 217-6132 / 921-4250 Fax Nos. : 217-6132 / 921-4250 Email: NCR.camanava@tesda.gov.ph
2. TESDA Quezon City District Office Quezon City
Address: Bituan St., Cor. Bayani Rd., Brgy. Doña Imelda G. Araneta Ave., Quezon City Tel. Nos.: 711-0244 Fax Nos.: 711-0302 Email:NCR.quezoncity@tesda.gov.ph
3. TESDA Manila District Office
Address: 1314 Mahatma Gandhi St., Belen St., Paco Manila Tel. Nos.: 925-8935 Fax No.: 925-8935 Email: NCR.manila@tesda.gov.ph
4. TESDA Pasig, Mandaluyong, Marikina, San Juan (PaMaMariSan) District Office
Address: 2nd Floor, NTTA Building, MPC Compound, Chayungco St, Sta Elena, Marikina City Tel. Nos.: 570-1315 / 570-9893 Fax No.: 570-1315 / 570-9893 Email: NCR.pamamarisan@tesda.gov.ph
5. TESDA Muntinlupa, Parañaque, Las Piñas, Taguig, Pateros (MuntiParLas-TaPat) District Office
Address: TESDA-NCR Bldg. TESDA Complex Gate 2 East Service Rd. South Superhighway Tel. Nos.: 886-5306 Email: NCR.muntiparlastapat@tesda.gov.ph
6. TESDA Pasay, Makati District Office
Address: Gate 2, TESDA Complex, East Service Road, South Superhighway, Taguig City Tel. No: 810-5814 Fax No.: 810-5814 Email: NCR.pasmak@tesda.gov.ph
(Read: Top 50 Online Jobs in the Philippines: Your Ultimate Online Career Guide)
How do you enroll in their ONLINE courses?
1. Go to this website: https://www.e-tesda.gov.ph/
At the upper right portion of the page, you will see that it is asking for a username and password. If you are not yet registered, click the link below it.
2. Create your account
The next page will ask you to enter your details. Continue filling up the form and then press "create my new account".
3. Login
Now that you have your own account, go back to the main page then login your account.
4. Choose what course you want to take
5. Click "Enroll me in this course"
Online Courses as of May 2019
Agriculture
Automotive
Automotive Battery Servicing
Diesel Engine Tune Up
Electrical and Electronics
Solar Night Light Assembly
Cellphone Servicing
Entrepreneurship
Star Online Training Program
Star Online Training Program 2
Managing Your Personal Finances
Start and Improve Your Business (SIYB)
Human Health / Health Care
NC II: Massage Therapy (Beta)
Course 1: Fundamental of Massage Practice
Course 2: Fundamental of Massage Therapy
Course 3: Swedish Massage
Course 4: Shiatsu Massage
Heating, Ventilation, Air Conditioning, and Refrigeration
Packaged Air Conditioner Unit Servicing
(Read: These Are The 10 Most Hired Occupations In The Philippines)
Information and Communication Technology
ICT Courses
Basic Computer Operation
SMART Android Mobile Apps Development for Beginners
SMART Technopreneurship 101
Web Development using HTML5 and CSS3
Microsoft Online Courses
Game Development
Developing 2D games with HTML5
Game Production Basics
Developing 2D and 3D games with Unity
C# Fundamentals for Beginners
Software Development Fundamentals
Udacity – Google Courses
Android Development for Beginners
UX Design for Mobile Develpmers
Udemy Courses
Android 4.0 Programming in Java
Lifelong Learning Skills
Job Interview Skills Training Course
How to Build Confidence in Your Abilities
Skills to Succeed Academy
Maritime
Ship's Catering NC III (update)
Social, Community Development and Other Services
Beauty Care Services (Nail Care) NC II
(Read: More Job Opportunities Await Fresh Grads In 2018)
Tourism
Bread and Pastry Production NC II
Cookery NC II
Prepare and Cook Hot Meals
Preparing Stocks, Sauces and Soups (1 of 7)
Preparing Poultry and Game Dishes (2 of 7)
Preparing Seafood Dishes
Preparing Egg Dishes
Preparing Starch Dishes
Preparing Vegetable Dishes
Preparing Meat Dishes
Preparing Cold Meals
Preparing Salads and Dressing
Preparing Sandwiches
Preparing Appetizers
Prepare Sweets
Food and Beverage Services NC II
Introduction to Food and Beverage Service (Beta) 1 of 3 Updated
Providing Table Service (Beta) 2 of 3 Updated
Providing Room Services (Beta) 3 of 3 Updated
Housekeeping NC II
Providing Housekeeping Services (Beta)
Providing Guest Room Services (Beta)
Providing Valet Services (Beta)
Providing Laundry Services to Guests (Beta)
Providing Public Area Services (Beta)
Deal with Intoxicated Guest (Beta)
Front Office Services NC II
21st-Century Skills
Environmental Literacy
Orienting Oneself to Environmentally Sustainable Work Standards
Exercising Sustainable Development in the Workplace
Workplace Communication (Beta)
Receiving and Responding to Workplace Communication
Participating in Workplace Communication
TVET
Trainers Methodology I
Trainers Methodology II
For technical support, contact them through here:
Email: tesdaonlineprogram@tesda.gov.ph Tel. No.: (+632) 893-8297
You may also contact or visit the TESDA Office near you.