How To Apply For A Teachers' Loan In The Philippines
11 min read
Here in the Philippines, teaching is considered one of the noblest professions. It is a job that demands patience and dedication, especially among public school teachers, due to the large student ratio and salary delays.
Educators working for state-run schools also often shoulder school room expenses such as first aid kits, trash bins, educational materials, and other things a classroom should have.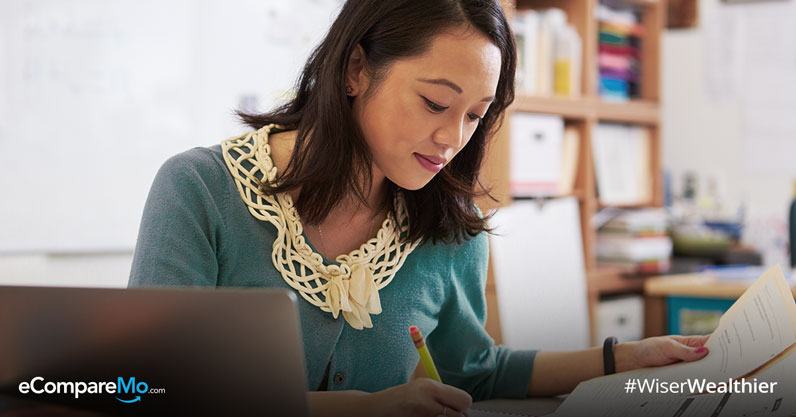 Luckily, public and private school instructors can seek cash assistance through financial institutions that offer teachers' loans.
What is a teachers' salary loan?
These are salary loans provided for educators that are offered by banks, or other financial institutions. Teachers can pay for their loans either through automatic deductions or by paying in advance with reasonable interest rates that are payable in flexible terms.
Here is a list of banks and government agencies offering Department of Education (DepEd) Salary loans.
1. LandBank of the Philippines' (LBP) Livelihood Loan Facility
The LBP Livelihood Loan Facility was created to act as an advanced funding solution for eligible educators.
The amount that can be borrowed is equivalent to eight months of a debtor's gross pay, but with a maximum of P500,000 bearing a fixed interest rate of 10.5% per annum.
Qualifications:
Must be 18 to 62 years old
Must be a regular or permanent employee of DepEd for one year and above
Must be an LBP ATM payroll account holder
Must have a monthly net income of P3,000
Must have a no pending criminal or administrative cases
Must not be due for retirement within the loan term
Requirements:
Photocopy of DepEd/Employers ID
Certified True Copy of Latest Payslip
Certificate of Employment
SOS/OS Balance from PLI certified by the employee
How to apply:
Visit the LBP official website
Under the LBP Products Application Forms, click Application for LBP Livelihood Loan for DepEd or click here: https://www.landbank.com/node/332 to download
Print the form and carefully write your details. Note that the "employer certification" will be filled up by your employer
Visit your servicing branch with your complete requirements and duly accomplished form.
For the repayment procedure, the accounting department/ collecting officer of DepEd will deduct monthly installments on your loan from your monthly salary or any form of benefits.
LBP is also authorized to debit your ATM Payroll Account for payment to the monthly amortization until all interests and fees are paid.
(Read: LANDBANK iAccess Enrollment And Services: A Quick Guide)
2. UnionBank's City Savings Loan
UnionBank's City Savings Loan is considered as one of the lowest non-performing loans with a fixed interest rate of 6%.
Qualified teachers can borrow P20,000 to P875,000, with 12, 18, 24- or 36-months payment terms.
Qualifications:
Must be 21 to 65 years old
Must be a regular or permanent employee of DepEd for one year and above
Must have a monthly net income of P15,000
Must have a guarantor/ co-maker that is also employed under DepEd
Requirements:
Two months original copies of latest payslip
Certificate of Appointment with one photocopy
Two valid IDs with a photocopy
Duly accomplished application form
Co-maker's signature for the application form
Co-maker's DepEd ID with one photocopy
How to apply:
With your complete loan documents and payslips, visit any City Savings bank near you for loan eligibility evaluation
Using your DepEd email address, send your evaluated loan application details and stamped payslips to your DepEd Verifier
Wait for the approval and confirmation email that will be sent by your DepEd Verifier to the email you provided
Proceed to your issuing City Savings branch for the signing of loan documents and receipt of loan proceeds
4. Agribank's Puhunang Pangkabuhayan Ng Mga Namamasukan (PPN)
Agribank's PPN offers a monthly interest rate of .9% for a one-year term payment and a 1.0% interest rate for a one-year loan.
The loan's amount, which can be released in a day equipped with complete requirements, will depend on the bank's evaluation.
Requirements:
For the borrower
Carefully filled out Loan Application form
Three copies of original payslips dated three consecutive months prior to application
One photocopy of latest service record
One photocopy of appointment record
Two valid Professional Regulation Commission (PRC) ID
Certification from Principal
Community Tax Certificate
Four pieces 2×2 ID picture
For the co-maker
Two pieces 2×2 ID picture
Two valid Professional Regulation Commission (PRC) ID
Community Tax Certificate
One photocopy of latest payslip
How to apply:
Just visit any Agribank branches with your complete requirements for a 1-day release loan process.
For branch locations, click here https://www.agribank.com.ph/content/branches.
For further inquiries, you may contact their customer care and assistance through telephone at (02) 942-2474 (AGRI) or email consumercare@agribank.com.
(Read: 2019 Update: Personal Loans In The Philippines With The Lowest Interest Rates)
4. Katipunan Bank 's "Financial Assistance for School Teachers (Fast) Loan"/ Teacher's Loan
Katipunan Bank's "Fast Loan/Teachers' Loan" caters to educators under Automatic Payroll Deduction Scheme (APDS) working in Region VII, IX, and X bearing an interest rate of .63% per month. The loanable amount will vary under the bank's further appraisal.
Qualifications:
Must be 21 to 57 years old
Must be a regular or permanent employee of DepEd for at least one year
Must have a monthly net income of P5,000
Requirements:
Two valid IDs (photocopy)
Community Tax Certificate with three specimen signatures
Certificate of Employment
Appointment record (photocopy)
Three 2×2 ID picture
For interested borrowers, click this link http://katipunanbank.com/?pageitem/44222011094430/branches-and-offices to find the Katipunan Bank nearest you.
You may also reach them through their 24/7 customer service hotline: For Sun cellular users at 0942 522 6024, for Smart subscribers at 0939607 4608 and Globe Telecoms at 0995 274 3725.
5. Sun Savings Bank's Department of Education Teachers and Employees' Loans
With Sun Savings Bank's DepEd Teachers and Employees' Loan, eligible personnel can apply for a loan with a minimum of P20,000 to a maximum of P500,000 with an interest rate of 7.5% per annum payable in a maximum of 36 months.
A one-time charge of 6% applies that will be deducted from the principal amount of the loan.
Qualifications:
Must not be more than 60 years old at the time of loan maturity
Must be a DepEd public school educator or administrative personnel working in Region 7
Must have a monthly net income of P5,000
Must have a Sun Savings Account
Requirements:
Original copy of latest three months payslip
Certificate of Appointment
Two valid IDs
Community Tax Certificate
Carefully filled application form
One co-maker and his/her signature on the application form if borrowed will amount to more than P150,000
One photocopy of the co-makers latest payslip
How to apply:
Fill up the Pre Approval Application form found on their website or simply click here https://www.sunsavings.ph/apply-now/
Once contacted by their authorized personnel, visit the nearest Sun Savings Bank with your loan application requirements.
6. AMA Bank Teacher's Loan
According to their website, AMA Bank Teacher's Loan provides teaching professionals with higher net proceeds, personalized service, and fewer requirements but fast loan approval.
P10,000 to P1,000,000 can be borrowed that can be paid in 12 to 36 months affixed with a 3.5% interest rate per year. A one-time charge of 6% applies that will be deducted from the principal amount of the loan.
Qualifications:
Must be 65 years old or below
Must be a regular or permanent employee of DepEd for at least one year
Requirements:
Carefully filled up Teacher's Loan Application form
Original copy of latest three months consecutive payslips
DepEd and PRC ID with three specimen signatures
Updated Service Record or Permanent Appointment
A photocopy of the co-maker's government ID and his/her signature on the salary loan application form
How to apply:
Visit your nearest AMA Bank with your complete requirements, click here for nearby branches http://www.amabank.com.ph/branches/.
7. Eastwest Unibank DepEd Teacher's Loan
Eastwest Unibank offer loans of P25,000 up to P2,000,000 to qualified educators. The amount that can be borrowed will depend on the assessment of your servicing bank personnel.
The monthly interest rates and payment plans are as follows: 1.49% applies to 12 months, 1.59% for 18 and 24 months and 1.69% for 36 months.
Qualifications:
Must be at least 21 years old and not more than 65 years old upon loan maturity
Must have a monthly net income of P15,000
Requirements:
Three latest and original payslips
Photocopied Appointment letter
Photocopied Service Record/s
Photocopied PRC and DepEd IDs
Accomplished forms
How to apply:
Visit your nearest East West Unibank. Click here for location reference: https://map.eastwestbanker.com/.
Proceed to the New Accounts section and request for the Teacher Loan Application.
Carefully fill in your details with three specimen signatures.
Sketch a location map from your office to the bank including landmarks.
Present your duly filled forms with other requirements at the New Accounts Section. An attending bank officer will explain any inquiries related to your loan so make sure you ask about any further concerns.
After agreeing with the conditions, go to the ATM counter and wait for your turn.
Once you are called, get the issued ATM debit card and key in your chosen password/pin for activation. Make sure you sign in your name with your signature on the logbook as an acknowledgment that you received your ATM card.
To confirm your balance, net cash, and for withdrawals, use any authorized ATM.
Note that there will be a processing fee amounting to P1,900 that will be deducted from the loan proceeds.
For late payments, a P500 or 8% per month of the past due amount applies, whichever is higher.
(Read: Personal Loans For Government Employees In The Philippines: A Comprehensive Guide)
8. Philippine Public School Teachers Association's (PPSTA) "Equity Loan/ Certificate Loan Program"
Members of PPSTA can avail of this privilege amounting to a 100% loanable amount based on his/her record on a 1% monthly interest.
In addition, the value of the loan along with other monetary obligations to PPSTA must not exceed a member's equity value for it to be accepted.
Qualification:
Must be an active member of PPSTA
Must have a good standing in all PPSTA obligations
Requirements:
Certificate of PPSTA membership
How to apply:
Carefully accomplish the Equity/Certificate loan application which can be downloaded here http://ppsta.net/Certrificate%20and%20Equity%20Loan%20Form.pdf
Submit the original copy of the duly filled loan application form with photocopies of 2 valid ids, front and back, with a clear signature of the borrower to you nearest PPSTA branch. Click here for location reference http://ppsta.net/suboffice.html.
For repayment purposes, a borrower can settle their loans through United Coconut Planters bank bills payment, LBC postal money order cash payment and to the National office or Regional offices of PPSTA.
9. GSIS' "Financial Assistance Loan to DepEd Personnel" (GFAL)
GFAL was created to help teachers in restructuring their active debts through the help of private lending institutions (PLI) certified by the Automatic Payroll Deduction System (APDS) of DepEd.
With this, GSIS can lend qualified buyers a maximum amount of P500,000 with 6% interest per annum payable up to 6 years.
In addition, any pre-existing GSIS loan/s of a member will not be deducted from the GFAL.
Qualifications:
Must be an active member of GSIS bearing clean financial records for the last three years
Must have no pending administrative case/s or criminal charge
Must have no neglected loans with GSIS
Must not be on leave without pay
Must have an outstanding loan from certified PLIs. To know the list of accredited PLIs, please contact the Finance and Accounting Office of DepEd through (02) 636 1620 or (02) 631 9640
Requirements:
How to apply:
Submit your duly accomplished GFAL loan application form along with your complete requirements to any nearest GSIS branch. For location reference, click here https://www.gsis.gov.ph/contact-gsis/.
Your application will be subject for approval.
After a few days or weeks, your loan will be released and is payable through accredited PLIs.
Take note that the loan amount will be based on the actual need of the debtor and must not be more than the outstanding loan balance verified by the PLIs.
(Read: GSIS Benefits, Loans, And Online Services: A Newbie's Guide)
Tips on applying for a teachers' loan
Assess if you really need to apply for a loan. Make sure that your loan is for productive purposes, and not just for splurging.
Check your monthly budget. Compute your net monthly salary (income after taxes) and check how much can you set aside for payments, so you don't miss any due dates.
Consider the total cost. Go for the loan bearing the lowest total overall costs, including fees and interest rates, to keep your loan repayment as low as possible.
Do your own research. Don't settle for the first creditor who offered a "too good to be true" teacher's loan. Visit your chosen bank or accredited financial institution, or check them online, and get as many questions answered, for clarification.
Comparing Helps. Take note that occasionally, when banks or financial institutions offer low monthly deductions but the payment term is longer, a borrower will pay more in total so make sure you compare other options available.
Be aware of Pre-Payment fee. Advance payment of loan/s is allowed in other banks but consider charges in doing so. On the other hand, pre-payment will help you skip in settling high-interest rate.
In reality, even the most frugal employee borrows money for his/her financial obligations. Loans are useful options given the right circumstances, as long as you are financially responsible.