Tax Payment App Contest, Update On Bank Secrecy Law, And Other Financial News
7 min read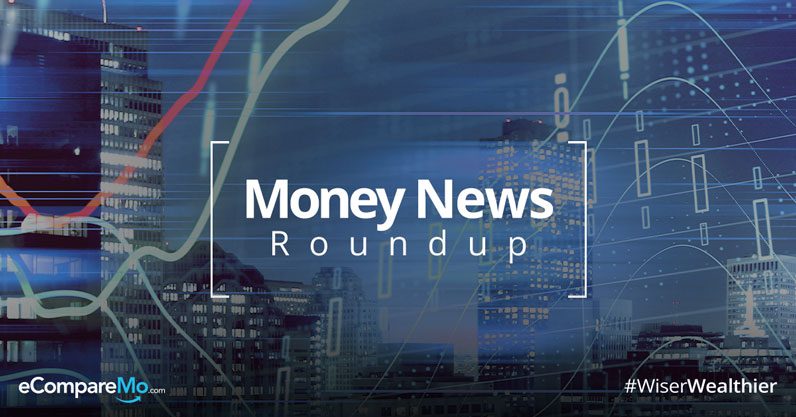 BIR launches competition for creation of tax payment apps
The Bureau of Internal Revenue (BIR) launched on Tuesday (October 15, 2019) Hackatax, a mobile application contest to formulate innovative solutions to make tax payments easier.
The Asian Consulting Group together with the BIR launched the app making contest with the objective of addressing common taxpaying complaints.
According to the BIR, participants should aim to create mobile apps that seek to simplify tax forms, streamline processes and support taxpayers, particularly those who are self-employed who historically have had to accomplish long and complex tax forms.
"To make paying taxes easier, we need to maximize technology," said Philippine Tax Whiz, Mon Abrea.
"If we can already buy our wants or book a ride or pay our bills from anywhere, then why not handle our taxes as well?" he added.
The hackathon event is organized by the BIR in partnership with the United States Agency for International Development (USAID) and DevCon Philippines.
The revenue bureau will be accepting entries until November 15, 2019. Shortlisted participants, supported by the bureau, will develop their mobile app prototypes through the end of the year, until the formal pitch on January 2020. This is in preparation of next year's Annual Income Tax (ITR) Filing on April 15, 2020.
The winning concept will receive cash, software provider certifications, admission to incubator programs, and direct app monetization for the best three tax apps.
(Read: SLEX Fare Reduction, Update On The 60-Day Road Clearing, And Other Motoring News)
Senate: Lifting Bank Secrecy Law is possible
Senate President Vicente C. Sotto III says the approval of the measure that will authorize the government to look into bank accounts will be possible early next year.
The Department of Finance (DoF) and the Bangko Sentral ng Pilipinas (BSP) last week pushed anew for the easing of bank secrecy restrictions, a move that would help taxmen verify asset declarations of tax amnesty applicants as well as anti-corruption and money laundering investigations.
BSP Governor Benjamin E. Diokno says he is hoping that the measure will be passed within the year or the first quarter of next year.
The said approval depends much on Senator Grace S. Pow-Llamanzares, who chairs the Committee on Banks, Financial Institutions and Currencies.
A total of three bills amending the law filed by senate majority Leader Juan Miguel F. Zubiri, Senator Panfilo Lacson, and Senator Leila M. de Lima are still pending in the panel.
Two bills are also pending in the House of Representatives Committee on Banks and Financial Intermediaries, chaired by Quirino-1st district Rep. Junie E. Cua.
Albay 2nd District Representative Jose Ma. Clemente "Joey" S. Salceda, chairman of the House Ways and Means Committee, has expressed support for the bill.
The proposed amendment almost made it out of the 17th Congress as part of the tax amnesty bill but was omitted by both the House of Representatives and the Senate for violating the one subject rule under the 1987 Constitution.
Section 26 of Article 6 of the Constitution stated that "Every bill passed by the Congress shall embrace only one subject which shall be expressed in the title thereof."
All three Senate bills to amend section 2 of Republic Act No 1405, or the Law on Secrecy of Bank Deposits, by excluding deposits of elective or appointive officials or any public employee from absolute confidentiality. Senator Leila de Lima in her version, also proposed to impose penalties on bank employees or officials found obstructing or refusing to disclose information required by authorities with imprisonment of up to five years and a fine of to P100,000, or both.
The amendment to Republic Act No 1405, or the Law on Secrecy of Bank Deposits, was among those identified by the Cabinet economic development cluster as among the bills it hopes Congress can pass within the first regular session that ends on June 5, 2020.
It was also included in list of legislative measures submitted by 14 local and foreign business groups to the Office of the President and the 18th Congress last July.
Senator Francis N. Pangilinan, for his part, filed a bill that will repeal RA 1405 among other related laws to put in place the "Deposits Disclosure Act." Senate Bill No. 634 proposes that all deposits will no longer be considered as absolutely confidential.
Those who will refuse to disclose information required in investigations face at least three years of imprisonment, a fine of at least P200,000, or both.
(Read: Predatory Personal Loan Apps Banned From Google Play Store In The US)
First integrated bus terminal in PH to use QR-based and card-based ticketing payment system
Passengers can now avoid long queues at bus terminals as they can book their tickets early for the long weekend via the Araneta City Bus Port. It will be the first integrated bus terminal in the Philippines to implement a QR- and card-based ticketing payment system powered by digital financial services leader PayMaya.
Commuters just visit the Araneta Center Bus Terminal's official website, book tickets and pay using any Visa, Mastercard, or JCB credit, debit, or prepaid cards through the PayMaya Checkout payment gateway. They can also download the newly launched Araneta City mobile app available for iOS and Android phones and book and pay for bus tickets anytime, anywhere.
Those who want to avail of their tickets at the bus port, meanwhile, can pay using any payment card at the cashier through the PayMaya Touch mobile POS terminal, as well as using their PayMaya accounts by scanning to pay with PayMaya QR code.
Aside from helping in managing the queues at the bus port, offering cashless and mobile payment options for transport also helps ensure the safety of commuters who no longer have to bring large amounts of cash with them when they travel.
At the same time, through PayMaya's various promos, commuters can get more value for their money and get a cashback when they scan to pay via QR or use their PayMaya card to book their tickets online or at the bus port.
(Read: ICYMI: e-Payments, Insurance Premiums, Maternity Leave Tax Exemption, And More Financial News)
BSP making local bonds more attractive to investors by reducing RRR to 3%
The Bangko Sentral ng Pilipinas (BSP) has moved to make local bonds issued by banks and quasi banks (QBs) more attractive to investors by reducing the reserve requirement rate (RRR) by 300 basis points from the current 6% down to 3%, effective Nov. 1, according to an official statement on Tuesday (October 15, 2019).
"The Monetary Board approved the reduction in the reserve requirement rate for bonds issued by banks/QBs to 3% as part of its commitment to contribute to deepening of the local debt market," as stated by BSP in a news release.
The new rate will be lower than reserves mandated for other debt instruments issued by banks like long-term negotiable certificates of time deposits (LTNCDs) currently at 4%.
"The lower bank reserves on bond issuances is expected to reduce bond issuers' intermediation cost that could be passed on to holders of such securities," the central bank explained.
According to BSP, this latest move complements its streamlining of rules and requirements for banks' and quasi banks' issuance of debt instruments.
"These initiatives are intended to incentivize banks/QBs to tap the domestic bond market as part of liquidity management," the BSP added.
(Read: Finovation 2019 Highlights: The Path To Financial Inclusion Begins With Real Solutions To Real Problems)
Cumulative policy rate cuts by the BSP to boost loan demand, expected by banks
Rizal Commercial Banking Corporation (RCBC) expects the cumulative policy rate cuts by the central bank to boost loan demand.
"That will result in interest rates easing, particularly the lending rates. That will now attract more business customers. They will be encouraged to resort to more borrowings for their consumer financing," said RCBC Consumer Lending Group head Rommel S. Latinazo.
Mr. Latinazo said RCBC's consumer lending book grew close to 14% in 2018.
"So, expect more traffic because of banks supporting the auto industry. And then of course, we'd like to continue supporting our countrymen in terms of the need for shelter for their home needs. With the easing of rates, demand should further grow," he added.
According to Mr. Latinazo, RCBC's consumer loan book is currently at P90B. This is against the bank's lending portfolio of P480B.
RCBC is betting on the consumer sector to boost its lending business noting that the bank has consistently seen double-digit growth in the segment.
He even added that RCBC is looking to utilize technologies such as data science, online loan applications, and credit scoring to attract more customers and to ensure efficiency in their credit processing.
"We're targeting to launch it (online loan applications) once we get approval from regulatory bodies by first quarter of next year," said RCBC's deposit products and promotions division head Emmanuel K. Valdez.
Aside from this, RCBC has also rolled out car and home loan products that come with insurance coverage for the duration of the loan.
RCBC shares lost 15 centavos or 0.57% to close at P26 each on Thursday.