Safety Tips For You And Your Car During Ashfall
6 min read
As of this writing, the Philippine Insitute of Volcanology and Seismology (Philvolcs) placed Taal Volcano on Alert Level 4 following its January 12 eruption. This is the next to highest level, with Alert Level 5 meaning an eruption is already happening.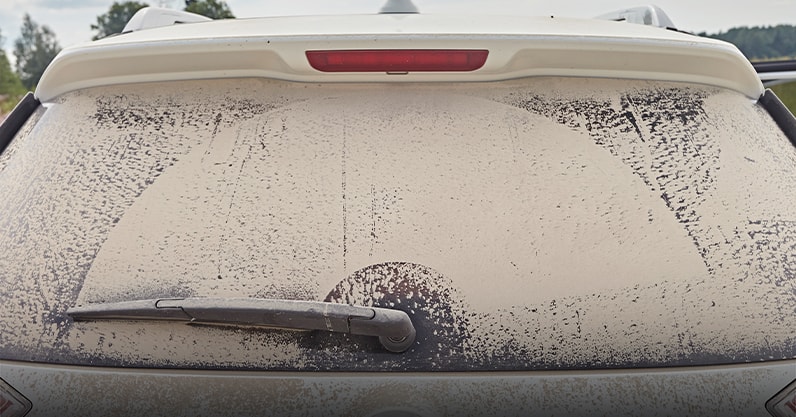 The ash spewed from Taal spread from the Calabarzon region to Metro Manila and even reached parts of Central Luzon. Last night saw vehicles and even drivers all covered in ash fall, with people warning of zero visibility in nearby affected areas. This ash fall can be very dangerous to motorists and their vehicles.
What is an ash fall, and how do we keep ourselves and our cars safe?
An ash fall is a continuous spew of fine volcanic particles, heavily covering nearby areas with thick layers of ash, and reaching other areas where the direction of the wind blows.
According to GNS Science New Zealand, these are the safest things to do during ashfall:
Stay indoors
Close windows and doors. Stop ash entering the building
Do not run air-conditioning or clothes dryers
Listen to the radio for advice and information
If outside seek shelter; use a mask or handkerchief for breathing. Wear protective clothing especially if working in the ash fall, and goggles to protect the eyes.
If possible do not drive, park your car under-cover or cover it
If you must drive, drive slowly as ash fall will reduce visibility. You may need to use the car headlights because of the reduced visibility. Do not use the car's ventilation system. Ash on the road surface can also reduce traction.
Do not rush to your child's school. Schools are responsible for the safety of the children. Schools will notify you of any emergency procedures which are to be taken.
Keep pets indoors.
Check that livestock have enough food and water. Farmers may need to shelter livestock if the fall is heavy.
Disconnection of roof-fed water supply is only required when an ash fall is occurring or during the clean up to stop ash entering the storage tanks.
If you are uncertain of what to do seek advice from [authorities]
Will my car insurance cover damage due to ashfall?
If your car was damaged during an ashfall, you might be able to turn to your insurance provider for help.
You can file a claim if your coverage includes what is known as Acts of God/Acts of Nature.
What do I need to do to file an Acts of Nature claim?
There has to be an official announcement for respective agencies like the PAGASA, Philippine Institute of Volcanology and Seismology, and other related government bodies
A claim is valid if it happens suddenly and inevitably
Negligence on behalf of the car owner that results in a car sustaining environmental damage will not be covered under Acts of Nature. Some instances considered as negligence are, but not limited to, the following:

Driving on a [nearby affected] area despite the inclement weather and warnings from authorities about the potential occurrence of a landslide.
Risking it and charging your vehicle in [the affected] area even if it already visible that the road is unpassable to vehicles.
Leaving your car windows open and then after a sudden downpour [in this case, and ash fall], and getting the interior of your vehicle damaged.

Water damage from man-made sources like pipes and water tanks are excluded in Acts of God. However, if one of the calamities such as earthquake or typhoon listed in your policy caused it, then you can file a claim for such damage.
Wild animals, including migratory birds, that will cause damage to your vehicle or cause you to get in an accident are under Acts of Nature.
Prepare the following documents for a faster claims processing:
Police report
Notarized affidavit
Photocopy of driver's license with official receipt
Photocopy of official receipt and certificate of registration
Photos showing the damage to your vehicle
How to clean up after an ashfall
If an ashfall has gotten in your property, your vehicles, or even inside your home, follow these proper ways of cleaning up, listed by GNS Science New Zealand. Do not forget to wear a proper mask before you start.
Wetting down ash will form a glue-like material (not easy to remove) and add weight to the ash. The best method is to lightly damp the ash (to prevent it billowing) and to sweep it up. Remember water will be in high demand.
Remove ash immediately (before rain if possible) but remember ash particles commonly have sharp broken edges making it a very abrasive material.
Clean house roofs first to reduce windblown ash covering cleaned areas or damage to guttering and blocking down-pipes.
Place ash in rubbish bags if possible and seal them.
Do not dump ash in the storm-water or sewage system.
Contact your council for information on the disposal of ash.
Prevent further ash entering house by restricting access to the most protected (sheltered) entrance.
Vacuum indoor surfaces were possible or use a damp cloth to remove ash. Avoid vigorous rubbing.
To remove ash from your car wash with plenty of water. Carry out car maintenance if you have been driving in ash. For example, check/change air filter, oil filter, oil and brake pads in car.
Dry ash should be blown off with high pressure air, while wet ash should be cleaned off by hand or with water at high pressure.
Car care do's and don'ts
Motoring journalist James Deakin advised motorists on Facebook to just stay home unless it's very important.
"Leave the roads clear for those who really need to use them," he wrote.
And as for car cleaning, Deakin's advice was met with comments from affected motorists who seemed to have learned a lesson or two on how to clean up after the ashfall.
"You can use your wipers but it really does depend on the amount of ash. And if it's mixed with rain. Because that will create a mud effect and will definitely cause micro scratches on your windscreen. But remember, safety before vanity. You can always have your windscreen buffed back to normal," commented one motorist.
One of the most important things to do is to change your car's air filters if it was heavily used during the ash fall.
The International Volcanic Health Hazard Network (IVHHN) also advises vehicle owners to "clean ash from inside your engine, boot/trunk and spare tyre storage area as well as the seating area."
They also echo James Deakin's advice, saying that brushing the ash off your car is not advisable, unless you want to leave scratch marks on it.
Here are a few other do's and don'ts for you and your vehicle during and after an ash fall.
Do not drive without an air filter. If you cannot change it, clean it by blowing air from the inside out. Do not change it until you notice a loss of power to the engine, as a dirty filter is more effective than a clean one.
Have a service garage clean wheel brake assemblies every 50-100 miles (80-160 kms) for very severe road conditions, or every 200-500 miles (320-800 kms) for heavy dust conditions. The brake assemblies should be cleaned with compressed air (800-1600 kms).
Have a service garage clean alternators with compressed air after heavy accumulation, every 500 to 1000 miles, or after severe dust exposure.
Clean the vehicle, including the engine, radiator, and other essential parts daily, if necessary, using water to flush the ash.
Wash the engine compartment with a garden hose or steam cleaner. Be sure to seal off air intakes and electrical components before cleaning.
Source: IVHHN