Survive The Hottest Days Of The Year With These Tips
2 min read
Here's how you can prevent heat stroke and stay healthy this summer.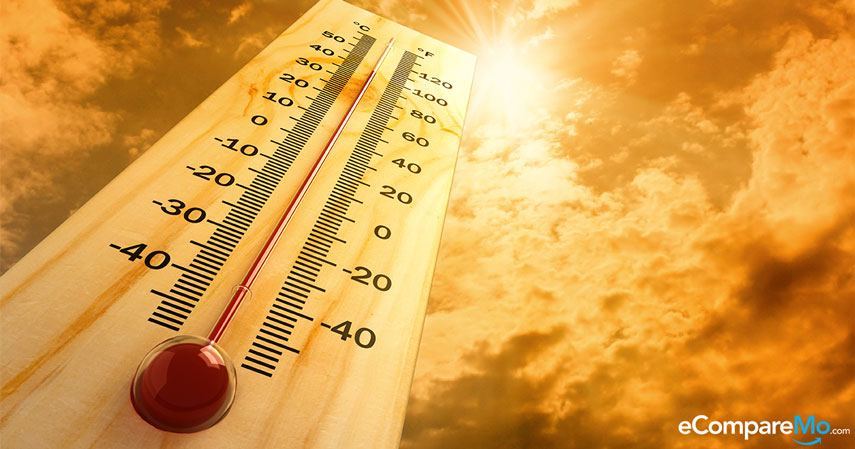 It is expected that the summer heat will get hotter in the coming weeks, with the temperature reaching its highest at 36.3 degrees Celsius last April 12, according to the Philippine Atmospheric Geophysical and Astronomical Services Administration (PAGASA).
The Heat Index, also known as the human discomfort index, is forecasted to be at 37.9 to 38.6 degrees Celsius in Metro Manila. It reached an all-time high of 51 degrees Celsius in Nueva Ecija on April 11—just three degrees below what PAGASA considers an "extreme danger" level.
Heat stroke, or sunstroke, is a form of hyperthermia, and is considered the most serious form of heat illness. Through extended exposure under the sun or in places with high temperatures, the body fails to regulate normal temperature. This leads to milder illnesses such as heat cramps, exhaustion, and flushed or warm skin, to severe effects such as brain damage, and even death if not treated properly.
When the core body temperature reaches 40 degrees Celsius or more, the central nervous system is affected. Common symptoms include a throbbing headache, disorientation, nausea, seizure, increase in blood pressure, and fainting. It can affect a person quickly or gradually, and even last for several hours or days.
The more you can recognize the symptoms, the sooner you can get immediate treatment.
What to do with a victim of heat stroke
– Put the person indoors with air conditioning or in a cool place, and get them to lie down.
– Remove unnecessary clothing and expose as much of their bare skin.
– Apply ice packs to the person's armpits, groin, back, and neck. It is important to cool down these areas because blood vessels are close to the skin, thus regulating the body's temperature.
– Keep the person comfortable, providing air and a cool sponge bath.
– Let the patient sip small amounts of water. Drinking water is the first aid to dehydration. Sports drinks may also be provided in small, regular intakes as they contain electrolytes that helps retain and absorb water consumption.
Bring the person to the hospital if the first aid did not ease the symptoms. Skip first aid for severe symptoms such as fainting and seizure, as that would require immediate medical attention.
Prevention: it's better than the cure
While old age can be a huge risk factor due to the central nervous system deteriorating, anyone can have difficulty remaining hydrated and suffer from heat stroke. People with long-term illness such as diabetes and high blood pressure are also at risk.
Take note of the forecasted heat index from PAGASA and take the following preventative measures:
– Do not stay outdoors for too long especially during the hottest times of the day–11 a.m. to 3 p.m.
– If you need to stay outdoors, wear sun protective gears such as hats and wear light clothing. Bring an umbrella or take time to rest in shady areas.
– Drink plenty of water or sports drinks with electrolytes. Eight glasses of water may not be enough during the summer, so be mindful in staying hydrated throughout the day.
– Use sunblock with sun protective factor (SPF) of 30 or more.
– Avoid drinking too much of dehydrating, caffeinated drinks such as soda and alcohol.
PAGASA and the Department of Health (DOH) constantly warn the public of heat stroke. Take extra precaution when going out this summer, to avoid unnecessary health and financial constraints. –Kristel Serran