How These Billionaires Made Their First Million
4 min read
On many occasions, all it took was a groundbreaking idea and lots of courage.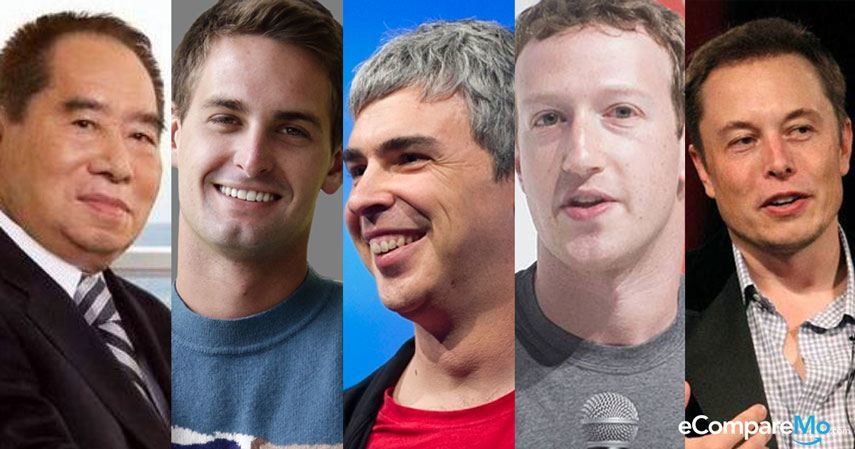 They say your first million is the hardest to earn, and it's easy to see why: Building your wealth out of nothing is no easy feat, whereas having your first seven digits already gives you the resources and flexibility to increase your earnings.
While making your first million may sound astounding for most people, some see this as the first step in building their respective empires. Take for instance these billionaires/industry leaders, who got their first million under different circumstances. Most of them needed only two things: a radical idea and lots of guts. They also knew that in order to become a billionaire, you have to be a millionaire first.
Henry Sy Sr.
One can say that, at the age of 91, the elder Henry doesn't have anything to prove anymore. Yet he makes sure that the empire he built more than half a decade ago is moving in the right direction. But did you know that the then 25-year-old Henry got his first million through a loan? "I got my first credit line in 1949; it was from China Bank and they lent me P1 million," he told in an interview with the Philippine Star. This was after seeing an opportunity in opening a shoe store with a few friends. "With the pleasure of a growing family while at the same time pursuing studies at FEU in the early 50s, he sought more ways to augment his income," narrates Teresita Sy-Coson to Millionaire Acts' Tyrone Solee. "He studied the market and decided to be different. While other young men went to the US to pursue a higher education, he went on a long business trip to the East Coast, and came home with a lot of merchandising ideas." In 1958, Sy opened his first shoe store in Quiapo, Manila, and the rest, they say, is history.
Mark Zuckerberg
On May 18, 2012, Facebook had its first initial public offering at the New York Stock Exchange. After a long and panic-inducing day—dubbed by experts as one of the biggest events to ever rock the global stock market scene—the company was able to raise $104 billion at its peak. However, the social media mogul became a millionaire long before he even shook up the stock market. In 2006, the group closed its Series B funding round with a total of $27.5 million, making him an instant millionaire.
Evan Spiegel
Despite his mixed media presence and antics, the Snapchat cofounder is one of the most successful players in the age of connectivity. While Spiegel's estimated net worth now is at $2.1 billion, the 25-year-old "interpreneur" from California was able to convince Benchmark, the same backers who funded Instagram, to gamble on the messaging app. After raising $13.5 million in the startup's Series A funding, Spiegel proved to the world that people can be millionaires at an early age.
Elon Musk
It seems like Elon Musk has developed his own version of Midas touch: PayPal, Tesla Motors, and SpaceX, everything that he touches turns into cash. While big acquisitions are a dime a dozen nowadays, a 27-year-old Musk made a record-breaking sale of a website called Zip2. Providing a consumer portal for people who need localized search results, Zip2 was acquired by Compaq for $307 million and he received $22 million—or 7 percent—of the total sales.
Bill Gates
The name Bill Gates has become synonymous with the brand Microsoft, and for good reason. While he cofounded the software company with long-time friend Paul Allen, he became the face of Microsoft when they were still developing disk operating systems for early generation personal computers. In 1986, the company moved from Albuquerque to Washington before its highly-successful IPO. This helped them raise $61 million, which in turn made him a millionaire in an instant. From there, he continued developing his fortune until he reached his current net worth at around $77 billion.
Larry Page
Without Larry Page—along with his cofounder Sergey Brin—we may not have the best internet services like Google Maps, Gmail, YouTube, and of course, Google. In 1996, the duo began developing BackRub, which would become the backbone of Google's search engine system. After launching in 1998 and becoming wildly popular, they raised $25 million from Sequoia Capital and Kleiner Perkins in 1999, which solidified he and his partner's position as a self-made millionaire. From this capital, they kept on developing new products for the public and made a lot of acquisitions, which led to the creation of Alphabet Inc., the parent company of all things Google. –Dino Mari Testa