'Sudden Unintended Acceleration': Manufacturing Defect Or Driver Error?
4 min read
Listen to what the experts have to say.
Two weeks ago, a photo of a white crumpled sports utility vehicle (SUV) went viral on Facebook. Bernardino Bernardo, the owner and driver of the vehicle, recounted the story in his post.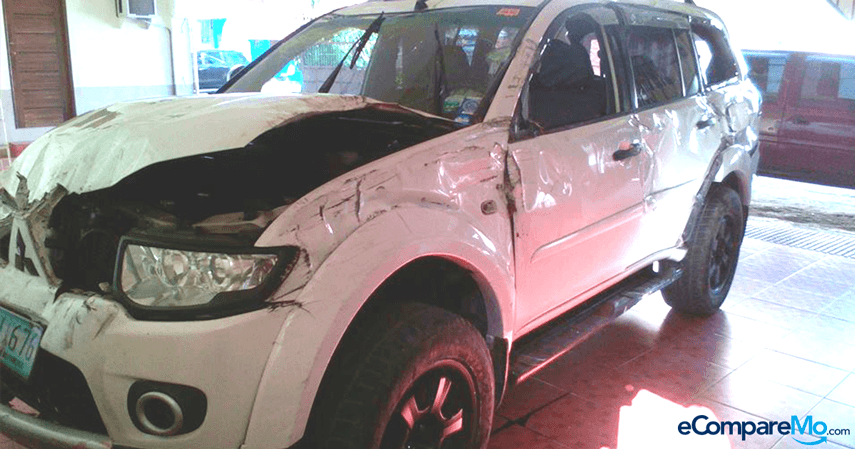 Bernardo said that as he shifted from park to drive mode and released the handbrake, the car went wild even without stepping on the gas pedal. During the course of the accident, the SUV rammed multiple parked vehicles before he decided to swerve it to an empty lot. However, the car overturned upon swerving, hitting another vehicle in the process.
As of this writing, the post has been shared more than 20,000 times. Media outfits like ABS-CBN and Top Gear picked up the story. Another case of "sudden unintended acceleration," people remarked.
ABS-CBN then posted on November 26 a CCTV video clip: this time, another Mitsubishi Montero could be seen swiftly moving back and forth and hitting more than five vehicles in a matter of seconds.
Hours later, Top Gear Philippines released a longer version of the same video on their Facebook page, showing the sequence of events that transpired before the incident. It turns out the original driver was having a hard time moving the car out of the tight parking slot, and thus switched places with his companion. It was when the second driver took over the wheel that the SUV went berserk and slammed into vehicles around it.
Things then became more unclear: Was it the car or the driver who was at fault?
Nothing new
Cases of alleged sudden unintended acceleration (SUA) are not new, and the Mitsubishi Montero Sport has often been on the receiving end of consumers' claims.
In 2011, a blog that collected complaints about the alleged SUA incidents involving the Montero surfaced. Most entries pointed out that the SUV allegedly would make a sudden acceleration even when the car was put on park mode.
The blog, www.monterovictims.blogspot.com, published around 30 such cases before it was taken down. But another blogger, The Wandering Archer, says he was able to save most of the posts from the now-defunct site, and managed to upload them on his own blog. As of this writing, it is said that there has been a total of 79 SUA complaints involving the unit.
In response to these claims, Mitsubishi Motors Philippines Corporation (MMPC) released a statement this week to assure the public that "the Montero Sport is neither defective nor unsafe to use." The manufacturer says all units sold to consumers have undergone rigorous testing and safety check."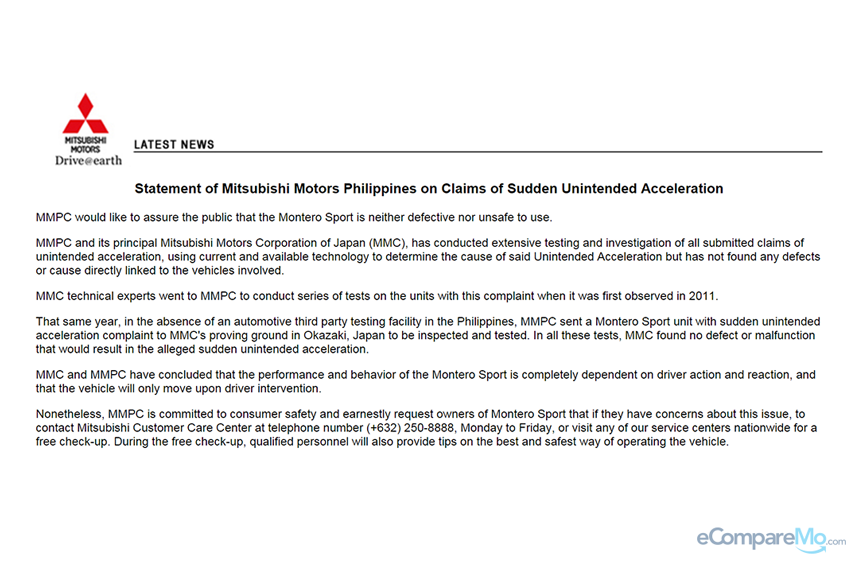 Divided opinion
"Sudden unintended acceleration" is the abrupt movement of a vehicle either without intervention from the driver or against their intended control. Some users reportedly experience acceleration even when braked or in reverse mode.
While there have been numerous reports about SUA both in domestic and foreign markets, experts have divided opinion regarding the issue. When incidences of SUA were first reported years ago, Top Gear concluded that "sudden unintended acceleration simply doesn't exist," while AutoIndustriya said there are factors where it is possible, all related to mechanical, electrical, and pedal fault.
In a recent article on their website, Top Gear Philippines editor in chief Vernon Sarne says that as of July 2015, MMPC has sold a total of 79,000 units in the country since its launch in 2008. He adds that automatic transmission units outsell manual transmission units at a ratio of 60:19.
Sarne added that based on his personal investigation, no incidents of SUA involving the Montero Sport have so far been reported in Thailand, where the units are manufactured, and elsewhere in the world.
It is also worth noting that SUA has been reportedly experienced by drivers using other vehicle models as well.
Man vs. machine
"The reality is that either elderly or inexperienced drivers not used to driving automatic often commit pedal misapplication—stepping on the gas pedal when they really meant to hit the brakes," Sarne observes. "They usually panic when they hear and feel the engine revving, and then unwittingly depress the throttle even more."
A commenter on the site, Patricio Vergara Ancheta Jr., who claims to be semiconductor engineer for automotive parts, argues that 97 out of 79,000 cases translates to 122 defective parts per million (DPPM, a unit of measurement used in manufacturing for quality check), or 24 times the safety standard of zero to five DDPM. With this, he says MMPC should do another round of investigation and start looking beyond human error.
Meanwhile, Bayan Muna party-list Rep. Neri Colmenares called on congress to conduct a probe into SUA incidents. Bernardo announces on his personal Facebook account that he and other claimants are set to meet with the congressman in his office this Saturday, November 28.
Your car accelerates unintentionally—what do you do?
If ever you find yourself in an SUA situation, Popular Mechanics recommends these measures.
1. Don't panic.
The most important thing to do in any emergency situation. Keep your presence of mind. Hysterically pressing on the pedals and controls is sure to cause more harm to you and your passengers.
2. Hit the brakes as hard as you can.
But make sure that you are about to step on the right pedal.
3. Put the vehicle on park or neutral mode.
In times of emergency, shifting your vehicle to either neutral or park mode is your best bet, especially when the brake pedal isn't working. This will make it easier for the brakes to function.
4. Switch off the engine.
This works mostly for push-button vehicles. Keep in mind, however, that the brake-pedal pressure may increase when the engine stops. After incidents like this, it is best to park the car on the roadside and call for towing assistance. Never attempt to run the car again even if the engine is still working.–Dino Mari Testa