Snappy Replies That Will Make You Sound Like A True Alta Sociedad
1 min read
How do you react to certain things? Do you sometimes wish you can have it all together so that life could be so much better?
Here, we asked people how they behave in different situations. As stereotypical as they may seem, it's likely that we've heard some of these expressions, or something related to them, one too many times.
And maybe, if the situation calls for it, you can also try to deal with things the Alta Sociedad way.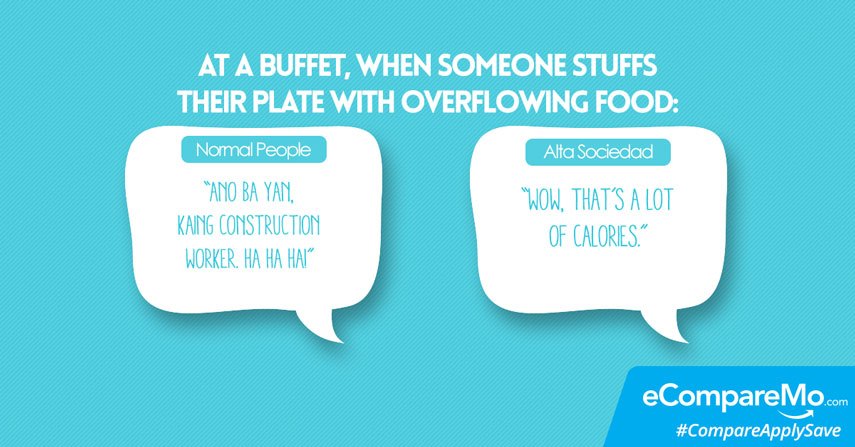 | | | |
| --- | --- | --- |
| The situation | Normal people reaction | The Alta Sociedad reaction |
| When giving a compliment | "Ganda naman niyan. Arbor na lang!" | "Nice shoes. Where did you get them?" |
| When someone says, "Nice shirt!" | "Uy, hindi naman. Ikaw nga diyan eh." | "Thank you! You know what, I bought it super cheap lang." |
| At a buffet: Someone stuffs their plate with overflowing food | "Ano ba yan, kaing construction worker. Ha ha ha!" | "Oh, that's a lot of calories." |
| Still at a buffet: Someone is on their 12th plate | "Pang-ilang plato mo na yan? Ah, kaya pala nauubos ang plato." | "I wish I had your appetite!" |
| When asking a person to hand over something | "Paabot nga niyan" | "Could you kindly pass that, please?" |
| When using the phone in public and you can't hear the other line | "Ano? Pakiulit mo nga? Hindi ko marinig kasi ang ingay dito." | "Hey, I'll call you back in a few minutes. I'm just in transit" |
| When you're a couple and you're having an argument in public | *Shouts expletives at each other* | *Breathes deeply* *Rolls eyes* |
| When you get into a car accident | *Cracks knuckles. Engages in a heated argument then soon enough, pulls tubo from vehicle* | *Shakes head, then makes a call to the car insurance company* |
| Reprimanding your kid | "Hala, sige, hulihin ka ng pulis!" | "Ay, [insert child's name here], you don't do that. That's not good." |
Have something to add? Share it in the comments.