Sinulog Festival 2020: Schedule Of Activities and Things To Do
6 min read
With the cheerful vibe, colorful costumes, lively music, and everyone chanting "Pit Señor," the Sinulog Festival is one of the best times to visit Cebu.
However, the Sinulog isn't just a party. Rather, it's a strong testament of how much the inhabitants of the Queen City of The South love their revered patron, the Sto. Niño.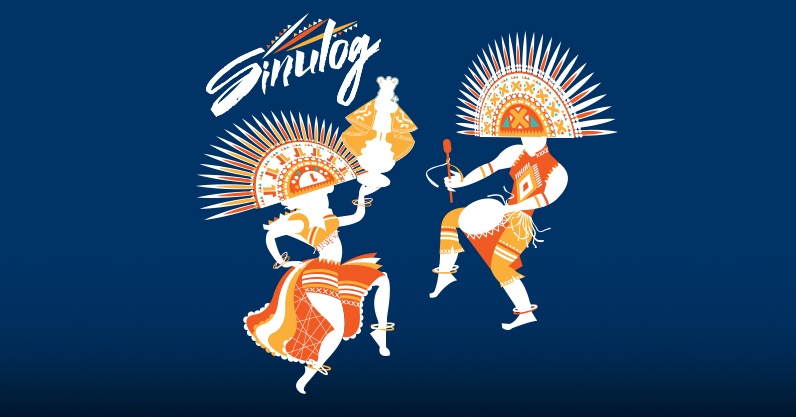 From hardcore street parties to a fun major parade, this weeklong celebration is filled with millions of participants. Locals, return visitors, and first timers mingle happily together to enjoy the world-renowned festivities.
Interested to join in this "Mardi Gras"-like revelry? Read on and acquaint yourself on one of the grandest festivals in the Philippines, the Cebu Sinulog Festival.
Sinulog Festival history: How it started
Organized by former Regional Director David S. Odilao Jr. of the Ministry of Sports and Youth Development back in 1980, the first procession was made up of students and physical education teachers.
They wore beautiful Filipiniana outfits and eagerly participated in the Sinulog festival street dance.
This dance was originally called "Sulog," or wave current in Cebuano, but that evolved into Sinulog.
This lively swaying dance sees the participants taking two steps forward then one step backward in homage to the playful waves of the province's Pahina River.
The parade was greatly enjoyed, and thus, the region's Historical Committee led by former Kagawad Jesus Garcia enhanced it further and decided to make it an annual affair showcasing the area's introduction to Christianity.
(Read: Cebu Itinerary And Budget Travel Guide 2019)
Sinulog Festival schedule of activities
The Sinulog starts as early as the second weekend of January, where organized events such as its official launch, daily mass, and entertaining performances.
Every activity gives Cebuanos a chance to show their exceptional devotion through their participation. This gives visitors a chance to enjoy the welcoming and lively spirit of Cebu.
Event
Location
Day 1
Penitential Walk with Jesus
Fuente Osmeña
Mass for the Opening Salvo
Basilica Minore del Santo Niño
Day 2
Mass for the opening salvo
Basilica Minore del Santo Niño
Sinulog Kick Off
Cebu City Sports Center
Day 3 to 8
Parade of Participants
Capitol Grounds to Cebu City Sports Center
Cultural and Variety Show
Fuente Osmeña Circle
Day 9
Walk with Mary
Route starts at Our Lady of Guadalupe Church and ends at the Basilica Minore del Sto. Niño
Translacion
Cebu City to the National Shrine of St. Joseph Mandaue
Day 10
Fluvial Procession of the Miraculous Image of the Sto. Niño
NAVFORCEN LapuLapu to Pier 1
Re-enactment of Queen Juana and Rajah Humabon's baptism as Christians.
Basilica Minore del Santo Niño
Day 11
Mañanita and Pontifical Mass
Basilica Minore del Santo Niño
Sinulog Grand Parade
Route: Basilica – Osmeña Boulevard – Left to Colon – Right to Leon Kilat Street – Left to Alcantara – Right to V. Rama Avenue– Right to E. Rodriguez Street – Right to Fuente Osmeña Circle going to Osmeña Boulevard – Left to P. Del Rosario Street – Right to Junquera Street – Left to Colon Street– Right to D. Jaskosalem Street– Left to Osmeña Boulevard then back to the Basilica.
For other festival activities, you may visit www.sinulog.ph.
(Read: Top Instagram-Worthy Destinations In The Philippines)
Things to do
Aside from joining religious activities, there is a lot that Cebu has to offer in the way of fun activities and exceptional sights.
Whether you're traveling alone or in a big group, below are some things that you might want to include in your itinerary.
Sign up for the Cebu City heritage tour. Avail this package where you will visit notable historical sites such as the Magellan's Cross, Cebu Metropolitan Cathedral, Fort San Pedro, The Heritage of Cebu Monument, Colon Market, and the Yap-San Diego Ancestral House.
Tour Mactan. Some 13.8 km or roughly 49 minutes away from the city proper is Mactan, known for its rich marine ecosystem. Snorkeling and diving opportunities are offered on the island of Caohangan, Hilutungan, and Nalusuan. Additionally, you can dine at the scenic Lantaw Floating Native Restaurant highly praised for their sumptuous but affordable seafood meals.
Conquer your fear of heights at the Crown Regency Sky Experience. Located at the hotel's 38th floor, this establishment offers the "Edge Coaster," where you will be strapped to a moving chair that tilts 55 degrees giving you a breathtaking view of the city. In addition, the "Skywalk Extreme" will test how strong your legs are as you will be walking on the edge of the hotel's railing 415 feet above the air. Note that both are professionally tested and are guaranteed to provide a safe but thrilling experience.
Be amazed at the pyrotechnics shows. After the Grand Parade, you can watch the two-hour Sinulog Fireworks headed by Dragon Fireworks Cebu. Expect the first Sky Symphony's Musical Fireworks Competition, where representatives from Luzon, Visayas, and Mindanao compete for the title at the Corso Mall, South Road Properties.
Eat! Craving Cebu Lechon? The city is filled with restaurants offering this sought-after delicacy. Just stroll around Katipunan and Francisco Llamas Street and choose from a wide array of diners displaying mouthwatering roasted pigs. On the other hand, if you prefer a variety of anything grilled, head over to Larsian BBQ in Capitol Hills where you can savor freshly grilled seafood and meat best paired with the iconic "Puso" (steamed rice wrapped in coconut leaves).

To cap off your food experience with a luscious dessert, visit 10 Dove Street Confectionery located at SM Seaside City where they offer heavenly treats such as cakes, cookies, cupcakes, and bars all priced fairly.
(Read: 9 Interesting Facts About Air Travel, According To A Pinoy Flight Attendant)
Tips
Plan everything ahead. Book your airline ticket months before the festivity to avail of cheaper rates. Religiously check online promos that will let you save money for other related expenses. In addition, advance hotel reservation enables you to choose the best location that will either give you the best spot to view the whole spectacle, or will provide you with a good rest away from the noise.
Wear your comfiest clothes during the parade. It may seem fitting to match the impressive parade with your trendiest clothes, but in reality, no one will notice it. Opt for a relaxed outfit that will prepare you for the hot weather and fun activities. Match it with your wornout sneakers and get ready to have a messy but unforgettably happy experience!
Hydrate and wear sunblock. Always bring a refillable water container as it gets humid from 10 AM to 4 PM. Convenience stores are accessible but imagine the long lines inside that will take precious minutes of your time. Additionally, the event is mostly outdoors so don't forget to use sunblock every four hours. Doing so will lessen your risk of sunburn, which is not a good remembrance to have of this celebration.
Make good use of your senses. The visual and auditory stimulations in the parade will surely overwhelm you but remember to stay alert for pickpockets and muggers. Furthermore, though there's a liquor ban within the area, some participants might be intoxicated. Check for obvious signs and avoid them as they might do inappropriate actions that can ruin your experience.
Be innovative in keeping your valuables safe Bring along a sturdy and transparent bag small enough to fit your valuables. Strategically strap it in front of you for easy access. We suggest you store loose cash inside a carefully incised empty bottle of sunblock lotion as it will not catch attention. For your mobile phones, you can place it inside a folded sock for better camouflaging.