Shake Shack Manila: A Look At The Menu, Prices, And Branches
5 min read
Out of all the new wave of international food brands that have been brought to the country, for this year at least, it seems like Shake Shack is the one people are most excited over.
If you've been to Hong Kong or Japan, chances are someone told you to swing by a Shake Shack branch to have a go at their world-renowned burgers. Fortunately, the time is drawing near where you won't have to fly outside of the country to enjoy Shake Shack's offerings.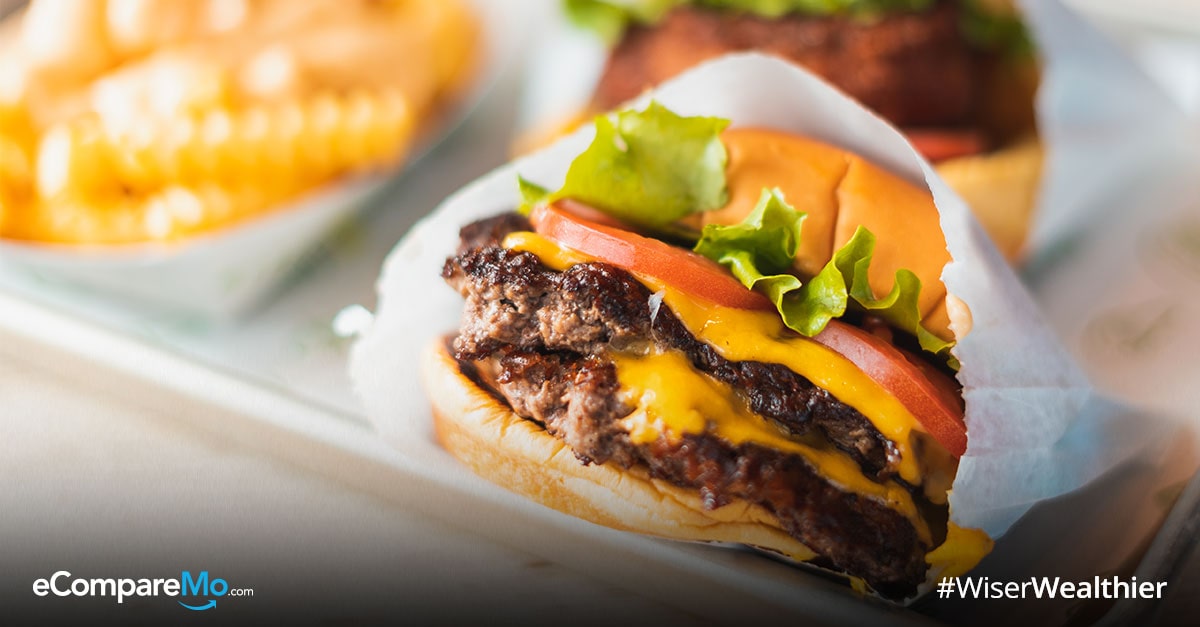 On May 10, New York's famous burger brand will finally open its first branch in the Philippines. They've chosen to set up shop at the Central Square Mall in Bonifacio Global City.
The Tantoco-led SSI Group, who is responsible for bringing the franchise into the country, have promised that the Shake Shack's items in the Philippines will retain the same familiar taste and quality that customers have enjoyed all around the world.
With Shake Shack soon welcoming Filipino customers to have a bite of their famous ShackBurger and other treats, expect the lines to be long and your social media feed flooded by wannabe influencers.
The question is: Why?
The holy grail of burgers
To understand Shake Shack, you need to realize what made it so great: the ShackBurger.
Although the ShackBurger's elements are present in almost any other burger, there is something uniquely distinct to how Shake Shack makes it. It harkens back to the old 50's diners we never had, trying to recreate a classic Americana comfort food that has been overshadowed by fast food chains.
Loaded between two buttered and toasty potato buns is a towering heap of slammed beef patty crisped to perfection, melted American cheese, a generous slather of their signature sauce, a slice of Roma tomato, and crispy lettuce.
If you're not a fan of burgers, you can choose from a wide selection of their other menu items like hotdogs, portobello mushroom burger, an assortment of frozen custard, signature ales, French fries, and shakes. As an exclusive treat to Philippine diners, they have locally inspired treats ube-flavored shake and calamansi lemonade.
Just how good Shake Shack is? For Serious Eats consultant and chef J. Kenji Lopez-Alt, what separates the ShackBurger from others is the effort they put in creating the perfect patty. He even claimed that "even an overcooked Shake Shack burger is juicier than most other burgers on their best day."
You can ask your friends who have already posted it on Instagram and they will regale you with the stories from the moment they first set their foot on the premises to the time they wiped off streaks of the sauce from their lips. Don't forget the photos.
However, don't expect Shake Shack to be affordable like your average burger joint. Their ShackBurger alone is P250.
Before you complain, this isn't far from the prices of their single patty ShackBurger in the United States, which is $5.29 or a little over P270. To be fair, this isn't far from the prices of other casual dining burger joints in the country, so maybe all reactions about it being pricey is a little exaggerated.
(Read: 5 Ways To Keep FOMO From Ruling Your Life And Draining Your Wallet)
What do you want?
Whether you're hyped up or not, we can all agree that down to the basics, Shake Shack's world-famous ShackBurger is just glorified cheeseburger. However, even with a plethora of recipes (and a cookbook by Shake Shack CEO Randy Garutti and culinary director Mark Rosati), replicating the item to a tee can be difficult.
While Shake Shack's arrival in the country is a delight to all gastronomes and Instagram foodies, the country is already home to some of the best homegrown burger restaurants in the country.
If you can't wait before May 10 (or you just want to let the hype die down), these joints are worth the visit:
Snack Shack • 109 V. Luna Extension, Sikatuna Village, Quezon City • Roces Street corner J.P. Laurel Avenue, Diliman, Quezon City • 32 Bayan- ayanan Avenue, Concepcion Uno, Marikina City What to get: Grilled Bacon Cheeseburger (P130)
Size Matters • Fourth Floor, The Block, SM City North EDSA, Bago Bantay, Quezon City • Ground Floor, Alabang Town Center, Alabang, Muntinlupa City What to get: All-Beef Burger (P149 for quarter pounder, P229 for half pounder)
Catch272 • 41-B T. Gener Street, Kamuning, Quezon City What to get there: Cheeseburger (P150)
Sweet Ecstasy • 10 Jupiter Street corner Asteroid Street, Bel-Air, Makati City What to get: The Cheese Burger (P240), Steam Burger (P250)
Pink's Hot Dogs • Ground Floor, Shangri-La at the Fort, 30th Street corner 5th Avenue, Bonifacio Global City, Taguig City What to get there: Cheeseburger (P290)
The Beef • Hole in the Wall, Fourth Floor, Century City Mall, Kalayaan Avenue, Poblacion, Makati City What to get: Cheeseburger (P325)
Shake Shack menu combinations
Let's face it: We're all excited to try Shake Shack in the Philippines and we're more than willing to queue up for hours just to get seated. If you want to enter the restaurant with a clue on what to order, you might want to try our suggestions:
The signature snacker – P460 (P410 for the lemonade one) • ShackBurger (single) – P250 • ShackMeister Ale – P210 (or lemonade if you're not into alcoholic beverages– P160)
The all-American combo – P620 • ShackBurger (single) – P250 • Cheese fries – P180 • Classic hand-spun shakes – P190
The full monty – P890 • ShackBurger (single) – P250 • Cheese fries – P180 • ShackMeister Ale – P210 • Shack Attack (single) – P250
The hippie – P735 • 'Shroom Burger – P445 • Organic brewed iced tea (large) – P160 • Fries – P130
The unrepentant glutton – P895 • SmokeShack (double) – P525 • Cheese fries – P180 • Classic hand-spun shakes – P190 • Uuube-by baby (double) – P350
The doggy style – P570 • Shack-cago Dog – P250 • Fries – 130 • Ube shake – P190
The Pinoy cooler – P760 • ShackBurger (single) – P250 • Calamansi Limeade (large) – P160 • Uuube-by baby (double) – P350
Other sources: Zomato, Rappler