Road Accidents In The Philippines: Key Figures
3 min read
According to the Philippine Statistics Authority (PSA), an average of 34 Filipinos die every day due to vehicular collision.
Every day, we read about road accidents in the Philippines. No matter how careful you are, there will always be that driver who's either under the influence or tend to make wrong judgments on the road, causing trouble to disciplined drivers and pedestrians.
And did you know that a car accident can cause as much as P2.5 million? This amount goes for the medical expenses, moral damages, and vehicular repair (if possible), especially among others. This is how important it is to have a comprehensive vehicle insurance.
To see how car accidents have been increasing over the years, let's take a look at the important numbers surrounding road crashes in the Philippines.
Car accidents statistics
There are vehicular accidents being reported every day. Unfortunately, there is no comprehensive database on statistics of road mishaps in the country.
Gathered in this article are statistics from government agencies, such as Philippine Statistics Authority (PSA), Metro Manila Development Authority (MMDA), Department of Transportation (DOTr), and Land Transportation Office (LTO).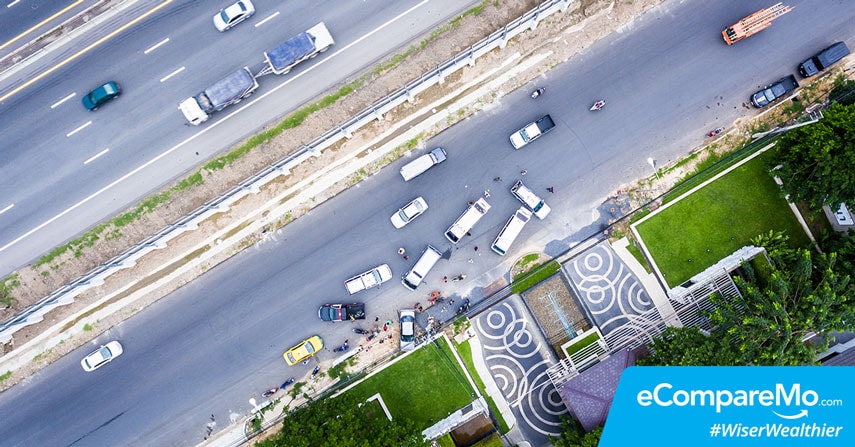 These institutions have the spine-chilling figures, such as a breakdown of the vehicle types involved, percentage of people killed in road crashes, and accident-prone roads in Manila.
According to Mark de Leon, assistant secretary for Department of Transportation (DOTr), there is a daily average of 262 road crashes in Metro Manila alone. Vehicles involved are:
Motorcycles, 53%
Pedestrians, 19%
Drivers of vehicles with four wheels or more, 14%
Since motorcycles account for a big chunk of road crashes, motorcycle riders topped the fatalities in the 2015 Road Safety Report of World Health Organization (WHO) as well. Additionally, motorcyclists tend to be the most vulnerable, comprising 23% of all the road traffic deaths.
Here's a more detailed breakdown of the road accident-related deaths in the Philippines:
| | |
| --- | --- |
| Road deaths | Percentage |
| Motorcycle riders | 53% |
| Pedestrians | 19% |
| 4-wheeled vehicle drivers | 14% |
| 4-wheeled vehicle passengers | 11% |
| Cyclists | 2% |
| Others | 1% |
Apart from the types of vehicles and percentage of road traffic deaths, we also gathered information about the different accident-prone roads in Metro Manila.
According to the MMDA, among the most accident-prone roads in Metro Manila are Alabang-Zapote Road, Commonwealth Avenue, and Edsa.
As it connects two barangays—Alabang in Muntinlupa while Zapote in Las Piñas—Alabang-Zapote Road is frequently jammed up in traffic because of its bumper-to-bumper situation.
Pedestrian casualties also happen almost here every day. In fact, roughly 201 accidents involving pedestrians happen every year.
Meanwhile, Commonwealth Avenue is reported to have five accidents every day. But unlike in Alabang-Zapote, there are more passenger casualties happening on Commonwealth than driver and pedestrian accidents.
The country's most congested highway—Edsa—logs and average of 407 driver casualties, 324 passenger incidents, and 256 pedestrians killed or injured. Furthermore, majority of the road crashes in Edsa are due to driver errors and jaywalkers.
Causes of road accidents
People get involved in a road mishap for a wide variety of reasons, be it due to a vehicle defect or human error. According to Safe Kids Worldwide Philippines (SKWP) executive director Jesus dela Fuente, most of the fatal road mishaps in the country are caused by over speeding. He also notes that even a five percent cut in the average speed of a vehicle can reduce the number of fatal road mishaps by 30%.
Just like over speeding, other human errors such as counterflowing, drunk driving, losing control of the vehicle, and illegal turning remain the top causes of road crashes.
The table below shows a breakdown of the causes of road accidents in Metro Manila.
| | | |
| --- | --- | --- |
| Road crash factor | Fatal | Non-fatal |
| No accident factor | 411 | 15,514 |
| Human error (driver error) | 12 | 841 |
| Human error (alcohol suspected) | 0 | 24 |
| Human error (lost control) | 3 | 15 |
| Vehicle defect (mechanical) | 0 | 5 |
| Vehicle defect (lost brake) | 0 | 5 |
| Other (slippery road due to oil spill) | 0 | 2 |
*Data from 2016 report of the Metro Manila Accident Recording and Analysis System (MMARAS) on road crashes
Prevention of road accidents
With proper knowledge, training, and calm behavior on the road, accidents can be avoided.
Strict implementation of laws and programs is one step in addressing the growing problem in road safety in the country. To address this, the DOTr is proposing several projects, such as the installation of speed limit devices in public vehicles, dashcams, and CCTVs for the protection not only of the drivers and passengers but the pedestrians as well.
Furthermore, apart from the laws and programs, being a disciplined driver will reduce the chance of accidents and will make the road safer for everyone.