These Are The Richest Senators And Government Officials In the Philippines For 2019
3 min read
Cynthia Villar, Manny Pacquiao, and Ralph Recto are the top three richest senators in the Philippines today—again.
The 2018 ROSA (Report on Salaries and Allowances) and SALN (Statements of Assets, Liabilities, and Net Worth) of senators and other government officials were both posted publicly this May. These show the declared income of government officials in the Philippines.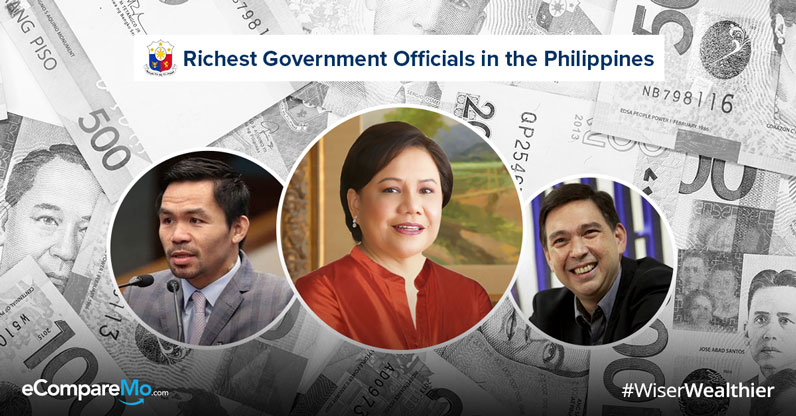 Back in 2017, eCompareMo looked at their 2016 SALN and, comparing it to the 2018 figures, it seems like nothing much has changed. The richest senators have retained their positions on the Wealthiest List.
(Read: Here Are The Updated Salaries Of Philippine Politicians And Government Officials)
Senators with the highest net worth in 2018
Based on these reports, these are the richest senators in the land:

Senator Cynthia Villar declared zero liability from her net worth. It grew a hundred million pesos more in 2018, compared to P3.6 billion—her declared net worth in 2016. She also got the highest votes in the recent 2019 Senate race. Villar ranked first amid other candidates with bigger names and experience in politics, such as Grace Poe and Pia Cayetano.
Her husband Manuel "Manny" Villar, who also used to be a senator from 2006 to 2009, is now 2019's richest man in the Philippines according to Forbes Magazine. He has the highest net worth out of the 17 Filipino billionaires in the country, at USD6.3 billion.
On the other hand, Senator Manny Pacquiao has the highest liabilities of all Senators, at a declared amount of P146,005,728.00. Like Cynthia Villar however, Manny Pacquiao has been consistent as one of the top earning Senators in the 17th Congress, which runs from July 2016 to June 2019.
(Read: Top 10 Richest Government Agencies Based On the Proposed 2019 Budget)
Top 10 highest-paid government officials in the Philippines
Also released was a listing of the 2018 net worth of various government officials. Take a look at the table below to see who the highest paid government officials are.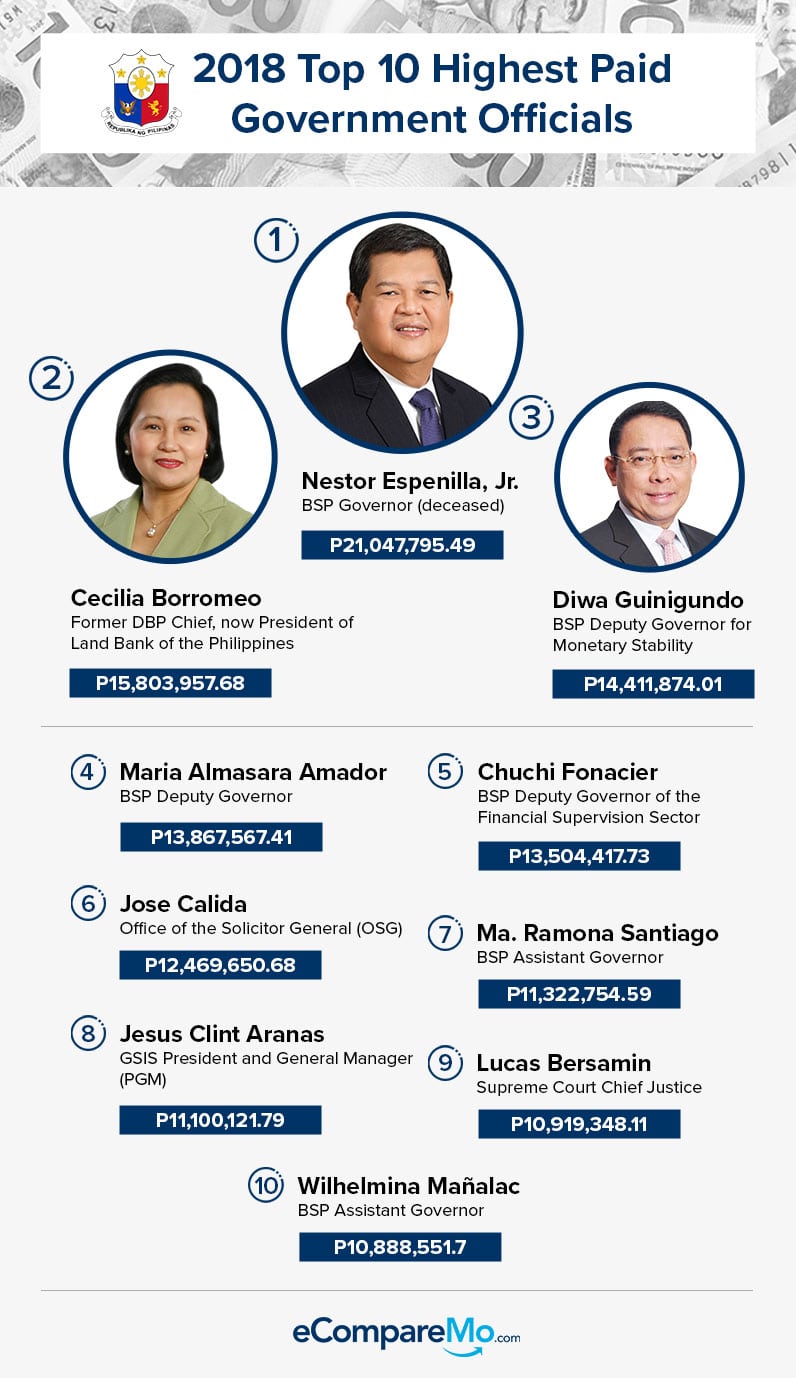 Maria Almador stood as the Officer-in-Charge for a time, after the passing of Governor Nestor Espenilla Jr. this February. The current Governor of the Bangko Sentral ng Pilipinas (BSP) is Benjamin Diokno, as appointed by President Rodrigo Duterte in March 2019. He will continue Espenilla's term which is until 2023.
Further, this salary transparency is in accordance with Presidential Decree 677 or the Anti-Graft And Corrupt Practices Act, which mandates all government employees to file their "true detailed and sworn statement of assets and liabilities, including a statement of the amounts and sources of his income, the amounts of his personal and family expenses and the amount of income taxes paid" annually.
It is worth noting that it is through the SALN public documents that showed corruption in government officials. The biggest cases were that of Senators Juan Ponce Enrile, Bong Revilla, and Jinggoy Estrada, who were seen with huge, dubious increases in their net worth. Some of these were missing or undeclared properties, and pork barrel kickbacks.
This led to Revilla and Estrada getting reported for concealing unexplained wealth, and charged with plunder. Enrile, at 95 years old, is still set for plunder and 15 graft charges ruling in 2019.
What is the SALN?
The SALN mainly shows salary transparency and accountability for funds within the government. According to the ROSA document, this is done through "regular monitoring and reporting of the salaries and allowances received by" the officers. Some of these officials hold more than one position across government agencies.
Among other things, it shows the following details about government employees' income:
Salaries
Personnel Economic Relief Allowance (PERA)/Additional Compensation (AdCom)/Honorarium
Allowances
Bonuses, Incentives and Benefits
Extraordinary and Miscellaneous Expenses (EME)
Indirect Benefits
Other sources: Commission on Audit, Businessworld