A Professional's Guide to PRC Online Registration and Application
8 min read
The Professional Regulation Commission (PRC) started out as a national government agency under Presidential Decree No. 223. This was signed by President Ferdinand E. Marcos on June 22, 1971.
In January 4, 1974, the PRC became operational and by December of the same year, its Implementing Rules and Regulations were publicized.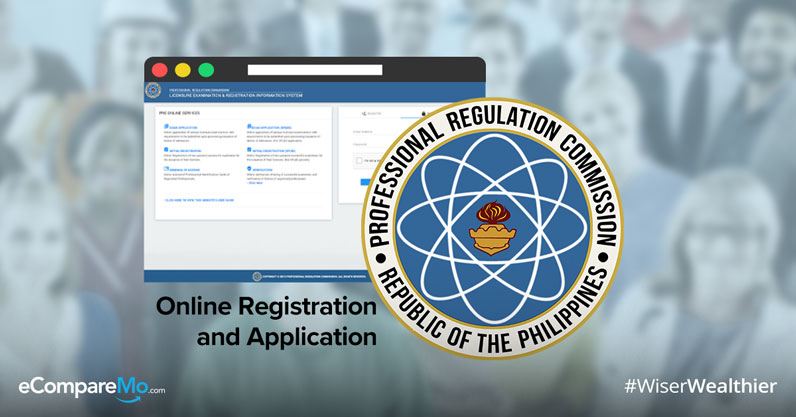 The whole purpose of the PRC is that it has to enforce laws that regulate multiple professional fields. They give service to more than four million professionals from the 43 different regulated professions.
Given how many Filipino professionals that the PRC needs to serve, it's no wonder that getting access to the services can be a bit of a hassle. Going to the PRC often requires people to travel long distances and spend an amount of time lining up at the different departments.
This, however, is soon going to be a thing of the past as the PRC begins to take advantage of available technology to streamline their processes. First process to be modernized is registration.
It was announced in March 2019 that the PRC online registration is now available on their website. This newly added service should help make the process for professionals easier and hassle-free.
How to register and make an appointment with the PRC Online
PRC's online registration service through the Licensure Examination and Registration Information System (LERIS) is designed to secure the appointment of an applicant with PRC through the internet. This would save a lot of time, especially for those who are always on the go.
Here is a guide to follow when applying:
Create an account in the PRC LERIS website
Get together the requirements needed

Valid IDs (Passport, SSS card, TIN card, Voter's ID, Driver's license)
MOST RECENT 2×2 online ID photo (should be in JPG format and plain white background)
Active email address
Active mobile number
Personal data
Look for your course-related requirements here: https://www.prc.gov.ph/list-of-requirements

Log in to your account

Upon signing in, edit your profile
Fill in your personal information
Once all of the information given is correct, click "YES" to submit

Upload your most recent 2×2 online ID photo

The applicant should be in a semi-formal attire. (Note: Collared shirts are the way to go. DO NOT SUBMIT A PICTURE WEARING A SANDO OR ANYTHING REVEALING)
The photo must not be taken more than 6 months before your application
The photo should be clear and without shadows
The applicant's ears should be shown
Do not wear your glasses

Choose the examination you are applying for

Click "Select Transaction"
Press the "Examination" tab
Fill in the required information (name of the examination, examination type, LET level)

Set your appointment

There will be three choices given; Examination Application, Initial Registration, PRC ID renewal. Select "Examination Application."
For the date and time of your appointment, the system will automatically provide it for you. But in case you are not available on the date and time given, click the "Reschedule" button to be given a new schedule.
Note: The PRC has multiple branches; you may choose the most convenient place or you on the links provided below.

List of the PRC offices: https://www.prc.gov.ph/regional-offices
Selected mall service centers: https://www.prc.gov.ph/article/prc-service-centers-now-available/3517

Mode of payment

LERIS as of June 2019 only has three payment options:

Over-the-counter. You may pay at the PRC office or service center on the day you were scheduled (the price for the licensure examination is P900)
LANDBANK. If paying online is more convenient for you, you will be directed to the ePayment portal. You may pay through your landbank account, BancNet or G-Cash.
UCPB. You can pay over-the-counter at any United Coconut Planter's Bank (UCPB). Make sure you take note of the reference number given. Show the reference number once you are making the payment. Note: The payment will be validated in 2 to 3 working days if you choose to pay through UCPB

Print your application form
On the day of your scheduled appointment, bring the printed PRC application form, valid IDs, and your course-related requirements.
(Read: Guide To The Most Powerful IDs In The Philippines – And How To Get Them)
How to apply for a PRC ID Online for board passers
After all those years of studying, crying and hard work; you're finally here. You passed your professional licensure exam. Now allow us to guide you in finishing your last step before becoming legally licensed.
The website does not only offer appointments for examinations, but the PRC online registration also offers applications for the PRC ID online.
Here is a step-by-step guide to applying for the (required) PRC ID online:
Requirements needed

Most recent 2×2 photo (white background, the photo should be taken no more than 6 months before uploading, wear your semi-formal attire with collar, has your name full name written on the bottom )
Community Tax Certificate (CEDULA). You can get this document from the barangay or from the municipal hall.
Printed Oath Form
Notice of Admission (NOA)
Registration fee. Payment will be done after setting an appointment online
Two documentary stamps. You can buy this within the PRC
Short brown envelope

Log in to the PRC portal

This is the same website you used to apply for the exam: https://online.prc.gov.ph/
No need to register again if you already have an account. Just sign in with the same e-mail and password you used when you were still applying

Choose your transaction

Click "Select Transaction"
Click "Initial Registration"
Fill out the information needed and once you have double checked it, click "Proceed"

Set an appointment

Select from the links below the most convenient branch for you

List of the PRC offices: https://www.prc.gov.ph/regional-offices
Selected mall service centers: https://www.prc.gov.ph/article/prc-service-centers-now-available/3517

The date and time will be automatically provided for you
If you are not available on the day and time given by the system, simply press the "Reschedule" option to change it.

Select mode of payment

Over-the-counter. If you don't have a bank account or a GCash account, you may pay at the PRC office or service center
LANDBANK. If you do have an account with LandBank (ATM), Bancnet or GCash, you can pay online
UCPB. When you choose to pay through UCPB, always keep in mind that you need to reference number provided. Write it down and take a photo of it. This will be asked from you when you go to the bank.
Note: The payment will be validated in two to three working days

Print your Oath Form

Log in to your account, click "Existing Transactions"
Click "Payment Details" or "Print Document"
Print your Oath Form

Wait for your scheduled appointment

Don't forget to bring all of the requirements to the PRC office
Once there, you have to submit all of the documents to the window number specified for you
Sign the Registry Sheet or the Roster of Registered Professionals
A schedule of the mass oath-taking and a claim slip will be given to you when you can claim both the Professional Identification Card (PIC) and Certificate of Registration (COR)

Release of the PRC ID and COR
Now there you go, champ! You can now enjoy the fruit of all your hard work.
Remember also that the Professional Identification Card (PIC) is only valid for three years and is renewable on your birth month.
(Read: A Complete Guide To TESDA Courses And Programs)
How to renew your PRC License online
PRC online registration is very versatile. If your license has already expired, you can renew it online through their website!
Here are the simple steps to follow:
Create a PRC account

If you already have an account, just Log in
If not, here is the link to create an account: https://online.prc.gov.ph/
In making the account, you need the following:

Valid IDs (Passport, SSS card, TIN card, Voter's ID, Driver's license)
Most recent 2×2 online ID photo (should be in JPG format, not taken more than 6 months prior to your PRC ID renewal, wear a semiformal attire with collar and plain white background)
Active email address
Active mobile number
Personal data

Click "Registration eServices"
Select "ID Renewal." You will immediately be redirected to PRC LERIS
Click "I Agree" in the Terms of Service one you have read and understood it
Enter your personal information and press save if all the information given is correct
Upload your Photo ID (follow the requirements for this)
Choose your transaction. Click the "Renewal" tab in the middle
It will ask you for your profession and PRC License Number, once you double checked press "Proceed"
Set your appointment

If there are any problems with your schedule, just click "Reschedule" to change the date and time given. Make sure you write the reason why

Select mode of Payment

Over-the-counter. You can pay at your chosen regional office or service center. Note: The payment will be validated in 2 to 3 working days if over the counter
LANDBANK. You need an account with LandBank (ATM), Bancnet or GCash, you can pay online
UCPB. You can transfer through the UCPB App if you already have an existing account with them. if not, you can pay over the counter in any of their UPCB branches

Print your Documents

Print the "Application For Professional Identification Card" (PIC)
Submit this with your required continuing professional development (CPD units)

Proceed to the PRC Regional Office or Service Center on you're the day of your appointment.

Don't forget to bring the following:

Printed Application for Professional Identification Card form
Printed PRC license renewal receipt
Extra ID photo