PH Economy Remains Strong, Property Reform Measure Greenlit, New Power Supply Agreements For Meralco, And Other Financial News
6 min read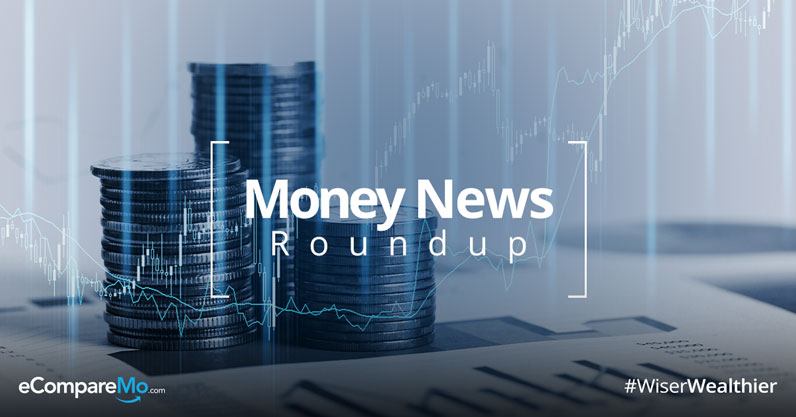 PH Economy Remains Among the Strongest In The Region In 2019 According to Fitch Rating
Fitch Ratings is confident that the Philippine economy will remain among the strongest in the region this year with a growth of 6.1%.
In a report on the APAC Sovereign Credit Review for Q3, the debt rater said that the country, which has an investment grade rating of 'BBB' with Stable outlook, is below-target output in the first half of the year and is projected to improve in the remaining quarters.
"The agency is maintaining its full-year 2019 growth forecast of 6.1%, continuing to place the Philippines among the region's fastest growing economies," Fitch Ratings said on Tuesday.
In the first half of the year, growth, as measured by gross domestic product (GDP) expanded by an average of 5.5%, lower than the government's 6% to 7% full year target.
The weak output was attributed to the impact of the delay in the approval of this year's national budget and the weak external environment.
The negative external front is seen to hamper domestic expansion in the next two years, with growth projected to be around 6.3%.
Fitch Ratings also noted that overheating risks have subsided after the total of 175 basis points increase in the Bangko Sentral ng Pilipinas' (BSP) key policy rates last year.
The rate hikes were done to help manage inflation expectations since inflation was on the rise due to supply-side factors.
Inflation peaked at 6.7% in September and October last year, exceeding the government's 2% to 4% target band.Since then, inflation has decelerated and slowed to 1.7% in August.
Fitch Ratings projects inflation to average at 3.1% this year, which is within the government's 2% to 4% target band until 2021.
House Ways And Means Panel Greenlights Property Reform Measure
The House Ways and Means panel yesterday approved the third package in the comprehensive tax reform program of the Duterte administration. This package seeks to reform the country's real property valuation and assessment system.
The House Committee chaired by Albay 2nd District Representative Joey Salceda passed the Valuation Reform Bill (VRB) which is expected to raise P30.5B in additional revenues for Local Government Units (LGUs).
According to Rep. Joey Salceda, the measure would likewise enable LGUs to achieve stable financial resources and strengthen the local real property tax base to fund service delivery requirements of the LGUs toward transparent governance and increased public performance.
The VRB aims to improve real property valuation of the government by adopting a single market-based schedule market value (SMV) which is a table of base unit values for all kinds of real properties within an LGU prepared by assessors to be used as basis of local and national real property taxation.
Rep. Joey Salceda along with all its other authors proposed the measure to address the perennial problems in real property valuation attributed to failure of LGUs to update their SMVs that leads to values not reflective of real market.
He even stressed that the measure would benefit not just the LGUs, but also the national government as well in terms of valuation of right-of-way acquisitions.
"This is beneficial to the national government because almost P150 billion in projects are delayed every year because of right-of-way acquisitions," said Rep. Salceda in an interview.
"By addressing the long-standing issues in valuation for right-of-way acquisitions, the national government stands to save millions by preventing cost overruns due to delayed project completion," he added.
In line with that, he also claimed that the government would also save around P25.2 billion per year due to elimination of costs for notice, conduct of hearing, and publication of zonal values.
Consumers Continue To Save As Meralco Executes New Power Supply Agreements
Consumers are expected to save around P0.28 per kilowatt-hour (kWh) as the Manila Electric Company (Meralco) executes new power supply agreements with its winning suppliers.
Meralco announced in a statement last Monday (September 8), that they received three best bids for the supply of 1,200 megawatts (MW) effective December 26, 2019 for a term of 10 years.
Once the new supply agreements are implemented, Meralco consumers are expected to save P9.46B annually for 10 years.
According to Meralco, PHINMA Energy Corporation, San Miguel Energy Corporation, and South Premiere Power Corporation were the three best bidders who submitted their offers.
PHINMA Energy Corporation offered to supply Meralco 200 MW with an all-in headline rate of P4.7450 per kilowatt hour (kWh) and computed all-in levelized cost of electricity (LCOE) of P4.8849/kWh.
San Miguel Energy Corporation on the other hand offered 330 MW at all-in headline rate of P4.6314/kWh and computed all-in LCOE of P4.9299/kWh. Lastly, South Premiere Power Corporation gave Meralco 670 MW with an all-in headline rate of P4.6314/kWh and computed all-in LCOE of P4.9300/kWh.
These bids are much lower than the all-in headline rate, inclusive of value-added tax (VAT), of P4.9196/kWh and computed all-in LCOE P5.3694/kWh reserve prices pre-determined by Meralco based on recently Energy Regulatory Commission (ERC)-approved contracts and disclosed only upon the opening of bids.
These numbers a significantly lower than the electric company's average generation cost today which is around P5.88/kWh.
The generator companies will also pay a fine if they are unable to deliver power, which will be used to reduce the generation cost to the consumers.
Pursuant to the instructions to prospective bidders, the best bids will now undergo post-qualification.
The Third-Party Bids and Awards Committee is expected to issue the respective notices of award in favor of those who satisfactorily passed post-qualification on Tuesday (September 17, 2019), to be followed by the signing of the power supply agreements with Meralco within the week.
Several Oil Companies To Slash Fuel Prices For The Third Consecutive Week
For the third consecutive week now, oil companies will be implementing price rollbacks effective Tuesday (September 10, 2019), given the same developments in the international market.
In advisories, PTT Philippines, Petron Corporation, Flying V, Seaoil, and Petro Gazz said prices of their respective gasoline products will be reduced by P0.50 per liter and diesel by P0.10 per liter.
Petron and Flying V will also rollback the prices of their kerosene by P0.25 per liter.
300 Percent Increase In Road User's Tax Proposed By The DOF Rejected By House
The House of Representatives is rejecting the Department of Finance's (DOF) proposal for an increase of more than 300% in the road user's tax, which the government collects from motor vehicle owners.
As per Albay 2nd District representative Joey Salceda, if the House of Representatives adopted the bill proposed by the DOF increasing road user's tax, they will have 11 million more enemies which he refers to as the number of Filipinos who own motorcycles, cars, pick-ups, and other motor vehicles who are paying the tax in the form of increased annual registration fees paid to the Land Transportation Office (LTO).
Rep. Salceda also said that his committee would be endorsing a lower increase of 90% of existing rates over three years, or 30% each year possibly beginning next year.
"We will work on our proposal after the third reading approval of the budget later this month. The plan is still to exempt the seven million motorcycle owners from the increase," he said.
The levy's increase which is officially called as the motor vehicle user's charge (MVUC) is among the several tax measures the leaders of the House and the Senate had agreed to pass in a meeting with administration officials led by Executive Secretary Salvador Medialdea and Finance Secretary Carlos Dominguez in Malacañang early last month.
Under the DOF-proposed law, the road user levy would be P1.40 for next year, P1.95 for 2021 and P2.50 for 2022, based on the vehicle's gross weight, plus its cargo and/or passenger carrying capacity as determined by the LTO.
Other congressmen said big motorbikes should be covered by the adjustment, noting that such vehicles are even more expensive and have the same if not bigger engine displacement than entry-level cars.