Nutrition Month: 6 Free Workout Apps That Will Help You Get Fit On A Budget
4 min read
Who says getting fit should always involve gym memberships or doing hardcore, gut-wrenching sets? The truth is, you can start this whole fitness journey through small, regular exercises.
Starting big can get overwhelming, which is why a lot of people don't follow through. So how does one get into small yet consistent progress? You can actually start with home workouts from free apps.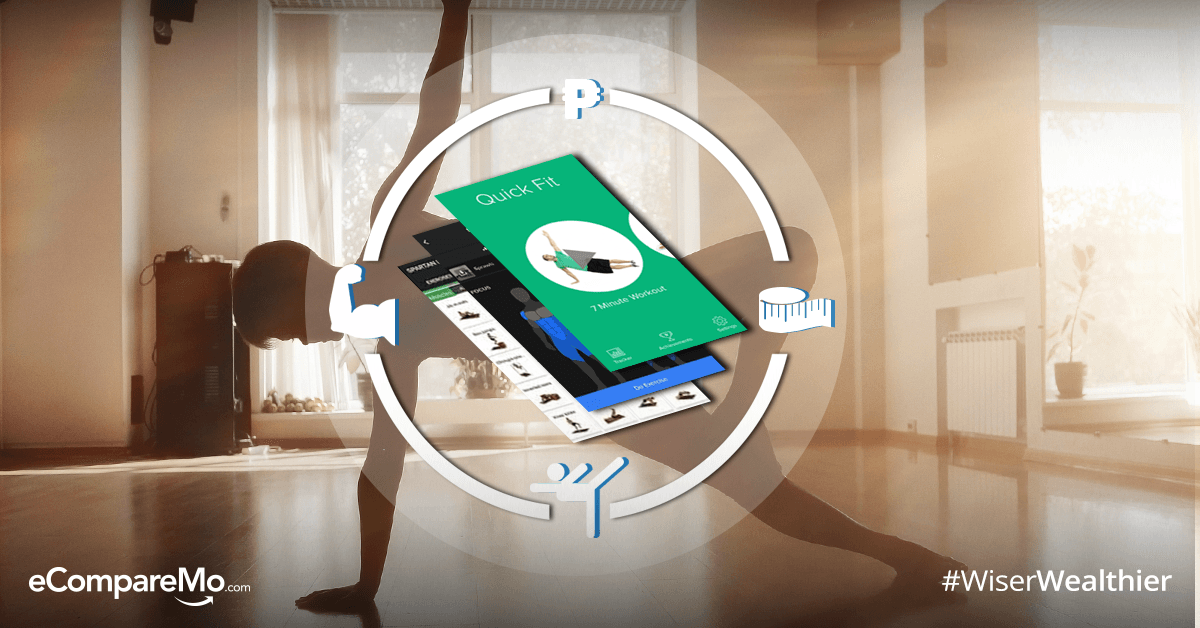 Start with seven or 20-minute workouts, until you gradually progress to a set of workout routines. You can even make your own custom routine.
The best part? You can do it at home, so you won't have to feel self-conscious or spend money at the gym. So get that motivation rolling and choose from any of these free workout apps that will help get you fit on a budget.
Note 1: If you have a chronic condition or are taking medication/s, always ask your doctor's advice before starting any type of fitness routine.
Note 2: To avoid injuries, always research or consult a professional in getting the right 'form' before doing intensive workouts.
Note 3: These apps can be used on both Apple and Android devices. You can download them on either the Google Play Store or the App Store. 
For those who want to start Yoga
1. Asana Rebel
This is a personal favorite as it really got me into doing yoga. It comes in programs such as Fatburn, Core Strength, Flexibility, Bikini Body, and Relaxation.
The videos and voice instructions are easy to follow, with different types of relaxing background music you can choose from.
Progress is marked after each workout, and the app also comes with a calendar to track the number of days for each program. Seeing results and connecting with other Asana Rebel users will definitely get you hooked on this routine.
2. Down Dog
Another app that's great for learning the basics of yoga is Down Dog. It is very newbie- and user-friendly and can be used with both Apple and Android devices.
It is in fact very easy to use. It lets you choose the difficulty level, sequence type, as well as the duration of your exercise.
For those who want to start Body Weight Training:  Body weight exercises are effective programs that only use your body's weight. You do not use free weights nor expensive gym equipment but still build strength and muscle.
3. 7-Minute Workout
Who says it's impossible to even start with just seven minutes? Downloading this app will surely motivate you to keep that slow but steady progress.
It's highly rated, not only on the both the Google Play and App Store but also among my friends.
Gem, 29, a long-time user from Makati, has this to say about the 7-minute workout:
"I read somewhere that you only need 10 minutes daily to get results, just as long as you do it daily. This app has high ratings, so I downloaded it and got started. It's been more than a year since, and I've incorporated more types of exercises on my daily workout."
4. Freeletics Bodyweight
Another favorite, Freeletics is one of the most popular and effective fitness apps around. It caters to both men and women and is made up of programs that work for both beginners and experienced users. Workouts take from 15 minutes to an hour, with the right mix of core, strength, and cardio exercises.
You can opt for a premium account to get a personal training coach. These coaches can provide you with a customized fitness program. You can post and track progress through your own Freeletics account and learn more from other people. Kind of like Instagram, but for fitness.
5. Spartan Body Weight
Don't be deceived by the very masculine name. Anyone who has been way along the fitness journey can surely follow the workouts on this app. But unlike the above apps, it only has photos of the different exercises and no videos, so it could really work best for the more experienced individuals.
Kevin, 27, from Antipolo, is a loyal Spartan follower: "I go to the gym about three times a week, and I've been doing Spartan home workouts for more than a year now. Even with all the other trends such as Freeletics, I haven't changed course 'cause I can honestly say that Spartan really works for me."
Bonus:
6. The Calorie Counter: MyFitnessPal
This lets you check the calories by scanning the food packaging's bar code. The next time you go grocery shopping, get to know your food's nutrition facts, and see if it's really worth buying after all the hard work you've put in, losing those pounds.
What fitness apps have you been using? Share your recos in the comments!