A Young Filipino's Complete Guide To Moving Out
7 min read
Most young adults fancy the perks of living away from home from time to time: Think privacy, control, and peace of mind.
However, living on your own in the big city can turn from a daydream into a nightmare when you miss out on some very crucial details.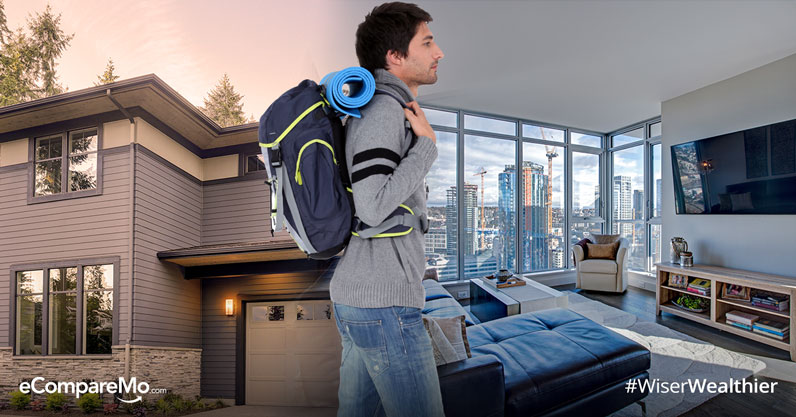 First, here are a few reasons to move out of your parents' house:
Convenience : Imagine living merely 30 minutes away from where you work, in a neighborhood with complete amenities and modern conveniences. Getting your very own address can mean spending less time on travel and more on other things like sleeping and working out.
Privacy : Continuously living with your own family means every part of the house is communal—even if you have your own bed. That's just how Filipino families are. If you're living on your own, you can do everything you want without fearing awkward encounters with the 'rents.
Growth : From learning how to keep a house clean to taking care of your own bills, you'll learn how to stand up on your two feet when you're just on your own. You'll mature in no time after realizing that no one will wash the dishes or sweep the floor for you.
Frugality : Everyone knows moving out is expensive, which means you have to learn how to make every peso count. You'll learn to spend more on essentials like food and utilities than frivolity like weekly dinner and drinks out with your friends.
(Read: INFOGRAPHIC: House Vs. Condo Vs. Rental In The Philippines)
Types of accommodations
When you're hunting for a place to plant your roots, it's important for you to familiarize yourself with the most common types of properties that you can rent. They can be confusing at times, but we'll try to shine light in this tricky business:
Bed space : Usually, these are accommodations where you occupy a bunk bed (along with some extra amenities like a cabinet) with other bed spacers. Apart from a double deck slot, you usually have access to common areas like kitchen, bathroom, and living room. They're perfect for penny pinchers who don't mind sharing a place with strangers as long as they can live in close proximity to their workplace.
Room for rent : This is a bit of a step up from bed space or dormitory since you'll have an entire room to yourself, albeit you have to share the amenities with other renters or your landlord.
Apartment : This refers to a self-contained unit within a larger complex. A building that houses multiple units is considered an apartment. Each unit is equipped with all the basic amenities that you will need such as toilet and bath, kitchen, laundry area, and other home necessities.
Condominium : Renting a condo unit is merely subletting, since the people who lease units are the owners and not the developers. Usually, they're more expensive than your standard apartment units because of the amenities.
House for rent : Like condominium units, they're the most expensive when it comes to home rentals. But if you want total privacy, this gives you the most bang for your buck.
Finding home
Hunting for your new place to live in isn't that difficult—but you can streamline the process to avoid wasting time, money, and bandwidth. To help you narrow down your search, here are some few key tips that you can use when you're searching for a place to rent:
Remember the distance . If you want to maximize your money's worth, find a place that is near your workplace. One good benchmark is that humans walk at an average speed of five kilometers per hour. Create a five-kilometer radius from your office to narrow down the preferable neighborhoods.
Accessibility is the key . Even if you find a place within the five-kilometer sweet spot, it doesn't matter if commuting is still inefficient. If it's merely one ride away, you've hit the jackpot. Two public transportation rides are still acceptable. Beyond that, it's pretty inconvenient already.
Exploit technology . Online marketplaces are your friend, so use them to your heart's content. Websites like Facebook Marketplace, OLX, and Craigslist are a good way to start your search. For more specialized content, use real estate placement websites like Lamudi, Trovit, Property Finder, Zipmatch, and the likes.
Walk like an Egyptian . Despite the number of websites with real estate postings, keep in mind that nothing beats the old-school way of scouting a neighborhood physically. A lot of great properties for rent aren't listed on those websites so you better get those walking shoes on and start hunting spree.
The red flags
Flying the nest can be exciting. However, this giddiness can make you susceptible to the pitfalls of renting. Remember what Wanda said in BoJack Horseman. "When you look at someone through rose-colored glasses, all the red flags just look like flags."
Better make sure to watch out for these telltale signs that something might go wrong in the future.
Limited and blown-up photos
Too eager landlords
Lack of contracts and receipts
No screening of potential tenants
Dirty surroundings
Weird odor in the building
Limited to no tour of the property
Poorly maintained facilities
Terrible security measures
(Read: Here's How Much And How Long You Should Save Up For Anything)
The lease
In renting parlance, the lease is a document that gives you the right to live in your new home, along with the rules and regulations of the place as well as the rent you have to pay. Unlike software agreements where you just click "I agree," you must pay attention to the lease because if you and your potential landlord signs it, it is a binding contact, making it legally binding.
If you don't want any trouble in the future, you must pay attention to the lease. Here are some things that you have to keep an eye on before you sign your contract and begin moving in:
Read your lease carefully . When you're presented with it, you don't have to sign it outright. Go over your lease several times to see if something fishy sticks out.
Read the fine print . The devil is in the details, and once you've signed your lease, you can't change anything there. It is important that you read even the tiniest of the details to make sure that everything is amenable to you.
Walk away when there are blank portions . If there are suspicious blank areas in the middle of the lease, don't sign it. These are rooms for a shady landlord to squeeze in some skeevy details that will make your stay there nightmarish.
Consider the pet clause . Some landlords can be pretty lax with pet ownership while others prohibit having a dog when you're going to stay them. Before you bring in a pet, make sure that the lease explicitly allows you to do so.
Talk to a lawyer friend . Usually, a lease is written in legalese, which is difficult to cut through when you don't know how to read beyond the fluff. If you don't have a lawyer in your speed dial, ask the lessor to explain things to you in layman's term.
Check if the utilities are covered . Aside from the monthly rent, you also have to consider other costs such as electricity, water, garbage collection, homeowners, and other fees you have to pay. A good lease should cover which ones fall under your responsibility.
Other considerations
Living on your own is such a paradise, if not for the boring side of renting such as bills, lease, and other technical stuff. To make sure that you won't worry about this side of being a tenant, you should already know these by heart so you don't have to lose sleep over them anymore:
Know the landlord . A good landlord is both friendly to his tenants but strict in terms of the ground rules. You can get acquainted with your property manager by talking to him about stuff as well as asking neighbors about him. If you're chummy with him, he'll make sure that every concern you have is addressed with utmost urgency.
Learn more about your neighbors . Whether you're living with other tenants in an apartment complex or roommates in a condo sharing arrangement, it's important that you screen them. After all, they are also eager to know you. Although it's optional, you can make friends there. What's important is that you can create an atmosphere of respect between you and other tenants.
Get the neighborhood's vibe . The only way for you to get the neighborhood's atmosphere is by walking around. This way, you won't only know the place and the amenities they offer but as well as the demographics of the area. If the community doesn't please you, then you shouldn't move there on the first place.