Negros Occidental Budget Travel Guide: Bacolod, Sipalay, Lakawon, And Other Must-See Spots
28 min read
The island of Negros is located right around the center of the Philippine map. It's that little sock-shaped land between the Panay region, Cebu, Bohol, and Siquijor.
The Negros Island is divided into two provinces: Negros Occidental and Negros Oriental. Negros Oriental is best known for its capital Dumaguete, and Negros Occidental's capital, Bacolod, is synonymous with the best tasting chicken inasal in the country.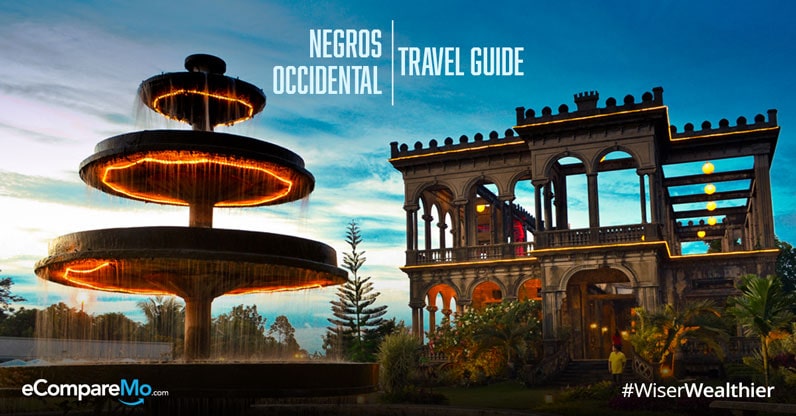 Dubbed the "Sugar Capital of the Philippines", Negros Occidental is packed with all-in-one nature trips.
For those craving some quality beach trips, the province boasts of white, pristine beaches, enchanting little islands, and rich marine sanctuaries. For those who enjoy the cooler air of higher points, there are mountains, waterfalls, and the small equivalent of Baguio — the green and misty Don Salvador Benedicto.
A lowkey but beautiful destination
Speaking as someone who grew up in Negros Occidental, I can personally say I love my hometown's lowkey tourist status.
The island does not pop up in conversations as much as, say, the likes of Cebu and Boracay, but we have our own best-kept secrets.
The beaches are well-kept, and the island has maintained its eco-friendly status. The last big environmental move was the Negros government's official decision to remove coal as a source of energy, and using cleaner, more sustainable energy sources.
Bacolod and the whole of Negros is pretty lowkey for most of the year. There's no noticeable influx of tourists, except for Masskara Festival. It's that one whole week every October where Bacolod is full of tourists and partygoers, sharing in all the fun, festivities, and food trips on the streets.
If in 2019 you are looking for some lesser known, but just as beautiful travel destinations, here is your complete travel guide on Bacolod, and the rest of Negros Occidental.
(Read: Boracay Island Alternatives: 6 Breathtaking Beach Destinations In The Philippines)
When is the best time to visit Bacolod?
Anytime of the year is a good time to visit Negros Occidental, specifically the capital, Bacolod.
If, however, you are planning to go hiking in Mount Kanlaon, or any other Negros Occidental mountains for that matter, then it's best to go during the summer to avoid the torrential rains during the rainy season.
Of course, the more outgoing people would love Bacolod in October. That's when the Masskara Festival celebration occurs.
Masskara is a two-week cultural showcase that takes place in the streets of Bacolod during the day, and a time of big riotous street parties at night. All of it involves merrymaking and good food. Get to know the rise and fall of the province through this festival, and why Bacolod is called the 'City of Smiles'.
How to get to Negros Occidental
How does one travel to Negros Occidental? There are a lot of flexible travel options for you when getting to Bacolod. It's near other big tourist destinations as Boracay, Iloilo, Cebu, Bohol, and Siquijor.
You can choose between three modes of transports: plane, ferry, or RORO boats. What way you choose to take to get to Negros Occidental will depend on your travel time and budget.
Plane
Bacolod is only an hour flight away from Manila. However, Bacolod air fares are notoriously expensive especially when booked on a such a short time.
A cheaper option than taking a plane straight to Bacolod is to book a flight to Iloilo instead. Airfare to Iloilo is almost always around half the price than that of Bacolod.
Once you get to Iloilo, you will need to take a ferry ride to Bacolod. The ferry to Bacolod from Iloilo should only take about one to two hours.
You won't have trouble navigating in Iloilo as it is highly urbanized. The Iloilo port to Bacolod is only less than two hours away from Iloilo International Airport.
Ferry
The most popular and reliable ferry is 2GO Travel. It usually takes around 20 to more than 24 hours travel time from Manila to Bacolod, and vice versa. That's because they tend to stop in prime travel spots Boracay and Iloilo, before arriving in its main destination, Bacolod.
If you have the time to spare, take the ferry to Bacolod. It's cheaper than a plane ride and, weather permitting, quite comfortable.
Roll-On/Roll-Off Ships (RORO)
Driving around Negros island is such a dream. You can do that when you bring your car along via RORO ships.
Drive down to Batangas port and off you go rolling in and out of RORO ships, with stops in Mindoro, Boracay, and Iloilo, until it gets to Bacolod.
Taking the RORO is also the best way to travel backpacker style. Provided you have the time, it's also the cheapest option. Manila to Iloilo buses are located in Araneta-Cubao Stations. Once you get to Iloilo, your bus will then "roll on" a RORO going to Bacolod. RORO travel time, including time spend on the road, from Manila to Iloilo is around 20 to 24 hours
Best ways to get around Bacolod, Negros Occidental
Once you've made it to Negros Occidental, you will need to figure out how to get around Bacolod and other spots in the province.
While in Bacolod, you can rent a motorcycle if you want to get around the city by yourself. If you're with a group, it might be better to rent a private car to go around Negros Occidental and reach beaches faster. There is also the option of going to a travel agency.
How to rent a motorcycle for hire
There a lot of trusted motorcycle rentals in Bacolod to choose from. To give you an idea of how much you will need to budget to rent one, a Honda XRM starts at P700 per day, including the helmet.
Goldenfield Restaurant Row Building, Singcang, Bacolod
Smart: 09189055658 Globe: 09756491040
Go to their Facebook page and PM them for details
Barangay Alijis; Call 909 397 1145
How to rent a car for hire
Rent-a-car services are available at the city proper. To give you an idea of how much it might cost, a Suzuki Ertiga starts at P1500 for 24 hours self-drive, without fuel.
To find the right car, check out these pages.
Goldenfield Complex, Araneta St., Bacolod City
09155577452
Phoenix Gasoline Station, Araneta St., Bacolod City
(+63)918.928.2560 (+63)908.773.4959 (+63) 917.312.4290 (+63)34.441.6008 (+63)34.476.0358
Globe 09165184794 Smart 09291859394
Narra Road, Woodside Subdivision, Barangay Alijis, Bacolod City
0929 498 0146
You will be required to present your driver's license and one (1) valid ID to rent these vehicles.
Travel Agencies
There are "DIY" tour operators that can help organize a trip for you. These are usually available in the hotel where you booked at.
If your lodgings don't offer tours, or you just really want to go it yourself, you can do your DIY tour. You can get ideas from the sample itinerary provided at the end of this article.
Commuting in Bacolod
Getting around using public transportation in Bacolod is easy. Jeepneys are very straightforward with each route. And if you have trouble communicating with the drivers, you will always find friendly locals who are ready to help you out. That's just how it is in the home island.
Commuting around Negros Occidental
If you want to travel outside of Bacolod to some of Negros Occidental's other cities, you should take the bus. The only bus line in Negros Occidental is the Ceres bus lines, with dedicated to North and South Negros Occidental routes.
To give you an idea, I've listed down the cities and municipalities of Negros Occidental by route. I've also listed down some of the popular spots you can visit at each stop.
Ceres South Terminal
From Bacolod-Silay airport, take a van to Bacolod city proper. You can go down the van's last stop and either take a jeep, or a cab to the South terminal.
Southern Negros Occidental City/Municipality

Popular Travel Spots

Binalbagan

Bambi Falls

Himamaylan

Ilog

Kabankalan

Most known for their Sinulog Festival every January.

Agustina Falls, Mag-Aso Falls, Pating Cave

Cauayan

Punta Bulata, Cauayan Lighthouse

Sipalay

Beaches, Mamara Cave, Matlag Cave

Candoni

A cave at the Kennington Hill Natural Park, Mt. Tahutay

Hinoba-an

Brazaville Beach Resort, Nabulao Beach and Dive Resort, Melrose Beach Resort
Ceres North Terminal
You won't miss this big and yellow terminal. It's right beside a soda plant. There you'll find a pasalubong center you can buy food, snacks, and all other popular Bacolod pastries from.
From Bacolod-Silay airport, take a van to Bacolod city proper (P50 van fare) and tell them to drop you off at the North terminal.
Northern Negros Occidental City/Municipality

Popular Travel Spots

Silay

Balay Negrense, Bernardino Jalandoni Museum, El Ideal restaurant, and other old cafes.

E. B Magalona

Victorias

Gawahon Eco Park (waterfalls, spring resort) Angry Christ Church, and one of the oldest sugar mills in the province, Victorias Milling Company.

How to get there:

Take the Victorias non-aircon bus, or take the airconditioned Cadiz One Stop bus who makes a stop in Victorias City. There you can just take a tricycle to the Angry Christ Church. There are no jeepneys in this city. Bus rates start at P40 – P50.

Manapla

Cadiz

Lakawon, Cadiz Viejo

How to get there:

At the north terminal, you have two options: take the non-aircon bus named Cadiz, or the airconditioned one, Cadiz One Stop. The latter, as the name suggests, is much faster and more comfortable. The fare rate from Bacolod to Cadiz is around P60.

Sagay City

Carbin Reef, Panal Reef, and Maca Reef

Escalante

Mt. Lunay

Toboso

Calatrava

Monkey Sanctuary, public beaches
Buses to Central Negros Occidental
You can also take a bus to many cities and municipalities that are close to the capital.
Depending on where you are going in Central Negros Occidental, you will either have to catch a bus on the South or North Terminal. Below, we've listed the different destinations, the sites, and which terminal you can catch the bus from.
Central Negros Occidental City/Municipality

Popular Travel Spots

Bago

OISCA Sunflower Garden

Brgy. Tabunan, Bago City, Negros Occidental

How to get there:

Take any bus or PUV from South Terminal, and tell the driver to drop you off in Bago.

Talisay

The Ruins, Campuestohan Highland Resort

How to get there:

There are vehicles going to the Ruins from the PEPSI Plant beside the North Terminal.

It's best to take a private vehicle to Campuestohan. The double tires that pass by Campuestohan in Talisay do not operate on a schedule, but if you really want to, you can also wait for the double tires right at the Pepsi Plant. Make sure you ask around for the time and the right public vehicle going to Campuestohan.

Murcia

Mambukal Mountain Resort – your point of entry to Mount Kanlaon's Seven (7) Falls, Pataan Mountain Resort

Details on how to get there are detailed further down the article.

Don Salvador Benedicto

Malatan-og Falls, Jomax Peak, our little version of rice terraces with an overall Baguio feel

San Carlos

Mayana Peak – Sitio Punod, San Carlos City

From San Carlos city proper, only 15 minutes away by boat is the white sand island of Sipauay. There are lots of resorts to stay at in the island.

How to get there:

The buses for San Carlos are at Ceres North Terminal. The trip is around 4 to 5 hours from Bacolod

You'll find the buses for below cities and municipalities at the Ceres South Terminal

Pulupandan

Valladolid

San Enrique

Pontevedra

La Castellana

Caduhada Spring Resort, Garden of Luisa

Hinigaran

Isabela
(Read: Masskara Festival Food Guide: The Best Restaurants And Cafés in Bacolod City)
Where to stay in and around Bacolod: Best accommodations from budget to high-end
Your choice of accommodation will depend on the type of traveler you are, or the kind of trip you will have. Group trips would do well in going for hotels nearby or right on Lacson Street, Bacolod. This is where all the popular food hubs and bars are, all walking distance.
Those that want a more serene or romantic stay can check in to one of the nature and/or resort hotels, as listed below:
Resort Hotels
Palmas Del Mar
Nature's Village Resort
Campuestohan
Mambukal
Bacolod also has lots to offer when it comes to comfort and luxury. You can also indulge and stay at the more high-end hotels complete with a car rental service or daily pick-ups.
Recommended accommodations according to specific area
1. Goldenfield Commercial Complex
This area is located at the southside of Bacolod, near Casinos and bars. I would advise to check in around this area if you have a car, as it is more accessible to Sipalay, and southern Negros travel spots.
Checkout these popular hotels nearby:
Sugarland hotel – 4-star
Goldenfield Kundutel
The Luxur Place
2. New Government Center
Hotels near this area gives you a five-minute walking distance down the new government center. This is where people usually jog, walk, and take photos around the new Bacolod city hall.
East View Hotel – walking distance from food hubs and pubs
Eastway Inn
3. Lacson Street
This is the main highway of Bacolod. It's the prime location for those who want easy access to all the popular food spots and night life. Most popular restaurants in Bacolod is walking distance from these hotels:
L'Fisher – it's at the heart of Lacson Street. Starts at P1200 per night for two.
GO Hotels – in front of Robinson's Place Bacolod. Starts at P1100 per night, for two.
Seda Capitol Central – beside Capitol Lagoon. Near fast foods but walking distance to Chicken House, and seafood restaurants.
O Hotel – beside Robinson's Place Bacolod
Recommended accommodations according to budget
1.Budget Accommodations – from P580 to P1000 per night
Bacolod Pension Plaza – near Lacson
Business Inn – closer to Bacolod Public Plaza and SM Bacolod than in center of Lacson
Royal Am Rei Hotel
Hometown Hotel/ White Hotel
Pleasant Travelers Pension House – starts at P 580 per night for two persons, Standard room.
2. Mid-range – ranges from P1100 to P2500 per night
MO2 Westown Hotel – Mandalagan and downtown (san Juan Street – about 5 minutes walk to SM Bacolod)
Circle Inn
Sea Breeze Hotel – near downtown and public plaza
Planta Centro Bacolod Hotel and Residences
The Suites at Calle Nueva
(Read: The 13 Best Hotels In The Philippines, According To The 2019 Forbes Travel Guide List)
Places to eat in Bacolod, and nearby areas
If you must do one thing in Bacolod, it is to eat. Taste all the good food. Try as much of the popular food spots as you can because everything is relatively cheaper — compared to Manila, at least. And when I say good food, well, just ask every person who's traveled to Bacolod what their favorite foods are.
Go on a best chicken inasal (barbecue) hunt, or try different seafood restaurants (Pala-Pala) with every meal time.
As we say in Bacolod, Kaon ta! / Let's eat!
1. Chicken Inasal
Manokan Country
This is the original home of Bacolod's best chicken inasal. And the OG eateries are still here. Most of these restaurants have spread all over Bacolod and also in Manila, all while still maintaining their quality taste.
Aida's – one of the best in Bacolod. FYI, if you've been craving legit Bacolod chicken inasal like I do from time to time, there's Aida's in Makati Cinema Square's lower ground floor.
Nena's Rose — another local favorite, Nena's chicken inasal is so good, there has been an ongoing debate between Aida's and Nena's as the best tasting Bacolod Chicken Inasal.
Chicken House
If you don't want to go too far, for your inasal trip, there's always Chicken House along Lacson street.
2. Cakes and Pastries
Bacolod has a lot to satisfy anyone's sweet cravings. Here are some places where you can find the best cakes and pastries in town.
Calea – the most popular cakes and pastries place in town. Be sure to arrive early cause there's usually long queues in its Lacson branch, at Lourdes – C building just in front of L'Fisher Hotel.
Felicia's Pastry Shop — 6th Street, Lacson. This one is raved about both by locals and tourists, and totally worth coming back for more.
Quan Delicacies — one of the old-time favorites not just with pastries, but also for good Filipino food. You will easily find them at one of their main branches, 3 La Salle Avenue, Bacolod.
EL IDEAL Bakery — this is 30 minutes away from Bacolod city, and right at Silay city's highway. A trip to Silay or Bacolod without eating at El Ideal would be incomplete, because this is one of the old-time favorite bakery and restaurants of Negrosanons, dated back in the 1920s. Try their batchoy, bibingka, and pies and other pastries.
Café 1925 — about five minutes away from El Ideal is Silay's Café 1925. Try the local coffee and more good food
Ann Co Cakes — located at Silay city highway. It's highly raved about and totally worth the drive a few minutes outside of Bacolod.
Bascon Café and Restaurant — one of Bacolod's old-time favorite restaurants. Find them at 27th Lacson Street. You can have brunch, or a cozy afternoon here. You can't go wrong with any of their cakes and pasta.
3. Pala-Pala
You will see a lot of these types of restaurants in Bacolod. This is the equivalent of Dampa in Manila. There's a wide array of fresh seafoods you can choose from, and options on how you want it cooked.
The best seafood restaurants (Pala-Pala) in Bacolod:
Diotay's
18th Street Pala-Pala – one of the original pala-pala in Bacolod
Ading's Pala-Pala
Hyksos Tulahan
Ting-Ting's
Enting's
Imay's
4. Other Popular Bacolod Restaurants
You'll easily find these restaurants along Lacson Street.
Bar 21 restaurant – try their batchoy and lengua
Imay's
Bob's Café – Sate Babe, back ribs, pizza, burgers, coffee
L'Sea for Chinese Restaurant
Inaka Japanese Restaurant
Mu Shu Asian Restaurant
Pepe's
Outside of Lacson, somewhere around and outside of Bacolod are these popular restaurants, holes-in-the-wall, and old-time favorites.
Lord Byron's, Homesite – best back ribs in town
Balaring Floating Restaurants – for more seafood and Filipino food by the sea. It's only thirty 30 minutes from Bacolod.
Bacolod's Most Popular Pasalubong
No trip is complete without trying and bringing home a few local goodies. Bacolod is no exception. Here is a list of some of the best pasalubong in Bacolod and some tips on where to buy them.
Piaya — though nothing beats the one's from the original side street of Piaya, tourist and those in a hurry can go for popular choices from pasalubong shops such as Bong Bong's and Merzci. The OG side street Piaya can be found at the University of St. La Salle Gate One.
Napoleones — these are puff pastries with a custard-like filling. Recommended Napoleones are those of Roli's and Pendy's, but it's also available in Bong-Bong's and Merzci.
Barquillos — you'll find this at every pasalubong center
Pinasugbo — caramelized sliced banana
Negroast Coffee — Mount Kanlaon is not only known for its majestic peak, it also yields flavorful local coffee. The most recommended of which is Negroast Coffee.
Sinamak (spiced vinegar) — highly recommended spiced vinegar used by most Pala-Pala restaurants in Bacolod is CaboSpice. You can find CaboSpice at the SM Bacolod pasalubong stalls.
Every Negros Occidental city or municipality will have something unique to take home. Get to know the history of these places, and you'll likely find a unique pasalubong for your loved ones back home, or your very own keepsake.
(Read: 4 Destinations In The Philippines Where You Could Really Use Travel Insurance)
Top Negros Occidental Attractions and Activities
1. Beaches
Drive around Negros Occidental, and you'll always see its inviting coastline on one side. Take a turn closer to the shore and you'll end up in a beach, a bay, or a port. That's what makes living in an island so beautiful. It's not suffocating. There's always sugarcane fields and trees everywhere, and beaches or any possible nature trip is usually just an hour away.
Wherever you go, you'll surely find beaches nearby. Take a look at the popular beaches in Negros Occidental, according to their city or municipality.
Negros Occidental City/Municipality

Beaches

Manapla

Balulan Beach Resort

Cadiz

Lakawon Island Resorts & Spa

Sagay

Panal Reef, Carbin Reef, Maca Reef

Calatrava

Public beaches

Cauayan

El Tzino Beach Resort

Punta Bulata Resort & Spa

Virgin Beach

Sipalay

(See list of Sipalay beaches below)

Hinoba-an

Nabulao Beach and Dive Resort
Sipalay
[metaslider id="101109″]
Sipalay City is only a three-hour drive from Bacolod. It has grown popular over the years because of its beautiful beaches and resorts. I would even dare say it's a cross between Boracay's white sand beach (see Sugar beach), and the Hundred Islands, with all the islets you'll see when you go island hopping. This place is full of natural beauty, and we are very lucky to enjoy its raw and lowkey tourist status.
And until now, even in the summer, it doesn't get as crowded as other popular tourists' spots, and us locals would very much like to keep it that way.
Note though that Sipalay doesn't offer that party-island vibe. Here, you will get a chance to slow yourself down. Laze around a hammock, go snorkeling, diving, island hopping, or just walk around and enjoy the sights.
You can book your accommodations online for most of these popular Sipalay beaches and resorts:
Perth Paradise
Big Bamboo Beach Resort
Nataasan Beach Resort & Dive Center
Sugar Beach – here you'll find the lovely Takatuka Lodge Sipalay and Dive Resort
2. Islands
Lakawon
[metaslider id="101080″]
it's the most popular beach in Negros Occidental for tourists, and for good reason. Lakawon is the most accessible white sand beach from Bacolod. It's only an hour drive away. By bus, it should only take two (2) hours from the Ceres North Terminal in Bacolod.
Carbin Reef
According to Wikipedia, "Sagay is the largest marine reserve in the Philippines, covering an area of 32,000 hectares," and in the middle of this is Carbin Reef.
Carbin Reef is popular among locals for its high-tide low-tide availability, and stretch of fine white sandbar. And, as any savvy traveler knows, the locals know the best places to go.
It's like a smaller version of Leyte's Kalanggaman island, and a bit longer than Siargao's Naked Island.
Danjugan Island
This island's packaged rates are pricier than your usual island tours because this was a marine sanctuary first, before it's become a well-known travel spot. We'll talk more about it when we talk about diving in the next part of this guide.
3. Diving in Negros Occidental
The most popular diving spots in Negros Occidental is Julien's Wreck in Sipalay, and Danjugan Island marine reserve. Here are the resorts where you can go diving in Negros Occidental.
Artistic Dive Resort, Sipalay
Nabulao Beach and Dive resort, Sipalay
Danjugan Island, Cauayan — this is a marine reserve whose coral reefs are said to be as diverse as that of Australia's Great Barrier Reef.
Takatuka Lodge Beach and Dive Resort, Sipalay
Punta Bulata, Cauayan
4. Mountaineering
Bacolod is the starting point for some of the country's most beautiful and challenging hikes. Those looking to climb these peaks usually travel to the province through Bacolod's major transport hubs. You can also get in tough with local mountaineering groups in the city who can help arrange an itinerary for you.
Mt Kanlaon
[metaslider id="101102″]
The highest peak in Negros and the third most-active volcano in the country.
Mt. Mandalagan
Best known as Tinagong Dagat (hidden sea) a six-hour trek will lead you to this basin-like lush camp site in Mount Mandalagan.
Best to go during the summer as it literally turns into a dam during the rainy season. I's also cold up, so bring appropriate clothes.
5. Mountain/Nature Resorts
The beaches of Negros Occidental aren't the only beautiful spots to chill in the province. If your not a hiker you can still enjoy the areas natural beauty at these nature resorts:
[metaslider id="101087″]
Mambukal Mountain Resort, Murcia – most popular
Pataan Mountain Resort, Murcia
Palmas Del Mar, Bacolod
Nature's Village Resort, Silay – it's only about 20-30mins from Bacolod
Campuestohan Highland Resort, Silay — it's theme park nature resort at the mountains of Silay. It features a wave pool, and lots of exciting outdoor activities.
Punong Gary's place — a more private getaway is brought by Punong Gary's place.
Gawahon Eco Park, Victorias
Lantawan View, Silay – Baguio feels
Guintubdan Mountain Resort
6. Waterfalls and Caves
The province is rich with these spectacular natural features. Here is a list of the best: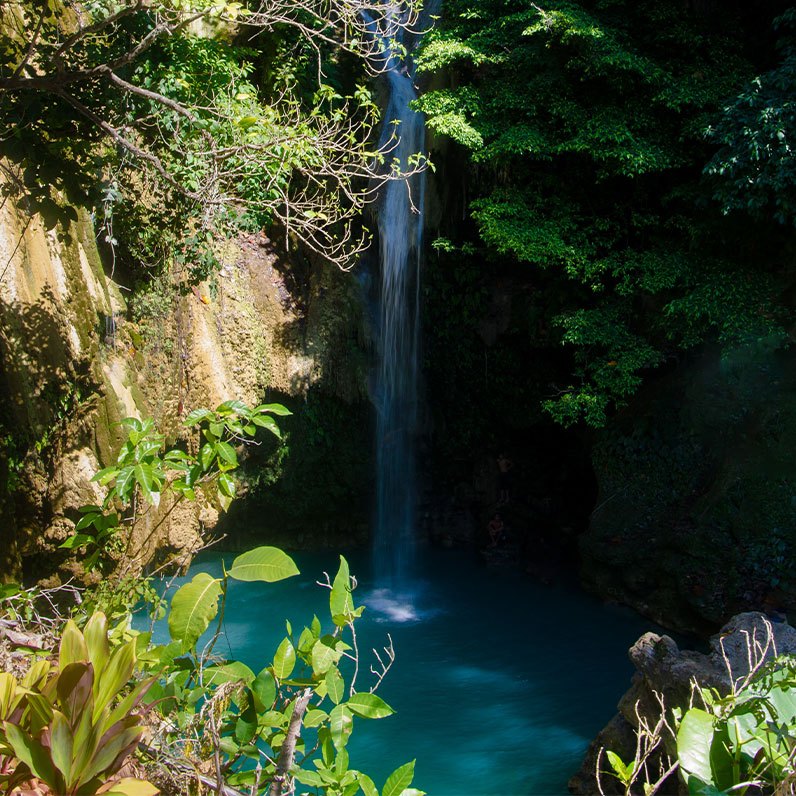 Mag-Aso Falls, Agustina Falls, Pating Cave – Kabankalan
Mambukal – Seven Falls
Patag, Silay
Malatan-og Falls – difficult trek
Guintubdan
Pulangbato Falls Valencia
Casaroro Falls – Valencia
Bambi Falls, Binalbagan
Kennington Hill Natural Park
(Read: Taiwan Travel Guide: Don't Miss These Places On Your Next Trip To This Now Visa-Free Country)
7. Historical Spots
As we've noted, Negros Occidental is considered the sugar capital of the Philippines. It was home to sugar barons and hacienderos even before the Spanish colonization.
You'll see stretches of sugarcane fields by the highways of Negros, and within its cities, the history and establishments of what once was a booming sugar industry. After all, sugar used to be the country's number one export product.
Take a walk in the historical streets of Silay, visit ancestral houses, and marvel at unique churches, and get to know Negros Occidental's rich history.
Balay Negrense
Negros Museum
The Ruins – P150 entrance
The Angry Christ Church (St. Joseph the Worker Chapel), Victorias
Victorias Milling Company — take a tour at one of the oldest sugar mills in the country. This is right at the Angry Christ Church.
Chapel of Cartwheels, Manapla
Hacienda Rosalia, Manapla — this is where you will find the Gaston Mansion, where the critically-acclaimed film "Oro, Plata, Mata" was filmed.
Bacolod City Tour: Popular Spots
Aside from Silay, there are other spots around Bacolod that definitely deserve a visit:
Capitol Park and Lagoon. The Negros Museum is only a few minutes away from here.
Bacolod City Park Right in front of Bacolod Cathedral, right at the downtown area.
New Government Center
Lacson Street – where Calea, Merci and Bong Bong's stores are. You can just walk along the main area of Lacson Street, by the Capitol Lagoon, and you will discover more restaurants.
Possible Side Trips in Negros Occidental
While there's a lot to see and do in Bacolod, you should also check out the rest of the province of Negros Occidental. Here are a few highly recommended side trips:
Duyan Café Silay
The Mansion Silay
Café 1925
Victorias City – Angry Christ Church, Victorias Milling Company
Chapel of Cartwheels
Cauayan Lighthouse
Negros and its nearby islands
If you want to take an inter-island trip, you can easily do so. You only need to have at least one week to spare to be able to navigate and enjoy traveling in these nearby islands.
Guimaras
Iloilo
Cebu
Siquijor
Possible itineraries: (with photo route)
Cebu-Bohol-Dumaguete-Bacolod
Iloilo-Guimaras-Iloilo-Bacolod – because Manila-Iloilo roundtrip tickets are usually cheaper than in Bacolod
Bacolod-Cebu-Bohol
Bacolod-Siquijor
Bacolod-Iloilo-Boracay – yes! Even world-famous Boracay! It's only 5 hours away through a van from Iloilo.
(Read: Five-Day Bali Itinerary: A Gastronomic Travel Guide To The Island Of Gods)
Sample Itinerary with costs for estimated budget
Bacolod Sample Itinerary #1
Notes: Three-day trip. This is a budget trip so there is no private car pick up.
A roundtrip ticket for one Manila – Bacolod: Around P3000++ when you book it at least three (3) months ahead.
Day One
Take the van to Bacolod from the airport. You can't miss them as the drivers are constantly calling for passengers. Van to Bacolod city proper – P50
Check in at accommodation, budget accommodation starts at P500 – 700 per night.
Go to Manokan Country for lunch, beside SM City Bacolod. Aida's Bacolod Chicken inasal meal is more or less P100, with choices of pecho (breast), pakpak (wings), and paa (thigh). Best to eat with your hands for that authentic Bacolod chicken inasal experience.
Hire a motorcycle and drive around Bacolod. Rental starts at P700. Better yet, go on an adventure and take the jeepneys. The locals are ready to help you out. Go to the Capitol Lagoon, Negros Museum and New Government Center, check out the food spots and try as much of the local food as you can.
Coffee and cakes at either Calea, or Bascon Café, all in Lacson Street.
Dinner at 18th street Pala-Pala. If your accommodation is near Lacson Street, this is behind L'Fisher hotel. A dinner for two (2) will cost you around P500 to P1000 pesos, depending on your choice of seafood dishes.
Day Two
Lakawon beach trip.
Wake up early, around 6 AM and head to the North Ceres Terminal. Take the Cadiz One Stop bus. Fare is around P60.
Go down on Cadiz Burgos Public Market. Make sure you tell the conductor or driver that.
From Burgos Public Market, take the tricycle to Cadiz Viejo Port to Lakawon. It only takes about fifteen (15) minutes to get there. Tricycle fare is around P20 per person.
At the port, go inside the Lakawon registration office. If you haven't made any online reservations yet, you will have to do your online registration here and choose a cottage/room, and enter the number of people going with you.
Pay for the entrance fee and total payment for the cottage – day trip, or room/s – if you're staying overnight. It's around P300 per person. The cashier will also give you a cash card which you will need to load up with as much money as you need for the island, because they don't accept cash there.
If you run short of money on the island, there is a cash card reloading service in their main office.
You will see your boat number on the TV screen, or you'll hear it getting called. Chill out by the port and grab some breakfast. Enjoy the fresh air and talk to the friendly locals.
Forgot to bring some toiletries? The stores at the port most likely sell that. E.g. shave, toothbrush, shampoo, and waterproof bags.
Those on a day tour will sadly not get to see the Lakawon sunset. Everyone is herded out of the island at 5PM sharp. Those staying the night, however, are in for a treat. It's a truly quiet and beautiful island, and you can watch the sunset at Tawhai Floating Bar. Entrance to Tawhai is P250 each, and you can freely use the inflatables by the sea.
Day Three
Granted that you still have one full day to spare in Bacolod, you can either hire a van or rent a car to drive to Mambukal Mountain Resort (highly recommended), or commute to get there.
Mambukal gives you that all-in-one nature trip. There are lots of choices for good food, too. A day trip is enough, but you can book ahead for overnight accommodations on their website.
Commute to Mambukal — take a jeep to Libertad Market, and take the double tire vehicles going to Mambukal. Again, don't be shy to ask the locals for directions because they would surely help you out. Fare: P7
The trip to Mambukal usually takes 30 minutes to one hour by double tire or car. Fare: P40
The entrance to Mambukal is P50 for adults, P20 for children, and P15 for light vehicles. Enjoy activities like kayaking, trekking to the 7th falls, Japanese hot spring, or just walking around and enjoying the peace and quiet.
Bacolod Sample Itinerary #2
Sipalay Beach Trip
Sipalay is best enjoyed for at least two nights. Room accommodations start at P1000 per night.
From Bacolod, take the jeep to Ceres South Terminal, and take the bus to Sipalay. Fare starts at around P60. The commute takes around five to six hours by bus.
Take the faster trip by going for the vans to Sipalay right in front of the South Terminal. These usually cost around P150.
It is best to already book an accommodation in Sipalay ahead. But you can always try and walk in to the Sipalay beaches listed above.
If you made it early, you can have lunch or pizza at Artistic Dive Resort.
Usually, for the likes of Campomanes Bay and other resorts in Sipalay, they offer cooked meals and it's part of your accommodation package. You can even request the food you want served on every meal. Set meals with 2 viands and two bowlfuls of rice for five people in Campomanes Bay cost us around P1700 for dinner, and breakfast and lunch the next day.
Going back to Bacolod when commuting is easy. You can go to the Sipalay bus stop or go to the public market where the vans to Bacolod are parked.
It's important to note that you should make it back to Bacolod with at least one full day before your flight, so you have enough time in case of delays on your trip back to Bacolod. You can then do a city tour or a walk around Lacson street in the afternoon.
Go on a city tour. Best places to eat since you've likely had enough of good seafood in Sipalay, then it's about time you try sumptuous dishes at either Bar 21, Pepe's, or MuShu.
Other Sources: Trip Advisor