What The Philippines Can Pick Up From The Winners Of The 2019 Skytrax World Airport Awards
4 min read
The Skytrax World Airport Awards showcases the best of the best in air travel. We're not just talking about the best air liners, but the best airports as well.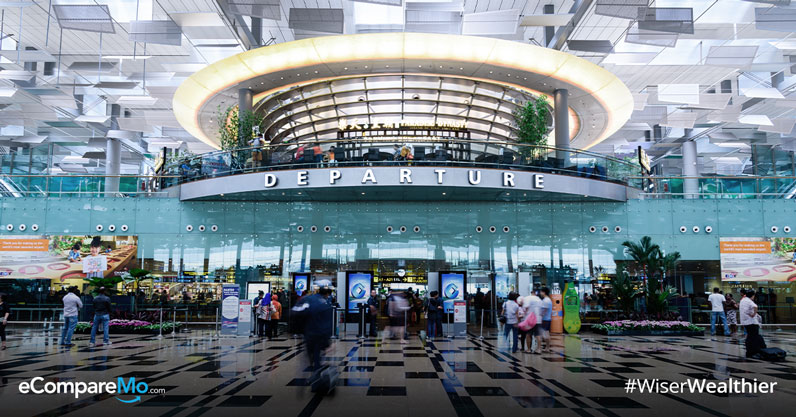 While the airports in the Philippines don't really make Skytrax's list, there are some efforts being made to improve them. We here at eCompareMo have a humble suggestion to the powers-that-be that are seeking to improve the country's airports for both domestic and foreign travelers.
The winning combination of service and convenience
Since 2013, the Singapore Changi Airport has been crowned by airline review and consultancy firm Skytrax as the world's best airport. Despite being a small country, the Singaporean airport constantly wows globetrotters with its service, convenience, and overall pleasantness.
As of the most recent Skytrax rating, after Changi came Tokyo's Haneda airport. Meanwhile, Incheon International Airport found itself right behind the Japanese travel hub. The Seoul airport was once crowned as the world's best airport in 2012.
Meanwhile, the rest of the top 10 best airports in the world are as follows:
Hamad International Airport – Doha, Qatar
Hong Kong International Airport – Hong Kong
Chubu Centrair International Airport – Nagoya, Japan
Munich International Airport – Munich, Germany
London Heathrow Airport – London, United Kingdom
Narita International Airport – Tokyo, Japan
Zurich Airport – Zurich, Switzerland
In a statement, Skytrax CEO Edward Plaisted praised Singapore Changi as it bagged a seventh consecutive win.
According to the CEO of the commercial aviation consultancy company, the airport's laser focus on constantly making the flight a remarkable experience is what sets them apart from the rest by miles.
"Changi Airport is very focused on continually improving the customer's airport experience and innovating with new product and service features. The opening of the Jewel Changi Airport in April 2019 looks set to add another unique dimension to the experience for Changi Airport customers," Plaisted said.
(Read: 5 Amazing Airport Amenities We Wish NAIA Had)
Anatomy of a great airport
What makes Changi Airport so great? A quick trip at Skytrax's customer review portal will reveal why a lot of people ranked it with stellar marks.
Based on the airport's quick overview, Skytrax has given Changi an aggregated score of 7 out of 10, which is the average of 471 customer reviews. In terms of terminal seating, cleanliness, and queueing times, it received excellent scores from flyers who once found their way there.
These three factors, albeit purely functional, are the most critical aspects any terminal should focus on if they want to be recognized as a great one. But beyond the practical features of the airport, what else makes Changi spectacular?
Travel and Leisure said that the Singaporean airport created a new way for people to enjoy airports so they don't "have to be a boring purgatory while you wait for your flight."
Beyond the duty-free retailers and airport lounges, Changi offers an almost endless array of distraction options for flyers while they wait for their boarding call.
Although convenience and technological innovation are front and center at Changi, it seamlessly integrated nature in its design principles and added another dimension to its overall appeal. The entire complex houses nine extensive gardens which creates a relaxing atmosphere for people. They even have a butterfly garden inside the airport! How cool can that be?
Other amenities people can enjoy there include movie theaters, spas, nap areas, children's play area, and swimming pools. Art is also ever present in the terminals in the form of installations and kinetic sculptures as they elevate the experience of flying beyond mere transportation.
Adding another jewel
Changi's relentless pursuit of making flights more appealing to the public is what makes it number one. If you want more proof, here's one: a new mixed-use complex will be unveiled at the airport this month.
Known as the Jewel Changi Airport, this elegant structure of glass-and-metal latticework will serve as a connecting hub to its three terminals. It will boast of numerous attractions such as gardens, 280 retail spaces, a hotel, and complete check-in facilities that will make anyone's flight luxurious.
However, the biggest feat of this central hub will be the indoor waterfall called Rain Vortex, a 40-meter marvel that definitely reinvents the definition of airports and urban planning, for that matter.
Changi's penchant for these features might be misconstrued as nothing but flagrant pursuit of opulence, but it's not the sure-fire way to win people's hearts. Suvarnabhumi Airport in Bangkok is notorious for its sweet little spot called Magic Food Point.
Although the airport manager could've gone away with overpriced restaurants there, the food hall is known for its delicious servings of Thai, Vietnamese, and Chinese delicacies–on a budget.
(Read: The World's Best Airport Lounges)
Where's NAIA?
Last year, the Ninoy Aquino International Airport (NAIA) finally showed some promising development after Skytrax hailed it as one of the top 10 most improved airports in the world. However, that was it.
After the country reeled from the international embarrassment due to the whole tanim balamodus operandi of deplorable airport officials, NAIA once again became a hotbed of controversy after President Rodrigo Duterte ordered an investigation into the matter.
Soon, the construction of a new international airport in Bulacan will finally give NAIA the chance to breathe. While they can decorate the airport with ornate pieces and make it as future-ready as possible, our service to flyers will remain the same if we don't change from within.
As a final tip, search for "worst airport Skytrax" on Google. You can take a good guess which airport profile is the only one there in the sea of listicles. You're welcome.
Sources: World Airport Awards, Airline Equality