A Comprehensive Guide To SLEX, NLEX, SCTEX, TPLEX Toll Fees
6 min read
Expressways are your gateway to escaping the hustle and bustle of the city by land. The only catch is, superhighways such as the South Luzon Expressway (SLEX), North Luzon Expressway (NLEX), Subic-Clark-Tarlac Expressway (SCTEX), and Tarlac-Pangasinan-La Union Expressway (TPLEX) require motorists to pay a toll fee.
Although the toll fees make them a pricier route, nothing can beat the convenience of cutting through towns and cities using an expressway. Also, who doesn't love the rush one gets when you floor the accelerator (within the speed limits, of course)?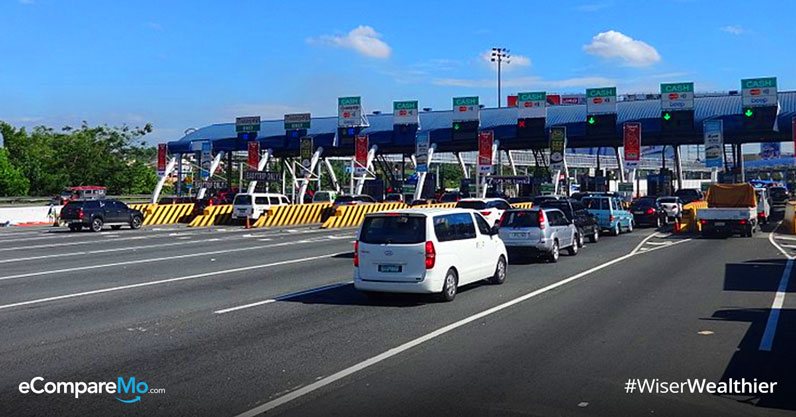 To help you plan your itinerary, we created a more understandable toll fee matrix for all the expressways in Luzon. We also prepared sample computations based on the most common destinations outside of Metro Manila.
NLEX-SCTEX-TPLEX: Exits and toll fee matrix
If you're bound for nearby northers destinations like Bulacan and Pampanga or gunning for a longer road trip to the farthest corners of northwestern Luzon, you must first pass through the NLEX and SCTEX. Since 2016, drivers have had the option to seamlessly drive through both roads without the need to pass through exit gates for respective segments.
After the NLEX-SCTEX drive, drivers on their way to northern parts of Pangasinan, La Union, and other northwestern provinces can continue their uninterrupted travel through TPLEX. Currently, it only stretches up to Pozzorubio, Pangasinan, but future plans involve exits until San Fernando City, La Union.
Last month, the NLEX Corporation announced that the Toll Regulatory Board approved its petition to hike the rates. The adjustment rate for the said increase was P4 in the open systems comprising the stretch of the expressway from Balintawak to Marilao.
Meanwhile, the rates for the closed system—which starts from either Balintawak or Mindanao Avenue to Santa Ines exit in Pampanga—went up by P0.18 per kilometer.
How does this work? Using the NLEX from Balintawak to Valenzuela exit will now cost the consumers P54, as opposed to the previous P45 rate. The end-to-end fee has also gone up from P236 to P258.
Keep in mind that the said fees are for class 1 vehicles: sedans and SUVs, taxis, jeeps, vans, and expressway-legal motorcycles.
Now that you have an idea on how the toll rates have increased, here's the entire NLEX-SCTEX integrated toll matrix:
TPLEX
(Read: Road Trip Guide: How To Prepare Your Car And Yourself For A Safe And Fun Long Drive)
Skyway-MCX-SLEX-STAR toll fee matrix
It appears like the connection between north and southern expressways may still take a while due to the construction of Skyway Stage 3. Once completed, the Skyway will run from Balintawak to Alabang, snaking through the traffic of Quezon City, Manila, Makati, and Taguig. However, there's no doubt that the elevated highway has brought residents from the south a much-needed convenience that allows them to enter and exit Manila with ease.
From the Alabang exit of Skyway starts SLEX, a 51-kilometer gated highway that connects parts of Metro Manila to the provinces of Laguna, Cavite, and Batangas. Currently, the final exit point of SLEX is the Santo Tomas exit, with plans to extend it up to Tayabas, Quezon currently underway.
Meanwhile, those who want to navigate Batangas with much ease can continue their trip from SLEX to the Southern Tagalog Arterial Road (STAR) Tollways. From Santo Tomas exit of the SLEX, they can access the southernmost portions of Batangas from Tanauan to Batangas City.
Finally, those who want to bypass the traffic in Muntinlupa to Cavite and vice versa can use the Muntinlupa-Cavite Expressway (MCX). The road starts from Susana Heights exit of SLEX then leads to the Evia roundabout with exit points to Daang Hari and Daang Reyna Roads.
Now that you know how these roads go, here are the toll fee matrices for the said southern expressways:
Skyway MCX SLEX
Star Toll
ETC interoperability project: convenience made more convenient
Savvy expressway users know that electronic toll collection is the future. Currently, there are two cashless payment solutions used by different operators: Easytrip for NLEX, SCTEX, and CAVITEX; and Autosweep RFID for Skyway and SLEX.
If you still pay your toll fees manually, then you're missing out a lot. For starters, RFID payments can take off a few seconds of your time by eliminating the need to hand off payments and change. In addition, toll plazas have their own dedicated entrance and exit points that move much faster than regular gates.
However, one of the biggest issues with contactless payments is the exclusivity of the system. Easytrip-equipped expressways cannot be used on Autosweep ones and vice versa. This means that you have to own both units if you want the most seamless experience for all main toll gates.
Last year, the government tried to solve this dilemma by making the expressway operators join forces in consolidating payment systems. The ETC toll interoperability program aims to make their collection systems open to both types of contactless payment.
Not only can Easytrip payments be used on Autosweep collection terminals and vice versa, but the program also ensures that other players will be open to others.
If you're using Autosweep and you want to enjoy the ETC interoperability program, all you have to do is follow these steps:
Head to one of the following registration branches for the interoperability program: • Total on Antero Soriano Highway in Kawit, near the Daang Hari Link • CAVITEX: Parañaque southbound point of sale (POS) • NLEX – Balintawak customer service center
Surrender your Autosweep card to the Easytrip POS
Once surrendered, the Easytrip representative will check for the following details: • Existing Easytrip/Easydrive tag on the customer's vehicle • Your car's Autosweep tag • EPC and TIN numbers of your car's tag
When the checking is done, fill out the subscription form as well as the terms and conditions • You can also enroll your new card into auto debit for extra convenience
Pay P500 for the initial topup amount
Easytrip will let you know when your new card is available for pickup
(Read: The Most Essential Summer Car Care Tips You'll Ever Need)
The most common out-of-town destinations
Now that you know how much you have to prepare for toll fees as well as the way to make your out-of-town drives more convenient, it's time to plan your road trips ahead of time. For those who plan everything to a T, we've created a toll fee guide of the most common destinations outside of Metro Manila:
Northern getaways:
Manila to Angeles, Pampanga
NLEX-Balintawak entry to Angeles exit: P234
Total: P234
Manila to Subic
NLEX-Balintawak entry to SCTEX-TIPO exit: P452
Total: P452
Manila to Sison, La Union, Laoag, etc.
NLEX-Balintawak entry to SCTEX-Tarlac exit: P361
TPLEX-La Paz entry to Pozzorubio exit: P270
Total: P631
Manila to Cabanatuan, Pantabangan, Baler, Dipaculao, etc.
NLEX-Balintawak entry to SCTEX-Tarlac exit: P361
Total: P361
Manila to Lingayen, Alaminos, Bolinao, etc.
NLEX-Balintawak entry to SCTEX-Tarlac exit: P361
TPLEX-La Paz entry to Paniqui exit: P79
Southern getaways
Manila to Santa Rosa, Tagaytay, Nasugbu, Calatagan, etc.
SLEX-Magallanes entry to Sta. Rosa exit: P175, OR
Skyway entry to SLEX-Sta Rosa exit: P221
Total: P175 to P221
Manila to Mabini, Batangas City, etc.
SLEX-Magallanes entry to Calamba exit: P214, OR
Skyway entry to SLEX-Calamba exit: P260
SLEX-Calamba exit to STAR-Sto. Tomas entry: P25
STAR-Sto. Tomas entry to Batangas City exit: P95
Total: P334-380
Manila to any part of Bicol Region
SLEX-Magallanes entry to Calamba exit: P214, OR
Skyway entry to SLEX-Calamba exit: P260
SLEX-Calamba exit to STAR-Sto. Tomas exit: P25
Total: P239 to P285