National Arts Month 2019: 5 Events You Have To Go See
5 min read
Every February, the entire country celebrates the National Arts Month, highlighting the excellence of Filipinos in the field of arts.
Since its proclamation in 1991, both the public and private sectors come up with their own events to make the public more appreciative of local talents during National Arts Month. This year, the entire celebration will revolve around the theme "Ani ng Sining."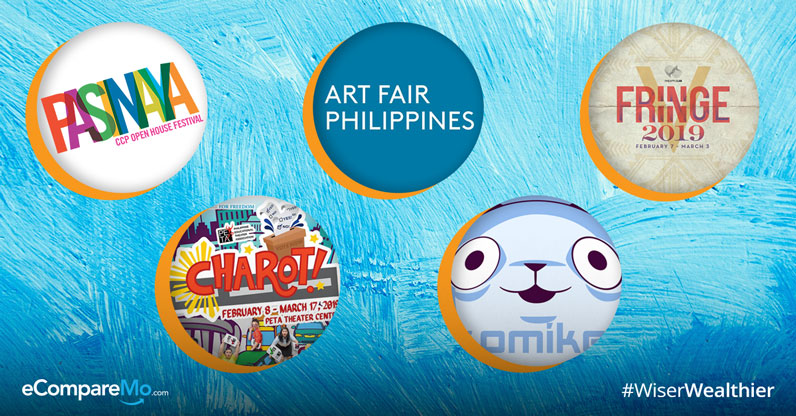 If you want another way to make your February more interesting than just Valentine's Day and more colorful than Chinese New Year, here are some events you can attend this National Arts Month:
1. Pasinaya
February 1 to 3
Touted as the largest multi-arts festival in the Philippines, Pasinaya is a three-day celebration organized by the National Center for Culture and the Arts.
Now on its 15th year, Pasinaya will serve as a converging point for artists and art enthusiasts from all walks of life. Expect more than 3,000 artists from various fields such as dance, music, theater, visual arts, film, and other disciplines in one grand event.
Day one will be a series of seminars and workshops about art disciplines held at different parts of the CCP Complex. Meanwhile, days two and three will be the time where artists from various fields will sing, act, play, dance, and express their genius in the complex. The CCP's galleries will also be open to the public to appreciate the works of Filipino masters.
To get your tickets to Pasinaya 2019, pre-register through the CCP website to get your QR code. Present the QR code for scanning and pay only P50 to get your wristband pass. For those who prefer not to queue for the activities, you can upgrade your pass for only P300.
2. Art Fair Philippines
February 22 to 24
Both art lovers and casual Instagrammers are now well versed with Art Fair Philippines, a yearly platform for some of the best contemporary visionaries to display their arts and make them more accessible to the public.
Still held at The Link in Makati, expect thousands of people to swarm Makati Central District to see some of the greatest works of our time.
So, what to expect for this year's Art Fair Philippines? Just like last year, the first thing you have to anticipate is the huge number of people it will draw, ranging from serious collectors of different works to novice art enthusiasts. In addition, expect a masterfully curated gallery featuring paintings, sculptures, installations, photographs, and others contributed by the best artists and galleries in town.
In addition to the exhibit itself, Art Fair Philippines will also facilitate talks with the Museum Foundation of the Philippines and the Ateneo Art Gallery. Discussions range from the contemporary issues faced by the local art movement as well as a deep dive in some of the practices of legendary artists.
To get your Art Fair Philippines pass, buy your tickets online for P350 per day pass. If you're loaded, you might want to bring a lot of money in case you find a piece that moves your soul. After all, this is the perfect gateway to become a collector yourself.
(Read: Where To Buy Philippine Paintings: A Guide To Owning Your First Piece Of Art)
3. Fringe Manila
February 7 to March 9
Dubbing itself as "an open access, non-curated, uncensored arts and community festival," Fringe has grown to become one of the most anticipated multi-discipline artistic events in the country. But Fringe Manila isn't alone in this; in fact, there are other "fringe" festivals happening all over the world.
But what exactly is a fringe festival?
Tracing its roots back to Edinburgh back in the late forties, fringe festivals are events where artists can do whatever they want without the need for curators and juries to approve or reject their works.
Starting in the realm of theater, the event has become multi-faceted and has embraced all types of freaks and geeks from different fields. Whether it's an interactive theater where the audience are involved or an ensemble of artists singing about taboo subjects, imagination is your only limit at a fringe festival.
For this year's Fringe Manila, portions of Makati such as Commune, Alliance Francaise Manila, Pineapple Lab, and others will explode with creative genius delivered by local and international artists. Exhibits, film screenings, stand-up comedy shows, art workshops, seminars about putting up a coffee shop, and even a burlesque class—the events happening during Fringe's run are too many to mention.
If you want more details such as calendar of activities, venues, ticket prices, and other details, visit their website and check out their guide for this year's iteration of Fringe Manila.
4. PETA's Charot! and Tagu-Taguan, Nasaan ang Buwan?
Charot! – February 8 to March 17
Tagu-Taguan, Nasaan ang Buwan? – February 6
The Philippine Educational Theater Association (PETA), the same troupe that presented the critically-acclaimed Rak of Aegis, has two plays slated fpr the National Arts Month.
First on PETA's slate for this season is a sardonic comedy-musical Charot! Owing its name from an expression where everything it preceded should be taken lightly, Charot! will put a spotlight on pressing issues like federalism, charter change, and voting—but dripping in humor that PETA says will make the heavy-hitting discussions easier to swallow. Despite its tone and delivery, the troupe takes the conversations seriously—or do they? Charot!
Meanwhile, back for one night only is Tagu-Taguan, Nasaan ang Buwan? The play follows the story of Popoy, a descendant of the legendary character Lola Basyang. With the help of his Lola Luna, Popoy must save the magical realm of Saysay Lupalop from the curse that engulfs the land with fear and restriction. Children and children at heart will rediscover the power of creativity and imagination and how they help us deal with the confusing world that is real life.
You can catch Charot! from February 8 to March 17 at the PETA Theater in Quezon City while Tagu-Taguan, Nasaan ang Buwan? is back for one night at Star City's Star Theater in Pasay City.
(Read: 10 Best Budget Museums In Manila)
5. Komiket
February 16 to 17
Whether you're a Marvel or DC fan, it has long been established that comic books are now a legitimate form of art, capturing archetypal stories and delivering them in a fresh and exciting way that captures the imagination of the readers. But if you want to go beyond the mainstream international imprints and find diamonds in the rough, go to Elements at Eton Centris this February 16 and 17 to witness Komiket.
Pooling more than 500 local creators in one place, Komiket will give a platform to our favorite independent creatives and increase their reach to people. From independently published comics, stickers, postcards, shirts, and even artworks, there's no shortage of ways to support your artists there. Show some love to your favorite artists this National Arts Month at Komiket!