More Premyo Bonds, Manila Water And Maynilad Rates, Overtime Pay For Government Workers, And Other Money News
5 min read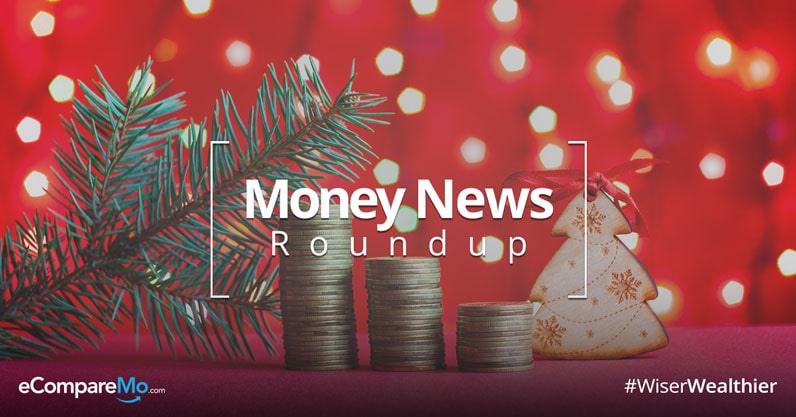 Manila Waters, Maynilad back down on rate increase after facing threats of imprisonment
The country's two biggest water concessionaires Manila Water and Maynilad decided not to proceed with their rate increase in January, in pursuance of the awards they won at international arbitration courts after President Rodrigo Duterte threatened them of facing economic sabotage charges, expropriation, and imprisonment.
Last month, the Singapore-based Permanent Court of Arbitration ordered the Philippines to pay P7.43B to Manila Water which are their actual losses for the refusal of MWSS to allow them to raise water rates over the past several years.
In 2017, Maynilad won the same case in the arbitration court awarding them a total of P3.4B pay from the government.
On Tuesday, December 10, 2019, both water suppliers said that despite the decision of the arbitrators, they will no longer attempt to obtain the foregone revenue, amounting to P11B from the government, by implementing higher rates such as what they were not able to implement previously.
The Metropolitan Waterworks and Sewerage System (MWSS) also revoked its decision to extend concession deals with both water utility system on the same day they announced their submission.
However, both Maynilad and Manila Water executives have said in a House of Representatives hearing that they are open to renegotiate such provisions under their water concession agreements and they are ready to cooperate with the government to continue distributing water in Cavite, Metro Manila, and Rizal provinces.
Despite all that, both water parties have confirmed that they are willing to defer the scheduled rate increase in January 2020, which is supposed to be part of their phased adjustment for the fourth rebasing period.
(Read: Unemployment Drops, Rural Banks Go Digital, And Other Financial News)
Philippines hit a 15% tourist high from January to October
According to the Department of Tourism (DOT), the Philippines had over 6.8 million tourists from January to October. Because of this, the country experienced a tourist increase of 15% compared to the same period in 2018.
Responsible for a total of 1.6 million arrivals, South Korea was identified as the country's top tourist source. The tourism agency is anticipating that this number will increase further after a tourism cooperation program agreement was signed between South Korea and the Philippines.
China came second with a total of 1.5 million tourist arrivals. This was followed by USA who came in third after having 872,000 arrivals, then Japan and Taiwan, respectively.
As per DOT Secretary Bernadette Romulo-Puyat, such an increase in tourist arrivals was due to the budding relations of the Philippines with other countries, improved air connectivity, growing recognition of the country's sustainable tourism advocacy, and the agency's intensified marketing promotions.
"The collective efforts and resolve of the whole tourism industry have paid off with the continued increase in our visitor arrivals and tourist receipts as well as recognition from major international award-giving bodies," as stated by DOT Secretary Bernadette Romulo-Puyat.
The government is targeting a total of 8.2 million tourist arrivals this year.
(Read: Mitsubishi Xpander Recall, MRT Extension To Bocaue, New SLEX Ramp Scheme, And Other Motoring Stories You Need To Know)
Night differential for state workers supported by Civil Service Commission
The Civil Service Commission supports a proposed law which grants an additional 20% pay to every government employee who work beyond regular office hours.
Under Senate Bill No.643, all government employees including those working under government-owned and controlled operations (GOCCs) should receive a night shift differential rate not exceeding 20%, which is the hourly basic rate of employees working from 6PM to 6AM.
The fund for the night shift differential rate for employees under the GOCCs will come from the yearly general appropriations act, as well as from their corporate funds. However, it will be different for those employees working under Local Government Units (LGUs) as it will be coming from their own funds.
According to Civil Service Commissioner Aileen Lizada, the proposed additional pay shall compensate the sleep lost by night shift workers such as the anti-narcotic agents, Customs and Immigration personnel, and others.
In addition, CSC Commissioner Lizada also said that she is in favor of the bill requiring civil service eligibility to all Filipino medalists in the Southeast Asian Games. This will allow them to work for government sports offices, giving them the chance to train young athletes and create more champions.
"They gave us honor and recognition. Let government take care of them after the moment they shine as athletes," as per CSC Commissioner Lizada.
(Read: Premyo Bonds, 56 Flagship Projects Finished By 2022, And Other Money News)
Government upsizes Premyo Bonds initial offer
Premyo bonds orders exceeded the initial P3B offer, as such, the government will be extending the offering.
As per National Treasurer Rosalia V. De Leon, so far, they have accepted a total of P3.68B worth of offers for the one-year Premyo bonds which was launched last November 25. This has prompted the government to upsize and extend its initial P3-billion offer.
The highest daily sale of P732M was noted last Monday. This has pushed the total collected amount to P3.86B and because of this, the office is likely to continue accepting bids even after the offer period to accommodate those individuals who still want to invest.
The Premyo bond was launched last month by the government to urge small investors to invest in state securities for only as low as P500.
The minimum offer which was P500 for a 1 one-year bond with a yearly interest rate of 3% paid quarterly was significantly lower compared to the usual which is P5,000.
To note, for every P500-worth of Premyo bond investment, the investor will have a corresponding raffle ticket which will be drawn quarterly giving them the chance to win up to P1M in cash, as well as other non-cash prizes such as condo units.
The original offer period is until today, December 13, 2019.
Hopeful investors can acquire the bonds through the agency's online website or through other over-the-counter authorized selling partners which are: BDO Capital and Investment Corp., BDO Unibank, Inc., China Banking Corp., China Bank Capital Corp., Development Bank of the Philippines, First Metro Investment Corp., Metropolitan Bank & Trust Co., and Land Bank of the Philippines.