Meralco Rates Drop; Alcohol Beverage Tax And New Endo Bill To Be Pushed; And This Week's Hottest Financial News
5 min read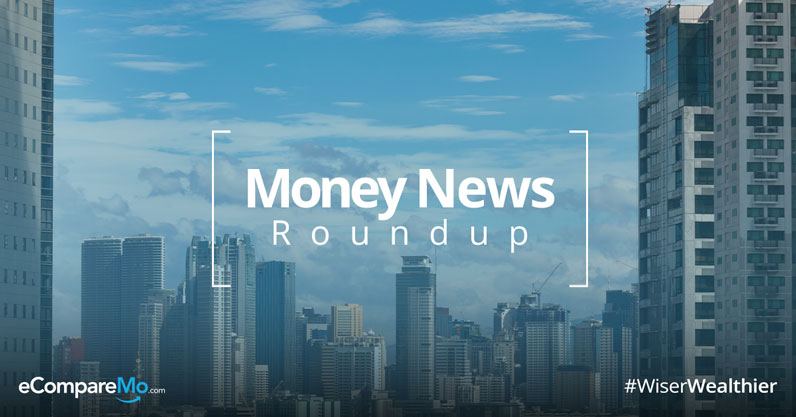 Meralco electricity rates continuously drop for the fourth month this August
Electricity users in the National Capital Region (NCR) and surrounding areas will see lower bills for the fourth straight month this August as Manila Electric Co. (Meralco) announced last Tuesday that they will be charging lower electricity rates for its 6.6 million customers.
Due to lower spot market prices, Meralco rates are down with a P0.4176 per kilowatt-hour (kWh) drop. This represents a total downward adjustment of nearly P1.00 per kWh since May.
Meralco said its overall electricity rates for this month amount to P9.5674 per kWh, lower than last month's P9.9850 per kWh. For a typical household that consumes 200 kWh, this translates to a decrease of around P84.
The power generation charge, which accounts for half of the monthly bill, decreased for August as a result of the lower charges from the wholesale electricity spot market (WESM) during the July supply month.
It slipped to P4.9620 per kWh, or by P0.4607 per kWh, from P5.4227 per kWh last month. WESM charges dropped by P6.208 per kWh amid improved power supply conditions in the Luzon grid. WESM accounted for 11% of the power distributor's supply.
The utility company said that while the National Grid Corporation of the Philippines (NGCP) placed Luzon on yellow alert in the first half of July flagging thin reserves, there was no red alert for the whole month thus making it possible for lower electricity rates to happen.
(Read: Bulacan Airport Project Goes To San Miguel, July Inflation At 2%, And This Week's Hottest Financial News)
Megaworld's net income climbs 18%, reaching 8.9 billion in H1
Megaworld Corporation reported an 18% growth in attribute net income to P8.9 billion in the first half of 2019, from P7.5 billion in the same period last year.
In a disclosure, the firm said earnings included a non-recurring gain of about P189 million in the first six months of 2019.
According to the Andrew Tan-led company, profit expansion was fueled by a collective growth of 18% in its core businesses related to residential sales, office and mall space leasing, as well as hotel operations.
Its consolidated revenues jumped by 18% to P31.7 billion in January to June from P27 billion a year ago, mainly driven by its residential segment.
Broken down, Megaworld's residential business, rental, and hotel operations accounted for 63%, 26%, and 4% of total revenues, respectively. The balance of 7% came from its non-core revenues.
Residential sales hit P20.2 billion in the first six months, up 11.6% from P18.1 billion during the same period last year, while leasing revenues grew by 19.11% to P8.1 billion in the first semester of 2019, from P6.8 billion same period in 2018.
Hotel operations under the Megaworld Hotels brand also saw growth, rising by 80% to P1.3 billion from P715 million a year earlier.
Megaworld shares added 13 centavos or 2.17% to finish at P6.11 apiece on Wednesday.
Alcoholic Beverage Tax pushed forward, hoping for committee approval next week
Albay 2nd District Representative Jose Ma. Clemente S. Salceda committed to approve at the committee level next week a bill increasing taxes on alcoholic beverages.
Speaking at the Kapihan sa Manila Bay press briefing on Wednesday, Mr. Salceda told reporters that during a Monday meeting preceding the Legislative Executive Development Advisory Council (LEDAC) session, participants determined that thepriority measure is to increase excise taxes on alcoholic beverages.
He added that the ways and means committee, which he chairs, is also working on other measures seeking to raise taxes on electronic cigarettes to at least P25, and possibly to P45.
"Sa pre-LEDAC na ginawa sa Malacañang (At the pre-LEDAC meeting in Malacañang), it was the consensus number one measure to be approved," said Salceda.
"Please expect that the alcohol taxes will be approved (at the committee level) by Tuesday." He added.
The expected revenue from raising taxes from alcoholic beverages will hit P33 billion alone in the first year of implementation.
According to him, the measure, which was approved on third reading by the previous Congress, will benefit from House Rule 48, which allows all bills that advanced that far in the previous sitting of Congress to be reported out of committee with a majority vote from the panel.
New draft of Security of Tenure Bill to be submitted to Palace this month
Labor Secretary Silvestre H. Bello III said that the agency will be submitting its proposals on the new Security of Tenure Bill (SoT) later this month to the Palace.
Mr. Bello said the Palace has directed the Department of Labor and Employment (DOLE) to submit its own version of the SoT Bill, following the veto of Senate Bill 1826 by President Rodrigo R. Duterte on July 26.
The same vetoed bill has been refiled by Senator Emmanuel Joel J. Villanueva on July 29. His father, Cibac party-list Rep. Eddie C. Villanueva, filed the House version of the bill on Monday.
Secretary Bello said that apart from fine-tuning the vetoed bill, he added that the new draft will empower the labor secretary to determine a firm's core functions, rather than the earlier requirement for a tripartite decision by labor, management and the government.
Labor Secretary Bello expects to meet with labor groups next week. He is also set to meet with the Department of Trade and Industry (DTI) Secretary Ramon M. Lopez for further consultations.
Trade Secretary Lopez said that there is no set date for a meeting with Secretary Bello, saying only that "it will be very soon."
(Read: Metro Manila Road Cleanup, 2020 Mitsubishi Montero Sport Unveiled, And Other Motoring News)
Philippines' economic growth further weakens in Q2
The country's economic growth further slowed in the second quarter owing to budget delays, a spending ban ahead of the mid-term elections, and anemic farm output due to the El Niño phenomenon, the Philippine Statistics Authority (PSA) reported today.
The Philippine economy, as measured by its gross domestic product (GDP), grew 5.5% in April to June this year, slightly slower compared with 5.6% growth in the previous quarter, the PSA data revealed.
Compared to the previous year's numbers, the GDP also weakened during the same quarter by 6.2%.
The second-quarter figure brought the country's first-semester GDP average at 5.55%, below the Duterte administration's target for this year of 6.0% to 7.0%.
Socioeconomic Planning Secretary Ernesto M. Pernia said the second-quarter GDP was the lowest growth in 17-quarters amid "challenging times."
As per Secretary Pernia, for this reason, the country needs to expand at least 6.4% in the second semester to hit at least the government's low-end GDP target.
Department of Finance (DoF) Secretary Carlos G. Dominguez III earlier said the budget delay resulted in cutting the government's spending on infrastructure and social services by about P1 billion a day.
To recover the lost spending opportunity, the government's economic team formulated its "catch-up plan," which is an infrastructure disbursement program aimed at bringing back the growth back on track in the second half of 2019.
The agriculture sector was also a drag on the economy after the local farm output shrank 1.27% in the second quarter. Palay and corn output fell by 5.82% and 8.73% in the quarter ending June, respectively.