Bill Seeks To Regulate Parking Fees, MMDA Announces Test Run Of Bus Ban, And Other Motoring News
4 min read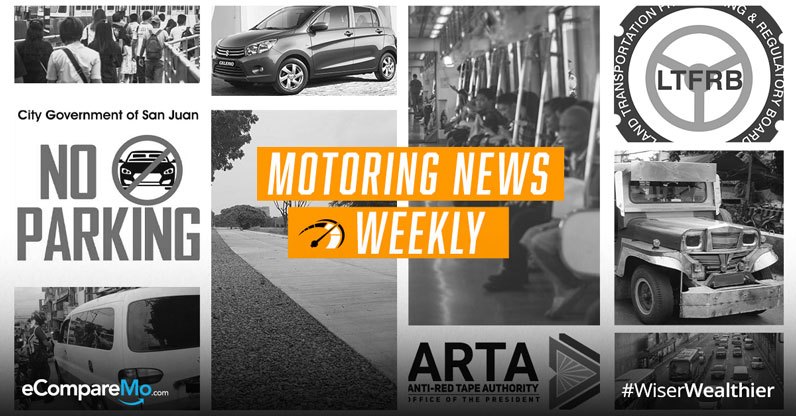 Anti-red tape agency wants LTFRB to explain TNVS delays
The Anti-Red Tape Authority (ARTA) orders the Land Transportation Franchising and Regulatory Board (LTFRB) to explain why the agency keeps on delaying the application process for transport network vehicle services (TNVS).
The ARTA asked LTFRB chairman Martin Delgra regarding several issues, among them delays in the issuance of documents such as provisional authority and certificate of public convenience.
He also pointed out other "alleged irregularities," such as allowing hatchbacks to operate through LTFRB Memorandum Circular 2018-005. This happened after a flurry of criticisms were hurled at the agency for enacting "pahirap" policies.
The notice ordered the LTFRB to respond in three days to send a formal reply. Delgra said the agency "will reply within the period given and cite the changes we have put in place."
First part of Marikina City Bypass Road opens to the public
The Department of Public Works (DPWH) announced a new road that motorists can use to cut through the traffic between JP Rizal Street and Marcos Highway. A portion of the 1.6-kilometer road will now be open from Marcos Highway near SM Marikina to M. Roxas Street near Calumpang Barangay Hall.
The 470-meter phase 1 portion of Bypass Road aims to get through the dreadful traffic in Marikina and reduce the travel from two roads by 25 minutes. It cost P135 million to construct that included construction of the road and drainage systems, removal of trees, painting of the curb, and other details.
To complete the rest of the road, the DPWH said it would require several years and around P428-million funding. The bypass is part of the Duterte administration's Build, Build, Build mega infrastructure program.
(Read: Toyota Rush Recall, CAVITEx-C5 Link, And Other Motoring News)
San Juan City bans parking on Greenhills streets
Finally, San Juan City is addressing one of its perennial problems: the traffic congestion in Greenhills.
Mayor Francis Zamora issued Executive Order No. 4, effectively prohibiting parking around Barangay Greenhills from 6 AM to 9 PM all week round. There will be a heavy emphasis on streets such as Club Filipino Avenue, and the streets of Annapolis, Missouri, and Connecticut.
Zamora teamed up with Metropolitan Manila Development Authority (MMDA) special operations commander Bong Nebrija to kick off anti-illegal parking measures to combat the city's traffic problems.
"Sa mga nagdaang taon ay naging perwisyo sa mga mamamayan ang mga street parking na ito, ngunit minabuti na po natin sa ating bagong administrasyon na tapusin na ang pahirap at mabawasan na ang traffic sa mga kalsada ng Greenhills," Zamora said in a Facebook post.
MMDA announces test run of metro provincial bus ban this August
After the LTFRB issued a memorandum circular that redirects provincial buses to drop off customers at Valenzuela and Sta. Rosa interim terminals, the MMDA now eyes to make the dreaded bus ban a reality.
According to MMDA General Manager Jojo Garcia, the government considers a dry run of the program on either August 6 or 7. During the test run, Garcia reiterated that fines would be imposed to drivers who will disobey the law.
"We're hoping po na paglabas ng circular na yan, and effective ng August 2, hopefully by August 5, we will write the concerned LGUs, Quezon City and Pasay requesting to cancel all business permits," Garcia said.
Instead of allowing provincial buses to ply through Edsa, the government wants to remove their operations on Edsa, including the terminals they use that were said to cause traffic on the capital's main thoroughfare. The said interim terminals will offer transfer services to both metro and other provincial destinations.
(Read: Bill To Regulate Sidewalks, TNVS Holiday Aftermath, And Other Motoring News)
Senator files Magna Carta for Dignified Commuting
Championing the rights of all commuters and not just vehicle owners, Senator Francis Pangilinan filed Senate Bill No. 775 or the "Magna Carta for Dignified Commuting" bill.
According to Pangilinan, the bill aims to recalibrate the government's priority in making public transportation safe, convenient, and more human. He said that 70 percent of commuters use public transportation "but are only given 20% of road space."
"Because our commuters truly suffer, we engaged with AltMobility to push for the rights of those who take pedicabs, tricycles, jeepneys, buses, trains, and other public transport vehicles," Pangilinan said in a statement.
If passed, the Magna Carta for Dignified Commuting will standardize public transport, make air and roads much safer and cleaner, allow true representation of commuters, and include non-car transports to be included in policies.
Lawmaker wants parking fees regulated under new bill
Surigao del Norte Representative Robert Ace Barbers wants to regulate parking fees, among others. If passed, customers can enjoy free parking as long as they make minimum purchase at the establishments who have rights to the parking area.
Under House Bill No. 506, or the Parking Fees Regulation Act, private parking areas must comply with standardized fees to free up the spaces occupied by parked cars. According to Barbers, vehicle owners would rather clog up streets because parking fees there are cheaper.
"Vehicle owners are often forced to pay exorbitant fees for parking even if malls and other establishments are already raking in huge earnings from the sale of their products and services," Barbers said in a statement.
Apart from standard parking fees, regulations for overnight parking, 30-minute grace period, and free parking for hospital patients and visitors will also be the norm once it becomes a law of the land.
If parking areas will violate any provision of the law, they will face a fine of P150,000 or imprisonment of up to three years.