LTO Online Pass And Car Registration Renewal During GCQ: A First-Hand Experience
6 min read
In this post, we try out what it is like to have your car registration renewal during the GCQ, or general community quarantine
An eCompareMo staff does a walkthrough of the process through the LTO Online Pass
He also recounts his relatives' recent experiences with their registration
You need to block off a significant part of your day when the time for your car registration renewal comes; just ask any long-time car owner. Based on my experience, I can say that this is what I'm already used to since I live in a densely populated area.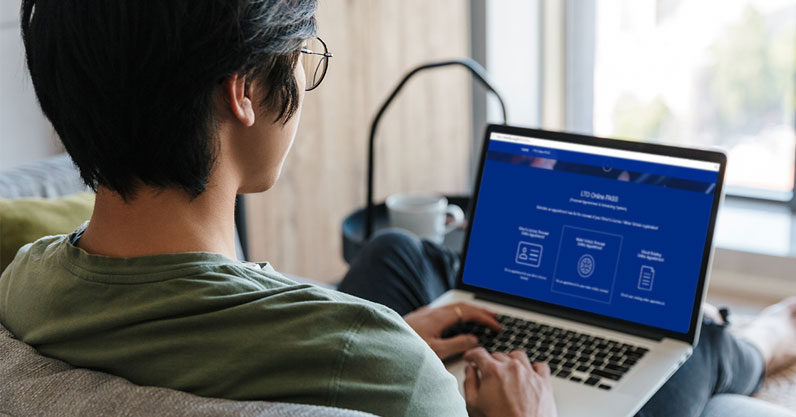 I renewed my car registration with the Land Transportation Office (LTO) earlier this year, in February, a month before the lockdown started. It took me at least half a day to have my car registration renewed—and I actually started early, around opening time.
But car registration renewal has actually been quite efficient nowadays. There are more LTO satellite offices scattered across the Metro and nearby provinces and LTO is one of the first government offices that was modernized and digitized—it's just that there are a lot of vehicles running around the streets.
As a matter of fact, you can already schedule an appointment on the LTO Online Web Portal for your car registration renewal, license renewal, and inquiry on plate availability.
In this article, we'll walk you through the step-by-step process through which you can schedule an appointment for car registration renewal, then I'm going to share firsthand accounts from my dad and aunt who recently renewed their car registration the old-fashioned way.
Perhaps their experiences can give you insights on what to expect when you visit your nearest LTO office.
(Read: MMDA 2020 Modified Number Coding Scheme Explained)
How to schedule your car registration renewal via LTO Online Pass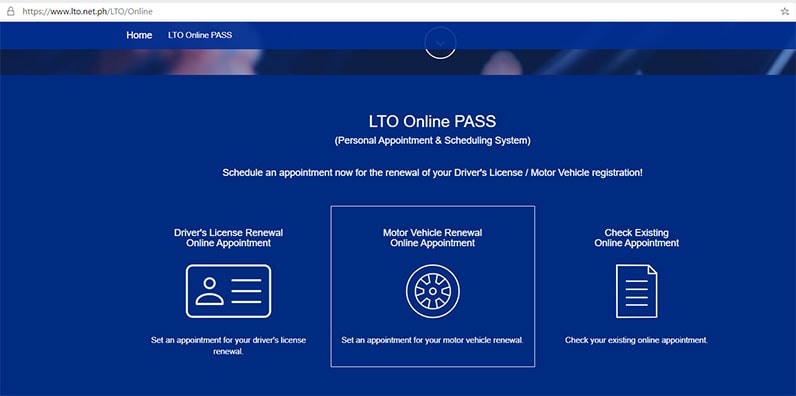 Have your OR/CR ready. You'll need it to fill out the forms
Go to https://www.lto.net.ph/LTO/Online and select Motor Vehicle Renewal Online Appointment.
Agree to the Terms of Use, type in the captcha and hit "Continue"
Get your Certificate of Registration (CR) and fill in all the required details. Click "Next"
You'll be taken to an appointment scheduling page. Here you can choose the LTO branch you'll be taking your car to, and the date and time of your visit.
Once you get a success prompt, wait for the email LTO will send to confirm your appointment. Have this printed or saved as on your phone once you visit LTO for your car registration renewal.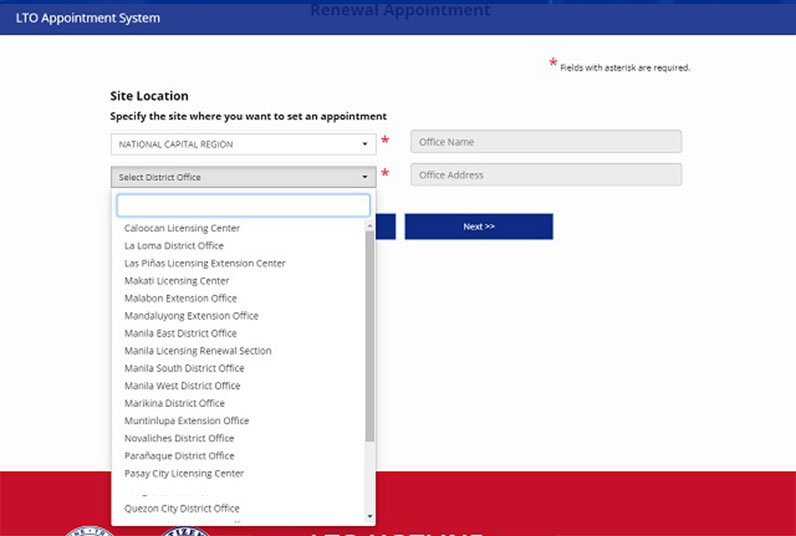 Now that you're set and ready to go, you might want to know what really happens along the lines. I talked to two of my family members, my dad and his sister, who recently had their cars' registration renewed.
(Read: Top Car Insurance Companies In The Philippines: 2020 Update)
Afterwards, I'll share with you some tips on how to make your LTO trip more fruitful and less time-consuming.
They registered at the LTO satellite office, La Loma branch.
KN: "So, how long did it take you to have your car registration renewed?"
D: "Inabot ako ng three days para lang mag rehistro."
KN: "Three days?!"
T: "Grabe naman. Ako two days lang."
D: "Kasi natagalan ako sa pagkuha ng emission results. Ang haba nung pila, inabot na ako ng magdamag. Eh may mga lakad pa ako so yun na muna tinapos ko."
T: "Ako din. Kaya inabot ako ng dalawang araw kasi nga ang haba ng pila sa mga emission testing centers. Naghanap pa ako ng medyo maiksing pila at hindi pa nauubusan ng slots. May cut-off pala sila per day."
KN: "I see, I see. So after niyo makuha yung emission test results, the next day dumiretso na kayo sa LTO. How was your experience there?"
D: "Ang daming tao."
T: "Oo, ang dami ngang tao."
D: "Naipon kasi yung three months na mag paparehistro ng sasakyan eh. Kami ng Tita mo dapat March pa nagpa-renew. Pero tuloy-tuloy naman eh. Ipapasa mo lang yung requirements mo sa counter tapos susundan mo lang yung bilang ng windows para hindi ka malito sa susunod mong gagawin. May PA system din sila doon, so aabangan mo lang yung tawag sa pangalan mo. Sasabihin din naman sa iyo kung saan ka pupunta."
KN: "Pero bakit ka inabot nang tatlong araw?"
D: "Siguro sa dami lang talaga din kasi ng tao. May kailangan din akong asikasuhin ng before lunch kaya tumigil umalis na lang ako before magbayaran. Bago umalis, kumuha muna ako ng number para kinabukasan, hindi na ako pipila ulit."
T: "Ako naman, tinuloy-tuloy ko lang. Pag nabayaran mo naman na, hihintayin mo na lang yung papel tsaka yung sticker, tapos, tapos ka na."
KN: "So ang pinagkaiba lang talaga ngayon ay yung dami ng kasabay mo?"
D: "I think so."
T: "I agree."
Tips on car registration renewal during GCQ
Big thanks to my dad and tita for sharing their experience on car registration renewal. Here's what I learned from them that may be useful as tips once you go renew your LTO car registration.
1. Have your emission tested on the days before your visit to LTO
This is perhaps the most time-consuming part of the process. Scout for emission centers near your area. I find the listing on Google Maps helpful for this situation. Also, get in line early to make sure that you don't run out of slots.
2. Take advantage of LTO's appointment scheduling system
The queues between walk-in applicants and online appointments are different. You may learn that online appointments are much faster compared to walk-ins since your information is already lined up on their system.
3. Photocopy your old OR/CR and other requirements like CTPL and Driver's License
Before going to your appointment, make sure you bring the original documents and IDs with you along with their photocopies. Put them together inside an envelope or folder because LTO officers will ask these from you. The CTPL is different from your comprehensive insurance. If you don't have ome yet, you can buy CTPL online.
4. If you can, schedule an early morning appointment to avoid the sudden volume of car registration applicants.
Expect to have a lot of other applicants lining up alongside you because of the three-month backlog in car registration renewal. So it pays to get ahead in front of the line. Also, dedicate the whole day to finish the process so you don't have to come back several times and more importantly: don't show up late to your appointment.
5. Prepare the exact amount you need to pay for your car registration renewal
This is sort of a goodwill gesture for the other people in the process like you. Save some time waiting for change and give your "renewal mates" a quicker experience, even if it's only a difference of a few seconds. What you reap is what you sow.
6. Finally, DO NOT entertain fixers.
Save yourself a couple of hundred bucks. It's not going to make that much of a difference. The process is simple and easy to follow.
There you have it. LTO car registration renewal this GCQ might be more cumbersome compared to the good ol' days. But with correct preparation and proper attitude, you can get through this unscathed.