Life After Graduation: How This Engineering Cum Laude Quit Her Day Job To Become A Freelance Copywriter
8 min read
(Note: This is the second of a three-part series, "How Is Your Class Valedictorian Doing? We Talked To Three Honor Students And Here's What We Found Out." Read the first part here.)
Aria, 30, graduated Cum Laude with a bachelor's degree in Electronics and Communications Engineering from the Central Philippine University.
After passing the board, she worked full time at a semiconductor company. But it didn't take long for her to discover what her true passions are: copywriting and watercolor painting.
Here she tells us how she transitioned from being an engineer to channeling her artistic inclinations–and earning more from them.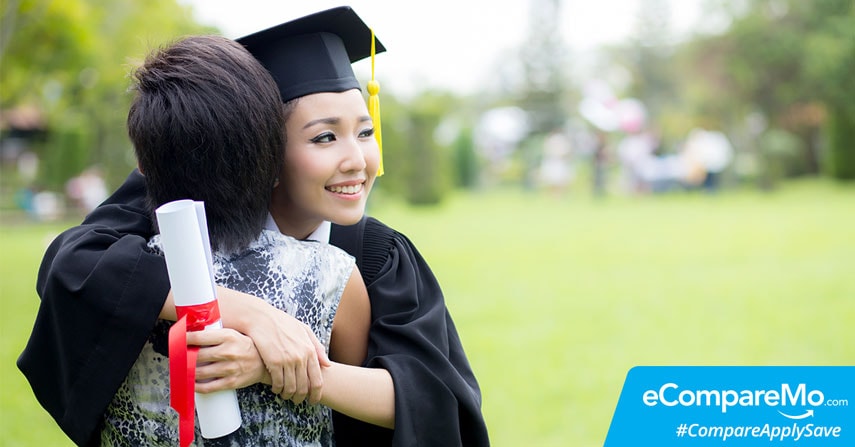 What motivated you to be an honor student?
The promise of a better future. Or probably just because I'd been an honor student since grade school. I just felt it is expected that I always graduate with distinction.
What was your typical school day like?
When I got home, I'd work on my assignments and study my lessons. Except when my dog would spread itself on my study table.
What were your extra-curricular activities in school? How has it affected your overall grades?
I was part of the student council. I'd join regional and national quiz bee competitions. I wanted to write for the paper but was too shy and considered my writing sacred and private. Extra-curricular activities account for 30 percent of our overall grades, so it's a need if you wanted to excel in school.
How were you able to hit above average grades consistently?
I was a good student and an obedient daughter, so I would study when there were exams. I'd also do my homework all the time. When there were things that I needed to memorize, I'd draw doodles to remember them. I'd also review my lessons beyond 12mn if ever, but never beyond 2 a.m. I value sleep.
Other achievements in college?
We won third place in this dance contest. I'm very proud of the Interpretative Dance we did! Renovating our student council office was also an achievement for me. We used the P5,000-proceeds our engineering council had collected by throwing the best comedic talent show the entire university ever witnessed. I was the acting governor at the time.
Was it easier for you to land a job? What are some of the real-world perks of graduating with honors?
The perks of graduating cum laude? Waived review fees and free books. You only need to save up for your boarding house, food, and allowance. After passing the board, I took my oath as an engineer in Cebu.
Days after that, I applied for a job. I passed the screening exam in the morning and went to the technical interview right after. It was tense—I had to write on the whiteboard to illustrate my answers.
I passed the interview and I was so happy that I landed my first job. Signed the job contract that very day too.
I don't know if the honorary record had any bearing. I mean, everybody who applied had to go through the same process. Nobody was exempted from getting clammy hands, calming the pounding chests, and catching whatever is left of our plummeting ego.
What habits from school have you maintained in the corporate world?
I have a short-term memory, so I would review a day or two before the exam. I dislike long-term preparation probably because of my impatience and let's-get-it-on attitude.
I love taking notes. Notebook and pen addict here! Everybody would photocopy my notebook because it's clean and complete, I suppose.
I just don't know if they'd get distracted by all the doodles. I usually doodle when I'm bored or when I want to memorize something. It's the only way I can remember stuff.
I love problems solving and solving puzzles. I'd usually practice solving to get ready for the exams. If I can't get my programming right or I can't solve a certain problem, I'd sleep on it. The answers would come in the morning. Well, sometimes.
How do you think school prepared you for the real world?
I give my elementary school and high school the credit for honing me into a versatile woman. The schools that I went to offer lots of activities that helped us sharpen not only our minds, but our creative side and social skills as well. There were lots of opportunities in meeting students from other schools during competitions and conferences too.
College was a little different. ECE, our course, is a little broad. It involves two major fields: Communications and Electronics.
In reality, those fields are different from each other. If you want to work in telecommunication companies, you focus on Communications.
If it's electronics that you favor, semiconductor companies are your go-to workplaces. I've just learned the basics in college and I realized I hadn't understood the concepts entirely until I heard the board reviewers discuss them.
The fact that our university partners with semiconductor companies, including the one that hired me—I think that helped a lot with our application.
Our alumni and classmates who are working in those companies also helped in establishing the names of our school there.
But as for preparing us for the real work, I'd say there's a gap between the educational system and the actual industry. You have to re-learn everything. But I guess that's how it really is, regardless of your course.
On the flipside, what essential life skills did you not learn in school?
In our country, we were mostly taught to study hard and find a job. We were raised to be workers. It's about time that we teach children that they can anything that they want to be—an inventor, a creative, a professional DOTA player or whatever.
As for me, I discovered my calling late. I was miserable at my job even from the start, I guess. I wasn't happy creating test solutions. I wasn't happy working nightshifts. I wasn't happy with the meager pay. I was happy that I met my husband there, though.
Thanks to the internet, I discovered a whole new world. I started side gigs as a freelance writer the same year I started working as a test engineer. I worked double time.
My writing work made me happy and the extra money is something that I need. I guess I've read too much of the "quit-your-job-and-follow-your-passion" articles that I wanted to leave my day job for the whole time that I was working there.
I didn't realize that what I was doing is what successful people recommend until I read "The career ladder isn't just in the office." Keep your day job, but when you get home or during your free time (yes, even weekends), work on your personal goals.
What are your biggest achievements so far?
I still regard quitting my day job and pursuing my copywriting career as my biggest achievement so far. When I think about my almost six-year transition, I couldn't believe that I was that determined to keep my side gigs.
I usually work from 9 a.m. to 9 p.m. for my day job. When I get home, I'd work for my offshore clients. But I never feel tired. Besides, I was heartbroken during the first few years of my adulting, giving me more time to work on both jobs.
Anyway, my husband, then-boyfriend has given me the final nudge. Although he used to ridicule me with the five-digit monthly income I'd get from my sideline, he agreed when my sideline hourly rate surpassed the hourly rate that I'd get from my day job.
Plus, the stress from writing away is nonexistent compared to the stress that I get working as a test development engineer in the semiconductor industry.
What's your short-term goal?
I'm an Aries so I tend to dive into multiple projects. I want to sell watercolor art. I want to be a professional copywriter and content marketer with a hefty salary. I want to make money passively. I want to have lots of dogs.
The husband is reminding me to once again focus one thing. I guess it's going to be the professional copywriter and the make money passively.
As for the steps taken, I'm still working on it. I'm an engineering graduate, not an English or Literature major. I have self-doubts and major insecurities on my career. Although the marketing degree has earned me a long-term client, I want to establish my name online and book big clients. I'm following the steps of one of my favorite copywriters and it's a long way to go.
Passive income—I want to earn money even while I sleep because, well…I'm lazy. So much for being an honor student.
Is there anything you wish you could've done better in school? What advice would you have given your younger self?
When I was younger, I knew that I was good in math and that I was smart. That made me think that I should get a technical and challenging job so I can contribute well to society.
I just wished that I didn't have the same mindset back then.
As you age, you cannot push yourself to love the things that you don't. If you do, you'll end up being miserable. I wished that I had put more thought into what I really wanted to do with my life and took up a writing or marketing-related degree back then.
The present me should have told my younger self that it's okay to like the arts and that there's real money in the field too.
Stay tuned for the third part, out soon on our Blog.