LANDBANK iAccess Enrollment And Services: A Quick Guide
5 min read
With their long and busy days, many government employees find going to the bank to process essential bank transactions nearly impossible. Thankfully, LANDBANK, which provides the payroll system for government offices, has iAccess, also known as LBPiAccess.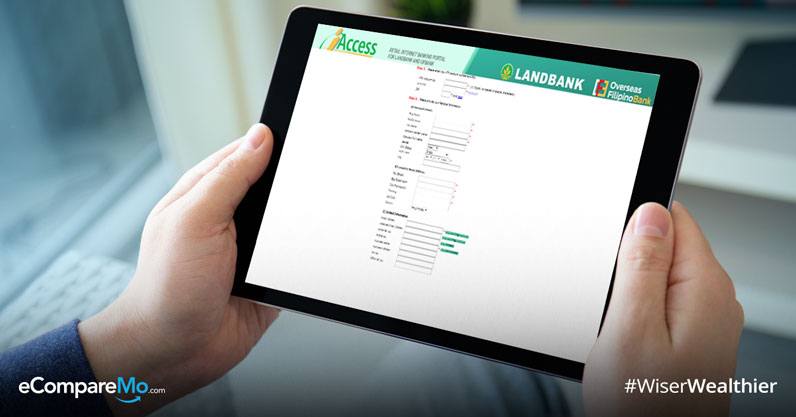 LANDBANK, or the Land Bank of the Philippines, is a universal bank owned by the government. It is the fourth largest bank in the country according to assets and the largest government-owned bank.
iAccess enables government employees to process their banking needs without having to line up at a physical branch.
What is LANDBANK iAccess?
LBPiAccess is an online service of the bank, a great option that is available 24 hours, seven days a week for LANDBANK account holders. Through this, they can do are check their accounts and transfer funds.
Full features of LBPiAccess
Logging in to https://www.lbpiaccess.com with your Landbank iAccess user ID and password enables you to:
View your account summary and transaction details
Inquire on the status of the checks you issued plus the total amount and number of checks you deposited but returned
Report your lost/stolen ATM card
Pay bills
Transfer fund to your other account or other nominated third-party accounts immediately
Reorder checkbooks online
(Read: Personal Loans For Government Employees In The Philippines: A Comprehensive Guide)
How to register to LBPiAccess online banking
Individual depositors, whether single or joint accounts, are qualified to register to iAccess. One may register online or at the branch.
Online registration
Note: Please take note that it is only applicable to ATM account holders with access limited to non-monetary transactions.
1. Go to https://www.lbpiaccess.com/ and click the "enroll now" link.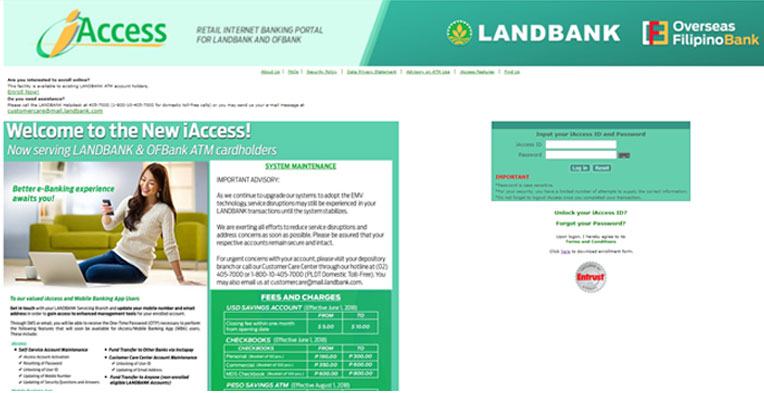 2. Read the LBPiAccess General terms and conditions then click the "agree" button once done.

3. Fill out the form completely, then click the "submit" button.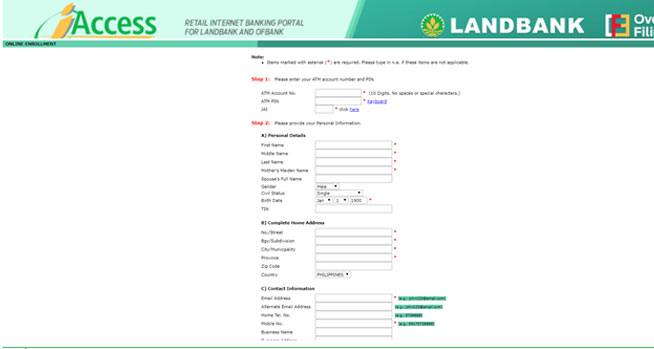 4. After carefully putting the information needed, if you need to edit, you can revise any detail using the "Back" button.
5. Click "Confirm" to go on with the enrollment procedure. An acknowledgment page will open ensuring a successful registration.
6. On your registered email address, you will receive an email confirming your enrollment.
Branch enrollment
1. With your valid id and LANDBANK ATM card, go to your depository LANDBANK branch.
2. Go to the New Accounts section to apply. A LANDBANK iAccess Enrollment and Maintenance Agreement (LI-EMA) form will be provided, fill it up carefully.
3. The bank officer will process all necessary forms for your application. A specific time will be given to you for your online banking account to be activated.
Again, take note that its applicable to both ATM and Current accounts with access to non-monetary or monetary transactions, or both.
How to enroll multiple accounts in Landbank iAccess
To enroll multiple accounts, simply submit an accomplished LI-EMA form with all existing account numbers to your servicing branch.
How to enroll for Bills Payment with LBPiAccess
To enroll in the Bills Payment feature of Landbank iAccess, simply submit an accomplished LI-EMA form at your depository branch and specify that you would like avail of this benefit.
After enrollment of the Bills Payment feature, you can add billers via branch and online.
How to pay bills online through Landbank iAccess
To pay online, simply:
Log in to the iAccess website, click Bills payment on the right side of the panel
Choose a bill to pay in the drop-down menu
Choose from the list of the subscriber/reference numbers or you can type the subscriber/reference number in the textbox located beside the Biller's name
Choose an account to debit and enter the amount.
After entering the amount, select payment type then click next. Make sure you carefully review your transaction details then click "Confirm." An acknowledgement for a successful transaction will be shown afterwards.
To see the list of merchants for your payment, go here: https://www.lbp-eservices.com/egps/portal/Merchants.jsp.
Posting of payment/s to the Biller's Account
Payment made within the service period shall be counted as today's settlement but will be credited to the Biller's account on the next banking day. Payments during weekends or holidays and after cut-off time will be considered as payments made by the following banking day. It will be credited the second banking day.
Transfer funds using LBPiAccess
To activate the fund transfer feature, simply submit an accomplished LI-EMA form to your servicing bank specifying your source and destination accounts and wait for the approval of your depository branch.
Take note that there is no limit on the amount that can be transferred to a destination point. Fund transfers will be posted on a real time basis. An acknowledgment number will be shown on screen after a successful transaction.
(Read: Top Mobile Banking Apps in the Philippines)
Frequently asked questions
Can I use LBPiAccess outside the Philippines?
Yes, you may access your account and perform transactions anywhere provided you are enrolled in the LANDBANK iAccess.
Can I make online fund transfer transactions to other banks (non-LANDBANK) accounts?
Fund transfers are limited to LANDBANK (Savings and Current) accounts only.
Can I change my password?
Yes, as a matter of fact, LANDBANK iAccess requires you to change your password every 90 days.
If you feel that your password has been compromised, change it using the Change Password Utility.
After reporting online my lost ATM card, when will it be blocked?
Your account number together with your ATM card will be blocked immediately after your report. Take note of the acknowledgment number that will be shown on your screen as a reference for when you get your new card.
Can I transact using other channels once my ATM card is locked?
Take note that all transactions done through your ATM is blocked except LANDBANK iAccess and over the counter.
If used by an unauthorized person in any LANDBANK ATM, your lost ATM card will be captured. Expressnet/ Megalink/Bancnet ATMS will also block the transaction.
I encountered a problem using LBPiAccess, what should I do?
For problems and concerns, you may call your servicing branch or the LANDBANK customer care center at (02) 405 7000 or 1-800-10-405-7000 (PLDT toll free outside NCR) available 24 hours, Mondays thru Fridays.
How will I know if the website I entered for the LBPiAccess authentic?
Click the Verisign icon from the log-in page to check the website's authenticity. You should be directed to the Verisign digital certificate.
Often, modern changes equal complications but with LBPiAccess' seamless transition into online banking, clients can smoothly perform their chosen transaction anywhere, anytime, and on any day.
With its 24 hours, seven days a week accessibility, all your banking needs can be done effortlessly.