Know Which Type Of Wallet Is Right For You
3 min read
This wallet-buying guide for men and women should help you make necessary adjustments.
How your wallet looks like also reflects how you manage your finances. If your wallet is organized, then you're probably more in control of your funds. If you happen to keep crumpled money, receipts, or tattered IDs, then it will easily look like you're also having trouble handling your finances.
If you need to reorganize, here are the types of wallets you can match with your lifestyle.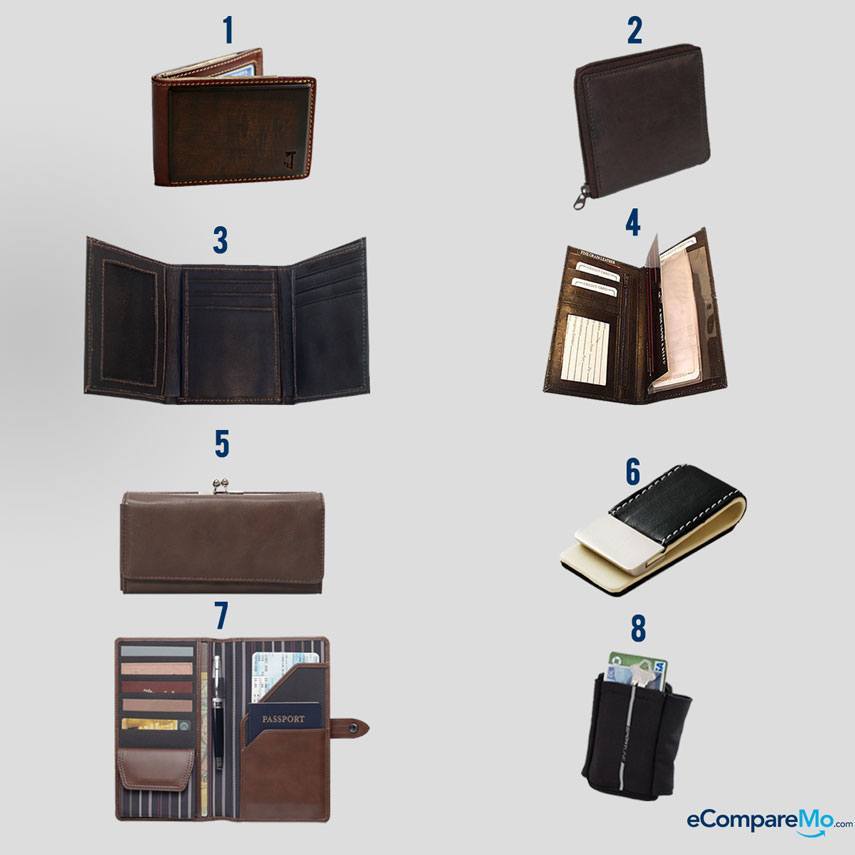 1. Bi-fold
The default type of wallet with a single fold, for people who can't be bothered and would rather stick to the conventional style, as long as it serves its purpose.
2. Zip-up or purse
This is for individuals who are always on the go. They want to organize everything they need in one wallet and make sure they don't lose it—thus, the zipper or snap closure. It can hold everyday essentials such as IDs, cards, coins, cash, even a lipstick and keys, snapped or zipped-up for security. It can also come with a string that can be tied around the wrist or on the shoulder.
3. Tri-fold
A wallet that folds twice, with a zipped pocket for coins. This is commonly used by women or professionals that need more room to organize their cards and cash.
4. Checkbook
Mainly used to hold a checkbook, with pockets for credit cards, cash, and IDs. Businessmen find this very useful.
5. Clasp or clutch
This wallet usually comes with a clasp or zipper closure. It's like a small bag that provides enough holders for photos, cards, IDs, coins, and cash. The lasp provides easy access to all your essentials. And because of its size, it's easy to tote it under your arm anywhere you go.
6. Money clip
More commonly used by men, this is a no-fuss money clipper that can be easily slipped in the back pocket. If you want to be more organized but still want to maintain that laidback vibe, some money clips also come with card and ID holders.
7. Travel
For the traveler who wants to put all essentials in one place. This can hold passports, documents, and airplane tickets. It also comes with holders for ID, cards, and coins. A travel wallet can be worn over the shoulder so you feel secure in taking your important papers with you anywhere you go.
8. Wrist
Generally used by cyclists, motorists, and individuals with an active lifestyle. It usually comes with cash, keys, cards, and ID holders.
Now that you know the right type of wallet for your everyday use, here are some advice on how to maintain your finances, organization, and security:
• Bring only the IDs and cards that you need. If your wallet gets lost, you'll still be able to use the other IDs and cards that you have.
• Do not bring a large amount of money. That's what your credit or debit cards are for: worry-free cashless transactions. Besides, you won't be tempted to spend so much if you only have enough cash on hand.
• Back up your cards and ID. After organizing your wallet, keep copies of your credit, debit, and ATM cards, as well as your IDs. It's best to be prepared in case your wallet is misplaced or lost.
• Organize your wallet at least once a month. If you have a habit of keeping receipts, clean up your wallet at least once a month and get rid of the items you don't need anymore. This will also help you keep track of your finances for the entire month. This is a good way to review your cards or IDs, some of which may need to be renewed (e.g. Driver's License, Health Insurance card), sooner or later.
• Invest in a good tracking device. For optimum security, invest in tracking devices such as TrackR so you can easily retrieve your lost or misplaced wallet. –Kristel Serran