Know The Difference: Visa, MasterCard, American Express, and JCB
4 min read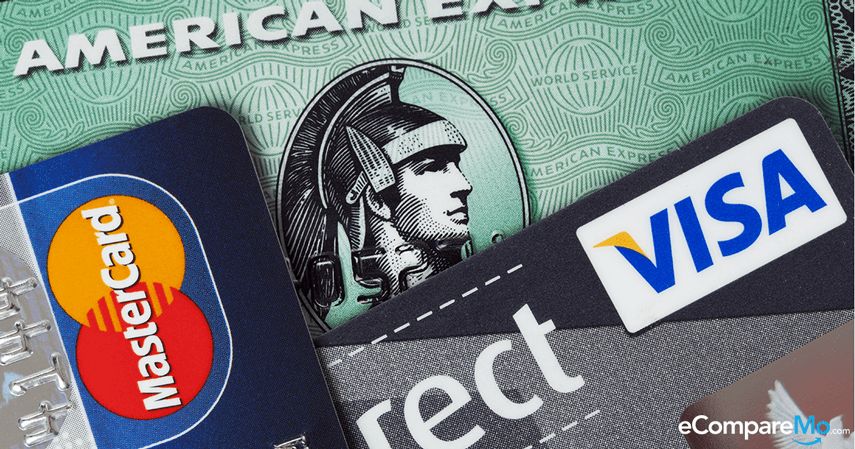 Visa, Mastercard, American Express, and JCB are among the biggest payment networks that provide the technology for card payments.
Banks that provide the cards, either debit or credit, are called issuing banks, or issuers. They're also the ones that set the interest rates, credit limits, other charges and fees, rewards, and perks for every type of card they offer.
The merchants are the ones that provide you with goods and services.
An acquiring bank, or acquirer, is the financial institution in which the merchant has chosen to place their bank account. This is where their cashless transactions go and get processed. Put simply, acquirers are the ones that process the transactions for issuing banks to receive the payment.
In some cases, the bank can be both the card issuer and acquirer.
These financial institutions, including payment networks, enable the processing of cashless transactions.
Payment networks charge merchants a fee for using their card brand as a payment method. And this is mainly where they vary.
Visa and MasterCard are two of the most popular card brands with each of them having over eight million merchants worldwide. This is because they offer lower fees to merchants, as compared to other card brands. With every transaction, a merchant can be charged from 1.5% to 2.5%.
These card brands differ largely from the features they offer customers. Whether you're looking for better travel perks, consumer protection, or strict security measures, each card brand has their own set of packages for their target consumers. Getting the right package for your lifestyle will definitely save you a lot of money.
Visa
Accepted in over 200 countries
Security
Verified by Visa lets you use a personal password when you make an online purchase to protect your card from fraudulent transactions. Ask your card issuer if they offer Verified by Visa and sign up your account. It also has fraud monitoring alerts that scan unusual activity and alert your bank regarding suspicious transactions.
Travel
A toll-free number is available 24/7 for emergency assistance worldwide. Call the hotline for lost and stolen card to and request a replacement card to be sent to you.
Visa also offers exclusive travel, shopping, and dining promos on their website and also updated through Issuing Banks' websites.
The Visa Mobile App allows you to see the latest offers and promos wherever you go.
Lost luggage reimbursement
Visa PayWave
Enables contactless payments with their partner merchants by simply swiping your card on the PayWave POS machine. In the Philippines, there are already over 30 merchants that offer Visa Paywave.
MasterCard
Accepted in more than one million merchants in 122 countries
Security
MasterCard SecureCode lets you set up a private code through your issuing bank as an added security layer for online shopping. You need to ask your card issuer if they offer this option. This is currently being implemented by some of the leading banks in the Philippines.
Travel
The MasterCard PayPass Locator App helps you find the closest merchants and ATMs that accept MasterCard worldwide. The issuing bank determines the benefits package in every type of card they offer. The most common MasterCard benefits are as follows:
Airport lounge access
Luxury travel benefits
Travel assistance services—including but not limited to visa/passport requirements, and lost/stolen documents and luggage
Roadside assistance
MasterCard Global Service: 24/7 toll-free emergency assistance worldwide
Car rental collision damage waiver insurance
Hotel/motel burglary insurance
Travel accident insurance
Trip cancellation insurance
American Express
Amex is different in that it also works as the credit card issuer aside from partnering with other financial institutions. It caters to "exclusive" clients and consumers with higher credit scores. They are known for their efficient customer service.
Travel
Lost luggage insurance
24/7 Global Assist hotline
American Express Travel Services
Travel accident insurance
Shopping
Extended warranty
Dispute resolution
Return protection—refund for eligible item(s) from 90 days of purchase
Purchase protection
Entertainment
Preferred seating—available for high-end cards
Ticket presales
Security
Pre-purchase verification
Monitoring systems to track suspicious transactions
Irregular account activity alert
The Amex Mobile app lets you monitor your account and find the latest rewards and offers.
JCB
Travel
Car rental service
JCB Plaza Call Center: toll-free, available 24/7 in English, Chinese, Korean, and Japanese
JCB Plaza Web – guide to special offers abroad
Shopping
JCB Global Shopping Website: shop at JCB's websites in Japan and the US with exclusive discounts
Security
J/Secure is JCB's own version of added authentication service for its cardholders when making purchases online. This is in partnership with JCB's card Issuer.
An integrated circuit or IC Card is a chip embedded in JCB cards. It is more difficult for fraudsters to counterfeit the card compared to regular cards that use magnetic stripes.