With the Philippines' 7,000-plus islands, how can you ever run out of local tourist spots to tick off of your bucket list? We're #blessed with an abundance of unspoiled beaches filled with white sands and turquoise waters. And one of the trendiest, most sought-after beach destinations in the country today is Kalanggaman Island.
The island of Kalanggaman in Leyte is slowly gaining popularity among local and foreign travelers alike, thanks in large part to the breathtaking panoramic view of its sandbar. This pristine paradise is the perfect escape from the hustle and bustle of city life.
Get all the details you need here so you can gear up for your next trip to paradise,
Kalanggaman, a piece of heaven
Situated in the small municipality of Palompon in the province of Leyte, Kalanggaman, is known for its wide stretch sand bar, unspoiled beach, and crystal blue waters.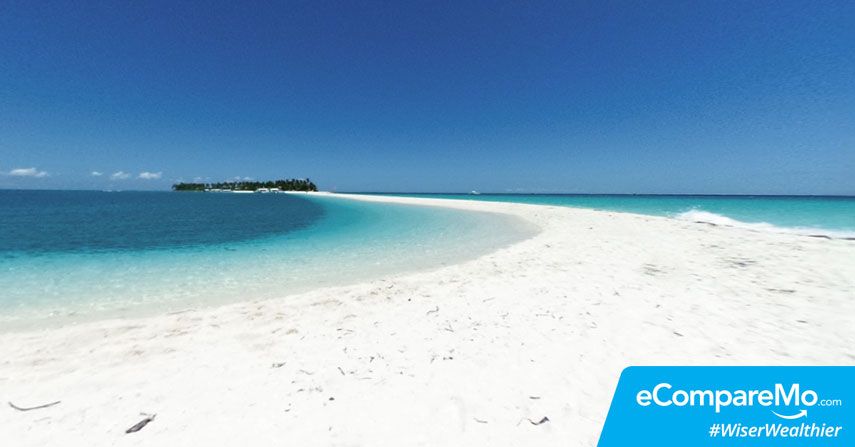 The name Kalanggaman was derived from word "langgam," ("bird" in Cebuano) since the two arched sandbars are reminiscent of a bird's wings in flight.
Things to do in Kalanggaman
Apart from submerging yourself in the crystal-blue waters and basking in the sun, here are some of the activities you can do in the island:
Beach volleyball. The island has a volleyball court
Stand-up paddle boarding–you can pre-book this at the Habagat office
Kayaking
Cooking–grilling area is provided
Sunrise and sunset viewing
Stargazing
Kalanggaman Island accommodation
There are no Kalanggaman Island hotel rates available since there are no private resorts on the island yet. However, overnight camping is allowed. You can bring your own tent or you can rent one.
Even though there are no hotels in the island, rest rooms and shower areas are available to make it more convenient for visitors. Tables and chairs are also available, so travelers can laze over their lunch comfortably. To complete that beach-outing feel, there is a grilling area for visitors to cook up a storm.
Furthermore, there are security officers stationed on the island to ensure the safety of tourists.
Kalanggaman Island tour package
Here's a chart of the different rental fees and Kalanggaman Island entrance fees to guide you accordingly.
Entrance/conservation fees
| | Day tour | Overnight stay |
| --- | --- | --- |
| International tourist | P500 | P750 |
| Non-Palompon tourist | P150 | P225 |
| Non-Palompon college student | P40 | P60 |
| Non-Palompon high school student | P30 | P45 |
| Non-Palompon elementary student | P20 | P30 |
| Non-Palompon senior citizen | P120 | P180 |
Boat rental fee (roundtrip)
| Pump boat capacity | Rental fee |
| --- | --- |
| 15 pax | P3,000 |
| 25 pax | P3,500 |
| 30 pax | P4,000 |
Tent rental fee
| Tent capacity | Rental fee |
| --- | --- |
| 2-person tent | P250/night |
| 4-person tent | P300/night |
You can inquire tent rental at Hinablayan Outdoor Shop located in front of the Palompon Tourism Office. You need to deposit P200 and present one valid ID.
Cottage rental fee
| Cottage capacity | Rental fee |
| --- | --- |
| 15 | P250 |
| 25 | P500 |
| 30 | P700 |
How to get to Kalanggaman Island
By land
From Manila:
If you opt to travel by land, there are several bus routes from Pasay City and Cubao, Quezon City, directly to Palompon, Leyte. Your 27-hour trip will give you all-access views of beautiful provinces of Laguna, Naga, and Samar.
From Tacloban:
Coming directly from Tacloban, you can go to Tacloban New Bus Terminal and ride a van that goes to the town of Palompon. The travel time is around three to four hours.
By air
From Manila:
From Manila, you can book a direct flight to Tacloban City or Ormoc City. The travel time will be around one hour.
From Cebu:
If you are coming from Cebu, you can book a flight to Tacloban City. The travel time will be approximately 50 minutes.
By sea
From Malapascua Island:
The travel time is between one and a half hours to two hours. Moreover, guides schedule trips only from 10 a.m. to 2 p.m..
From Cebu:
You can ride a ferry from Cebu to Palompon via Super Shuttle Ferry or Cokaliang Shipping Lines, which provide daily schedules. The travel time is approximately five to six hours.
From Palompon town:
Ride a pump boat that's anchored near the tourism office. The travel time is one hour. Make sure to book a boat in advance, since the tourism office limits the number of tourists in the island.
Kalanggaman Island: Budget
Now, let's get down to the brass tacks. To get you equipped for your Kalanggaman adventure, here's a reasonable sample budget:
Transportation
| | |
| --- | --- |
| Mode of transportation | Amount |
| Airplane | 2k to 3k (one-way ticket from Manila to Tacloban)* |
| Van | P300/head (Tacloban to Palompon; roundtrip) |
| Boat | P200/head (for 15 pax; Palompon proper to Kalanggaman) |
*Score a promo fare to lessen your airfare expense
Rental fees
| | |
| --- | --- |
| | Fees |
| Tent | P75/head (4-person tent) |
| Cottage | P17/head (15 pax) |
Entrance fees
Food
P500 to P600/head
Activities (optional)
| | |
| --- | --- |
| Activity | Rate |
| Kayaking | P150/hour |
| Stand up paddle boarding | P200/hour |
Miscellaneous
P500
Total: P6,217**
*Note: Stated expenses are just estimates. Total expenses will still base on your chosen mode of transportation, number of people you're traveling with, and preferred activities.
** Sample budget assumes that the traveler is coming from Manila, booked a regular airfare, will be staying overnight on the island, and traveling with at least 15 people.
Travel tips
To preserve the beauty of the island, the local tourism office maintains a maximum 500 tourists per day. Make sure to book your trip in advance to reserve your slot, especially if you are planning to go during peak season.
Take note that there is no electricity in the island. Bring a power bank so you can charge your mobile phones and cameras.
Bring your own flashlight, especially if you are planning on staying late.
There is a small store in Kalanggaman that has limited supplies. So, if you are planning to have an overnight stay, make sure to bring enough food and water.
To experience a smooth ride on calm waters, book your boat trip as early as 6AM.
Opt for an overnight stay to witness majestic views of both sunrise and sunset.
Take note that swimming in the area near the sandbar is prohibited, since the current is too strong to handle.
There are tents for rent for those who prefer to stay overnight. However, you can also bring your own so you can save money on the tent rental fees.
If your squad does not meet the maximum pax per boat, you can share with other tourists so you can lessen your expenses.
Be a responsible traveler. Practice the "Leave No Trace" policy and bring your trash when you return to the mainland, to keep this paradise as pristine as possible.
About the author
---