Just How Much Did Ms. Philippines Catriona Gray Win as Ms. Universe 2018?
2 min read
Miss Universe, a pageant well-known for its glamour and international glory, just recently crowned their 67th winner in a competition held in Bangkok, Thailand.
Our very own Ms. Philippines, Catriona Elisa Magnayon Gray bested 93 other girls from different countries and continents and succeeded in bringing home pride and glory by being crowned the fairest of them all, this year's Ms. Universe.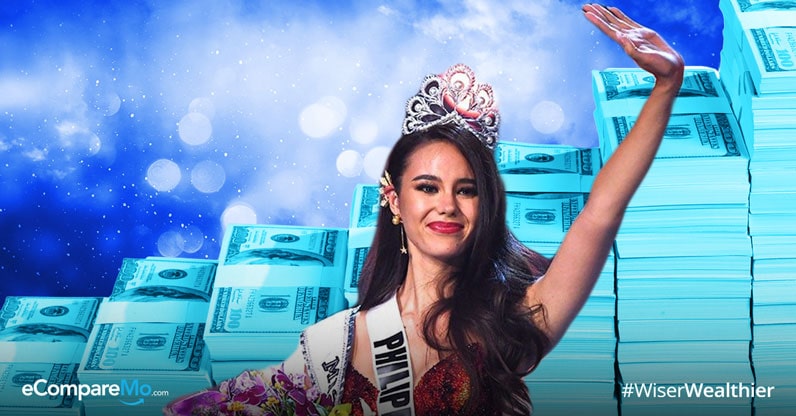 Being the fourth bet of the country who was able to conquer and win in the prestigious pageant after Gloria Diaz (Ms. Universe 1969), Margarita Moran (Ms. Universe 1973) and Pia Alonzo Wurtzbach (Ms. Universe 2015), Ms. Universe 2018 Catriona Gray will be bringing home not only the title, the crown and a lot more fame and exposure, but also a bunch of other prizes to fantasize about.
Brace yourselves for the prize package of Ms. Universe 2018 – which can be described as quite the many-splendored thing, will be revealed in front of you.
More than just a tiara
Her crown isn't just a pretty symbol, but actually a very valuable piece of jewelry. The tiara is a $250,000 (P13.2 million) Mikimoto crown adorned with 500 diamonds weighing almost 30 carats. It is also embellished with 120 pieces of South Sea and Akoya pearls fit for any queen.
Although this year's prize package was not mentioned in the official website of Miss Universe, unlike the previous years, sources articulate that this year's bounty is just as extravagant as in the past pageants.
(Read: Pacquiao's Fight Earnings Through The Years—And How Much He Could've Made From The Matthysse Fight)
Just like the old times, Ms. Universe 2018 will be awarded the following prizes:
A year-long salary as Ms. Universe
A luxury accommodation in a posh apartment in New York City for the duration of her reign, plus living expenses.
VIP access to various events including Broadway shows, casting opportunities, movie premieres, screenings and launch parties which she can use to accentuate her portfolio.
Extensive trips representing charitable partners of the organization and other sponsors. (This is in due of her personal advocacies and duties).
Modeling and photoshoot events with leading designers and fashion photographers.
A whole year supply of beauty and hair care products.
Full shoe wardrobe from Chinese Laundry Shoes and Accessories.
Dermatology and skincare services and products.
A professional health and nutrition consultation.
Dental Services
A personal appearance wardrobe and styling by the official stylist of the Miss Universe Organization.
Professional representation by the Miss Universe Organization.
Not to mention the gowns, swimsuits and gift bags from various sponsors of the pageant that all the candidates are able to bring home, we can say that the Miss Universe Organization really doesn't allow their winners to leave them empty-handed.
Source: Esquire