Invest In Yourself, Day 3: Cook Something New For The Family
2 min read
Keep the family connected with sumptuous treats that can easily be prepared at home.
(This is the third part of eCompareMo's Invest in Yourself series. Every day of this #APEC2015 week, we'll lay down a self-improvement plan to make your APEC holiday productive. We'll also post APEC schedules and quotes for everyone's information.)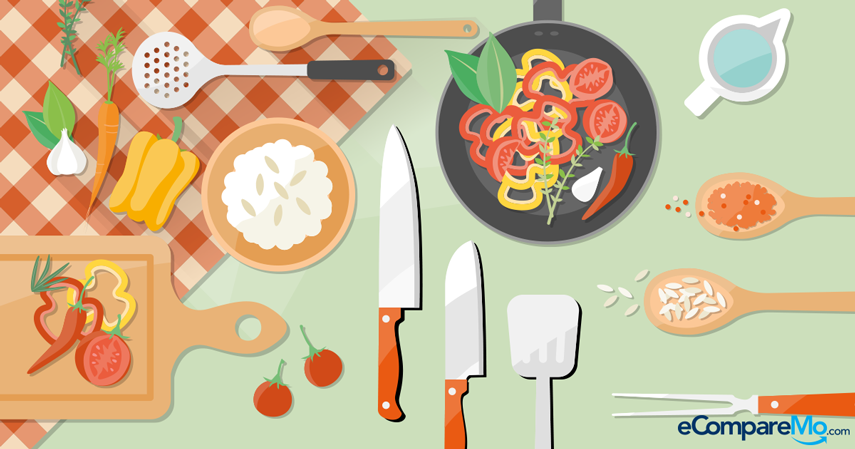 It's true what American chef and TV host Bethenny Frankel once said: Your diet is a bank account; good food choices are good investments.
So today, make it all about keeping you and your loved ones feel good—with flavorful home-cooked cuisine. Help yourself with these sumptuous treats that can be prepared with little time and on a low budget.
Three-Cheese Chicken Pasta
What you need
400g pasta
200g chicken breast fillet
200ml chicken stock
120g kesong puti
120g parmesan cheese
100g quick-melt cheese
100g sweet corn kernels
100g chick peas
200ml milk
3 cloves garlic, chopped
2 onion leeks, chopped
1 tbsp butter
Salt and pepper
What to do
1. Boil water in a large pan. Once the water starts to boil, add pasta and a teaspoon of salt. Stir frequently for two minutes and let boil for about five minutes. Remove from heat, drain the water, and set aside.
2. Boil chicken fillet until cooked. Set chicken stock aside. Slice chicken into thin cutlets.
3. Sauté onion leeks in butter, then add garlic. Pour over chicken stock and cook until most of the liquid has evaporated. Add peas and sweet corn and cook for two more minutes.
4. Pour the leek mixture into the pasta. Stir through chicken, milk, and kesong puti. Season with salt and pepper.
5. Place mixture in a baking dish. Top with parmesan and quick-melt cheese. Bake in the oven for 20 to 30 minutes at 180 degrees until the cheese starts to brown on top.
(This recipe originally appeared on Videojug. Revisions have been made.)
No-Bake Oreo Cheesecake
What you need
2 cups crushed Oreos
4 tbsp melted butter
1 block Philadelphia cream cheese
1 cup all-purpose cream
1 tsp vanilla extract
2 tbsp cocoa powder
2 tbsp unflavored gelatin
1/4 cup hot water
What to do
1. Mix together crushed oreos and melted butter, then press into the bottom of an 8×8-inch pan. Store in a tight container and keep chilled until ready to use.
2. Beat together softened cream cheese, all-purpose cream, vanilla extract, and cocoa powder.
3. Dissolve gelatin in hot water. Add to cream cheese mixture and mix thoroughly.
4. Pour cream cheese and gelatin mixture on top of prepared crust. Sprinkle with Oreo crumbs. Keep chilled for at least three hours. Slice into squares to serve.
(Recipe from Yummy.ph)
What's happening today
APEC Economic Leaders' Meeting
PICC
Leaders of the 21-member economy will meet for the week's highlight. Foreign delegates have also started heading back either home or to the ASEAN Summit in Kuala Lumpur, Malaysia.
Today's top #APEC2015 quote
"[Via Mare founder] Tita Glenda [Barretto] has always been the master, premier in presenting our cuisine to a global stage. Combining the two of us speaks of two different eras. But then we're delivering one big message about what's great about our country."
—Gaita Forés, Cibo, on preparing the menu for last night's APEC gala dinner
Tune in to APEC 2015 updates through SkyCable channel 133. You may also download the APEC TV app on the Google Play Store and Apple App Store. Like www.facebook.com/apec2015ph, follow www.twitter.com/apec2015ph, or search using the hashtag #apec2015.