According to the Economist Intelligence Unit report, commissioned by Singapore-based Lien Foundation-in 2015, the Philippines is one of the worst places to die. The study showed that we rank 78th out of 80 countries basing from the quality of end-of-life care in the country.
Funeral expenses in the Philippines are quite the killer too. Here, the dead keeps the living awake—due to the financial horrors families have to face.
Some raise funds through the passing the hats to relatives and other loved ones of the deceased or abuloy for financial aid. In some rural areas and urban poor communities, people set up tables to host saklaan or card betting as another way to gather money aside from solicitation.
The Greeks are known to practice putting gold coins on the dead, as they believe these tokens are payment for one's passage to the Underworld. In real life, dying requires gold too as a decent burial nowadays is deemed a luxury.
The recent Undas may have given you time to remember your loved ones and contemplate on life and death—whether or not you are ready for the inevitable demise. The infographic below shows the cost of dying in the country.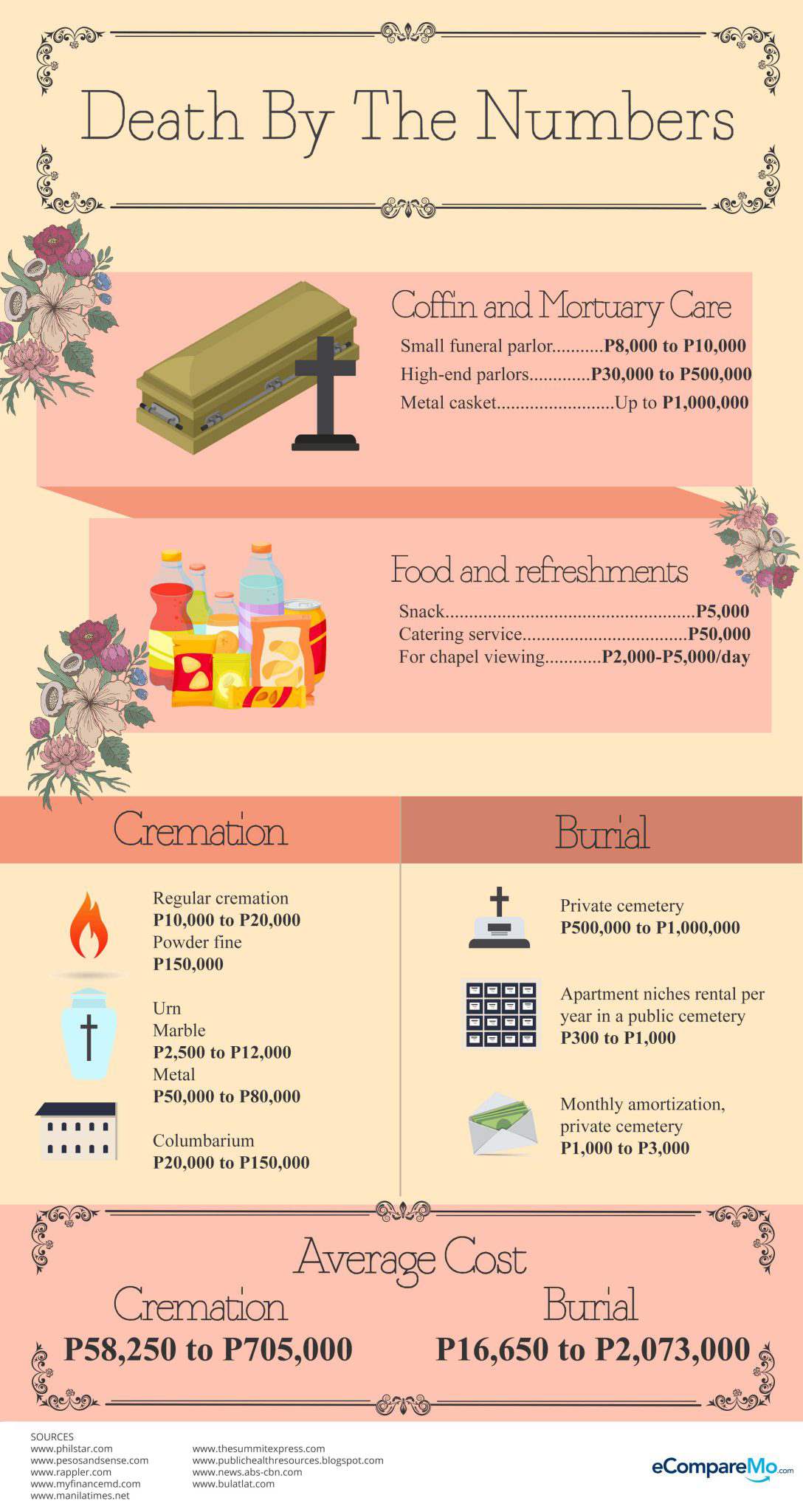 Death by the numbers
As of 2016, this is how much a burial, cremation, and other death-related expenses cost.
Coffin and Mortuary care
| | |
| --- | --- |
| Small funeral parlor | P8,000 to P10,000 |
| High-end parlors | P30,000 to P500,000 |
| Metal casket | Up to P1,000,000 |
Cremation
| | |
| --- | --- |
| Regular cremation | P10,000 to P20,000 |
| Powder fine | P150,000 |
Urn
| | |
| --- | --- |
| Marble | P2,500 to P12,000 |
| Metal | P50,000 to P80,000 |
Columbarium
Burial lot
| | |
| --- | --- |
| Private cemetery | P500,000 to P1,000,000 |
| Apartment niches rental per year in a public cemetery | P300 to P1,000 |
| Monthly amortization, private cemetery | P1,000 to P3,000 |
Food and refreshments
*For the final interment ceremony
| | |
| --- | --- |
| Snack | P5,000 |
| Catering service | P50,000 |
For chapel viewing
| | |
| --- | --- |
| Per day | P2,000 to P5,000 per day |
The average viewing takes around four to seven days. The longer it lasts, the more expenses you need to shed. Nowadays, funeral services offer packages which are more convenient option and cost less and then availing each necessary service separately.
Aside from the aforementioned, family members from abroad will have to shed a huge part of their savings to plane tickets, pocket money for several days of accommodation, and financial help.
If your living requires unbearable high cost to survive, your final resting requires hefty amount too—and the expenses never ends.
After the interment, there is a tradition of nine-days after-prayer, as well as 40 days after-prayer in which family and relatives gather and hold a party of some sort.
The first death anniversary, or babang-luksa, is another reason to gather and shed some cash.
The tradition of gathering at All Saints Day and All Souls Day in the month of November is another time to spend on candles, flower, transportation, food preparation, tent set-up, as well as tomb and mausoleum cleaning and repainting.
Getting a memorial plan is an essential that most Filipinos often disregard. You don't want to leave your loved ones with a financial burden to provide you a decent burial. Preparing for your laying down one's knife and fork may be taboo, but ultimately, it always pays to be prepared.
About the author
---