INFOGRAPHIC: Guide To OFW Loans
3 min read
The Filipino overseas foreign worker or OFW is a hero to their family, their friends, and the Philippine economy. In 2016 alone, OFWs brought around USD 26.9 million home in the form of remittances.
The common perception is that an OFW chooses to leave the comforts of the home country in an effort to build a better life for themselves. As their salaries are paid in foreign currency, they are able to earn more then they would taking local jobs. As such, the stereotype of an OFW is someone who is flush with cash, not someone who might need a little extra cash themselves.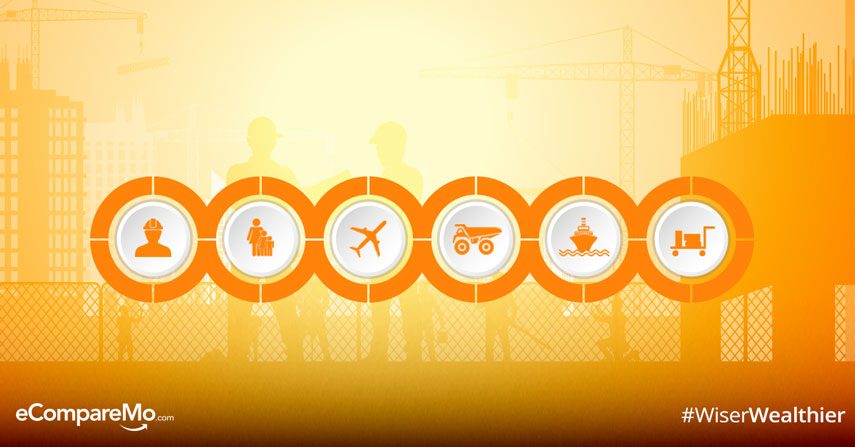 Despite what they earn abroad, there are times that a hard-working OFW might need to take out a loan. Be it because they need help to process their documents or to cover an unexpected expense or to make an investment for the future, there is an OFW loan that can help them meet their needs.
It shouldn't be hard for a hard-working OFW to get a loan and with the infographic below, we hope to make it easier.  We've enumerated the different types of OFW loans, what they can be used for, and the requirements needed to get loan approval.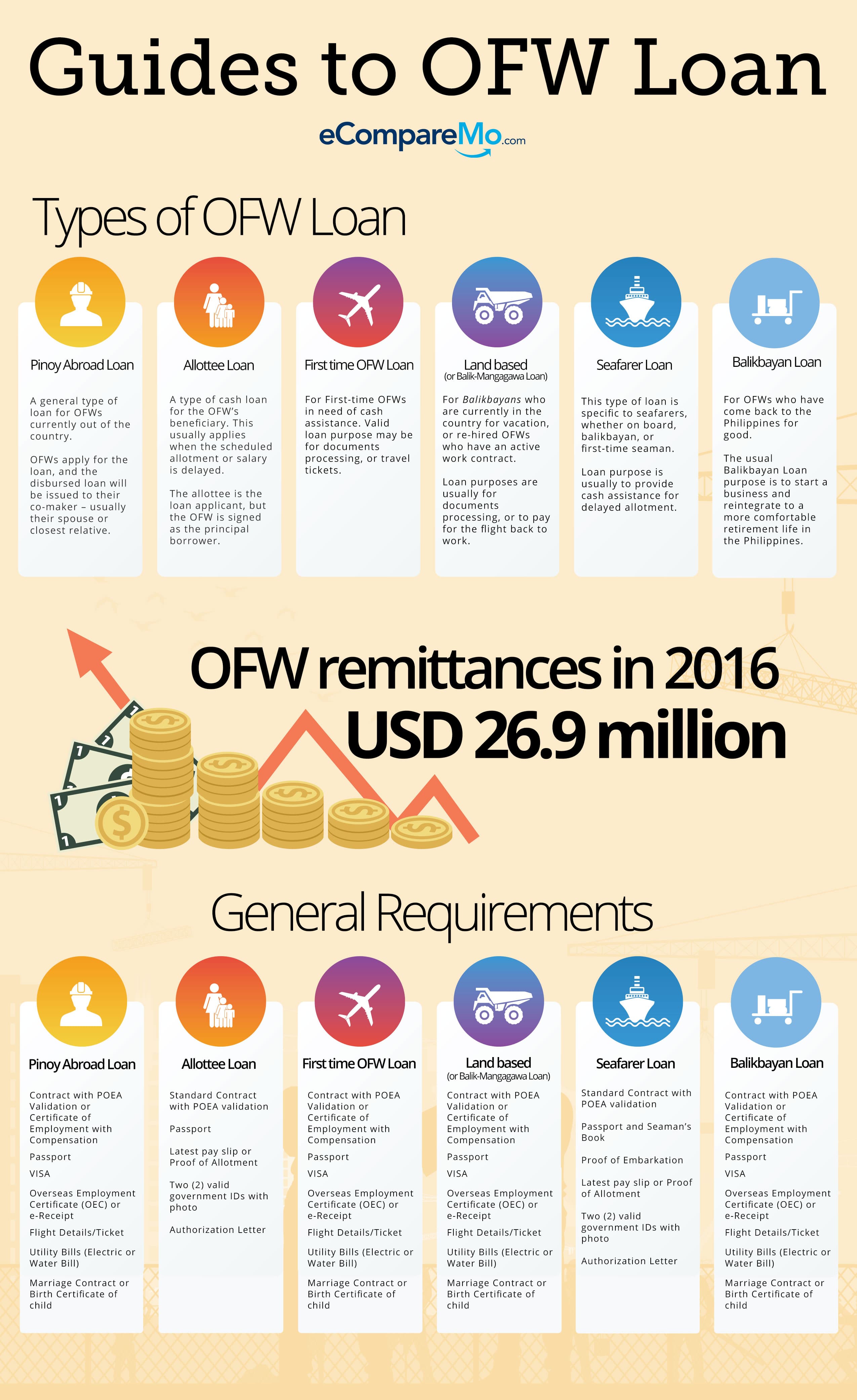 Types of OFW Loan
Pinoy Abroad Loan
A general type of loan for OFWs currently out of the country.
OFWs apply for the loan, and the disbursed loan will be issued to their co-maker – usually their spouse or closest relative.
Allottee Loan
A type of cash loan for an OFW's beneficiary. This type of loan is usually taken out in case the OFWs sheduled allotment or salary is delayed.
The beneficiary is the loan applicant but the OFW signs as the principal borrower.
(Read: Ask An Expert: Can OFWs Apply For A Loan Or Credit Card?)
First Time OFW Loan
For first time OFWs in need of cash assistance. Valid loan purpose may be for document processing or travel tickets.
Land-based (or Balik-Mangagawa Loan)
For Balikbayans who are currently in the country for vacation or re-hired OFWs who have an active work contract.
Loan purposes are usually for document processing or to pay for the OFW's return trip.
Balikbayan Loan
For OFWs who have come back to the Philippines for good.
The usual purpose of a Balikbayan loan is to start a business or to enable the Balikbayan to reintegrate more comfortably to life in the Philippines.
General Requirements
Pinoy Abroad Loan
Contract with POEA Validation or Certificate of Employment with Compensation
Passport and working VISA
Entry Stamp
Overseas Employment Certificate (OECT)
Latest pay slips, OR Proof of Remittance
To issue copy of Marital Consent or Authorization Letter
Allotee Loan
Standard contract with POEA Validation
Passport
Latest pay slip or Proof of Remittance
Two (2) valid government IDs with photo
Authorization letter
First Time OFW Loan
Contract with POEA Validation or Certificate of Employment with Compensation
Passport
VISA
Overseas Employment Certificate (OECT) or e-Receipt
Flight Details/Ticket
Utility Billy (Electric or Water Bill)
Marriage Contract or Birth Certificate of Child
(Read: A Complete Guide To OFW Loan Approval)
Land-based (or Balik-Mangagawa Loan)
Contract with POEA Validation or Certificate of Employment with Compensation
Passport
VISA
Overseas Employment Certificate (OECT) or e-Receipt
Flight Details/Ticket
Utility Billy (Electric or Water Bill)
Marriage Contract or Birth Certificate of Child
Seafarer Loan
Standard contract with POEA Validation
Passport and Seaman's Book
Proof of Embarkation
Latest pay slip or Proof of Allotment
Two (2) valid government IDs with photo
Authorization letter
Balikbayan Loan
Contract with POEA Validation or Certificate of Employment with Compensation
Passport
Visa
Overseas Employment Certificate (OECT) or e-Receipt
Flight Details/Ticket
Utility Billy (Electric or Water Bill)
Marriage Contract or Birth Certificate of Child