On LTO Violations: How To Get Your License Suspended For Life
4 min read
Remember the person who took a video of himself driving while seated in the passenger seat? The Land Transportation Office (LTO) has now barred him from driving for life.
In the spirit of keeping our roads safe for everyone, we will never get tired of reminding drivers to follow basic road safety rules and be vigilant whenever behind the wheel. And if you can't seem to shake off the urge to do something stupid while behind the wheel, at least don't brag about it on social media.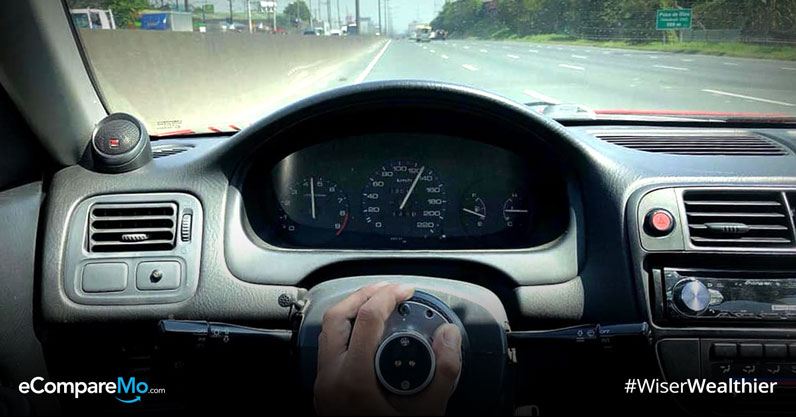 Kamote par excellence
This is what happened to a certain driver named Miko Lopez, whose road antics made waves on Facebook and several motoring websites.
In his first post, he was seen driving a vehicle while seated in the passenger's seat. After netizens raised their pitchforks to condemn Lopez, he posted another photo to mock those who bashed him.
This time, he tried to outdo his previous antics by posting a photo of him driving without a steering wheel. Based on a picture published by Visor, it seemed like he was driving on the North Luzon Expressway (NLEX) using a vehicle with no steering wheel and going past the speed limit.
With the people bringing it to government attention, the LTO and the Department of Transportation (DOTr) finally stepped in and put the foot down. The LTO has now revoked Lopez's driver's license and perpetually banned him from getting another one.
According to the statement, the errant driver was slapped with violations such as "as speeding, reckless driving, failure to wear or use a seatbelt, and driving a motor vehicle without a steering wheel or Unauthorized Motor Vehicle Modification."
Apart from revoking his driver's license, Lopez will also have to pay penalties "ranging from P1,000 to P5,000.
While he was given a chance to defend himself, the LTO said that the accused ignored the subpoena issued against him and did not do any coordination with the government.
"The safety of the public is and will always be our top priority, hence, we shall not hesitate to strip the privilege of motorists who willfully endanger others. We encourage the public to report drivers like Mr. Lopez. We implore our citizens to take part in penalizing arrogant road users so they are not emulated," said LTO Assistant Secretary Edgar Galvante.
Meanwhile, DOTr Secretary Arthur Tugade reminded the public that being able to drive a vehicle is a privilege.
"When we use those roads, we partake in the shared responsibility of road safety. What Mr. Lopez did was an utter disregard for the safety of motorists and pedestrians. He poses a danger to the public and, therefore, has no place on our public roads," Tugade said.
(Read: 14 Signs You're A Certified 'Kamote' Driver)
'We're watching you'
In the age of social media, people have the tendency to overshare details about themselves—including boasting about their traffic violations and getting away with it.
If you comb through Facebook groups dedicated to "two minutes of hate" for kamote drivers, you'll find yourself bombarded by images from people sharing their overspeeding stories and illegal modifications.
However, don't think for a second that the government doesn't have its ear on the ground. According to DOTr Undersecretary Mark de Leon, the agency is on the lookout for erratic drivers who are dumb enough to post their traffic violations on Facebook.
"Huwag nating i-mock ang kakayanan ng gobyerno by clearly disobeying traffic rules. Nakaligtas ka man noong oras na ginawa mo yan, we will make sure you will get penalized. Let this be a stern warning to everyone else. We enjoin the citizenry to report this kind of violations, and we will act on it swiftly," de Leon told Visor.
(Read: DOTr Imposes Sanctions On People Who Are Caught Doing The 'In My Feelings' Challenge)
So, what does this mean for everyone, especially these so-called kamote drivers?
First, that the government has its eyes and ears on social media to find people who show total disregard for traffic laws. Although some of them get reported on motoring publications, they know that errant drivers who reach the news are just the tip of the iceberg.
Second, even if you've dodged the penalties for your traffic violation but there's evidence of you doing it, pray to all the gods and angels that you won't get caught. If the government catches a whiff of what you did, then you're still liable and could be slapped with corresponding penalties.
Third, your privilege to drive can be rescinded and it can last for a lifetime. Remember when Maria Isabel Lopez bragged about illegally using the VIP lane for ASEAN delegates? Her license was suspended and she was barred from applying for two years.
At the end of the day, what Tugade said is right: Driving is a privilege. Keep in mind that the government can take this right away and leave you stuck with the rest of us who had to endure crummy jeeps and oft-broken trains.
Just follow the basic traffic rules, don't use your phone while driving, and just basically be an overall good driver and person. Also, don't be that kamote driver we all love to hate. Just don't.
eCompareMo is all for driver education and road safety. Have questions about LTO rules and regulations? Want to stay up-to-date with motoring-related news? Join our Drive Safe PH community on Facebook and be part of the conversation.