How To Apply (And Get Approved) For A Personal Loan In The Time Of A Pandemic
4 min read
The past four months have been incredibly difficult for most Filipinos. The COVID-19 pandemic didn't just hurt the health of nations, but also their economies—specifically each individuals' pockets. Here in the Philippines, a vast majority of us felt the same way.
As a matter of fact, 83% of the respondents in a recent SWS survey believe their quality of life got worse this 2020.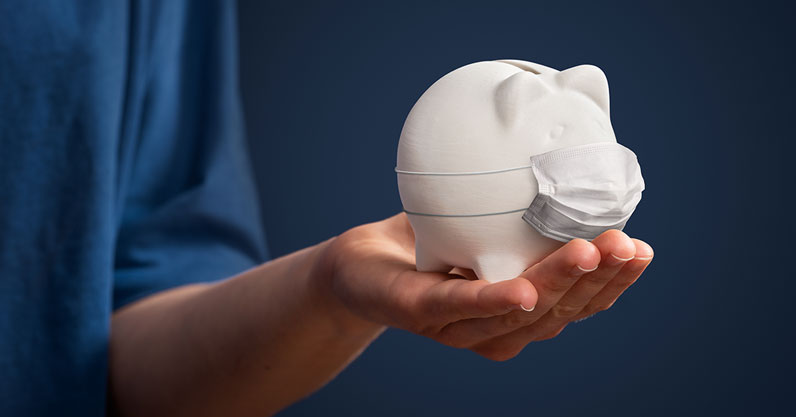 While all of us experienced a collective blow to our wallets, this doesn't mean that there aren't ways for us to recover. One course you might consider to help yourself bounce back is to apply for a personal loan.
Here at eCompareMo, we're all about opening doors to financial literacy and inclusion for every Filipino. We'd like to do our part in helping you recover with these tips on how to apply—and get approved—for a personal loan in the time of COVID-19.
1. Preserve a good credit history
Banks and lenders will perform due diligence in investigating your credit history. They will use this as a significant marker of approval or rejection. If you can handle and use credit responsibly, they will consider you as someone they can loan money to.
Keep in mind that bounced checks, past-due bill payments, unpaid loan obligations, and maxing out credit cards can paint a bad picture of your credit history and consequently put your loan application in a negative light.
On the other hand, an excellent credit history will provide you a favorable standing.
2. Maintain a savings account
The reality is banks and lenders don't like taking too many risks. And in this current financial climate, risks are aplenty. They prefer those they know can pay back loans promptly.
One way you can show that you're responsible, less risky, and financially capable is to have your own savings account.
Maybe you've dipped your hand in your savings account this community quarantine season one too many times. That's understandable.
So right now, if you're already back to work or have found a steady stream of income, we recommend that you replenish what was lost in your savings. This will prove to them that you have a healthy inflow of cash and can cope with regular bank loan repayments.
3. Check if you're qualified to apply for a personal loan
Before applying, you must make sure that you comply with the following eligibility requirements of most banks and lenders.
A simple search on eCompareMo can show you these. Here are some qualification questions you will encounter on your personal loan application:
Am I of legal age?
Do I have a good credit rating?
Do I have a savings account?
Do I meet the minimum income requirements?
Do I have a job or a business with a steady flow of income?
Am I capable of paying monthly repayments on time?
How much do I want to borrow?
If your answer matches their eligibility criteria, then you are qualified to apply for a personal loan.
4. Take advantage of technology
Use a personal loan calculator to get an idea of how much you need to pay monthly for your personal loan. You can also take our personal loan quiz to assess if you're financially prepared to take on the obligation of paying monthly loan amortizations.
Please take note that the results are not indicative of approval or rejection of your personal loan application. These are just tools to help you understand personal loans and your likelihood to secure one.
(Read: 2020 Update: Personal Loans In The Philippines With The Lowest Interest Rates)
5. Be transparent in your bank loan application
As part of the loan process, banks will continuously verify all information that you provided on your application form. They will conduct an exhaustive background investigation on your employment/source of income, personal information, and credit behavior.
You can expect a call from them to verify your data and they will vet this with your references.
Make it a point to truthfully declare all the necessary information they need to evaluate your loan application. Update your valid IDs, contact details, and other documents if you must.
Also, keep your communication lines open at all times because if they can't confirm your information, your application will have little chance to be accepted.
Another suggestion we can share to make sure that your personal loan application process will be faster and easier is to apply with the same bank you already have a credit card and savings account in. The existing data they have on you will be useful in processing your loan application.
(Read: Doctor's Loan: 5 Tips To Put You In A Better Position On Your Application)
6. Research and compare to get the best loan provider that's right for you
Taking time to research which loan provider is right for you will put you in the best spot to get approved. Before applying for a business loan or a personal loan, make sure you have all the information you need. This might mean details such as:
Minimum income requirement
Loan repayment terms
Interest rates
Maximum loan amount
Required documents
Thankfully, you can find these and more on an easy-to-digest layout on eCompareMo. We are partnered with the most trusted banks in the Philippines to help you find the right match for your needs.
Our comparison tool will not only show you the best offers each loan provider has, but you can also conveniently apply with several loan providers online safely, and all at once. Much of the hard work is already taken care of.