How Much Is A SEA Games Medal Worth?
2 min read
This month, the 11 members of the Association of Southeast Asian Nations (ASEAN) are competing for athletic supremacy in the 29th Southeast Asian Games. The Games kicked off last week in Kuala Lumpur, Malaysia and will culminate at the end of month. For this year's run, member nations will be competing in 38 sports, with a total of 404 medals up for grabs.
The Philippines is represented by 493 athletes, all eager to bag the coveted top spots for this year's SEA Games. As of this writing, the Philippines has already garnered 15 gold medals, 18 silver medals, and 31 bronze medals—which ranks the country currently at sixth overall in the medal tally.
What awaits the athletes who snag medals at the SEA Games? Is the honor of the medal worth more than the bounty?
Gold for gold
Competitive athletes do not get any cash prize from the events they join. It's up to their respective countries to reward them for their achievements. With governments setting up funds at their discretion for their team's rewards, there is no standard cash bounty for athletes to bank on.
Singaporean athletes are deemed one of the best-paid teams in the region, based on their Multi-Million Dollar Award Programme.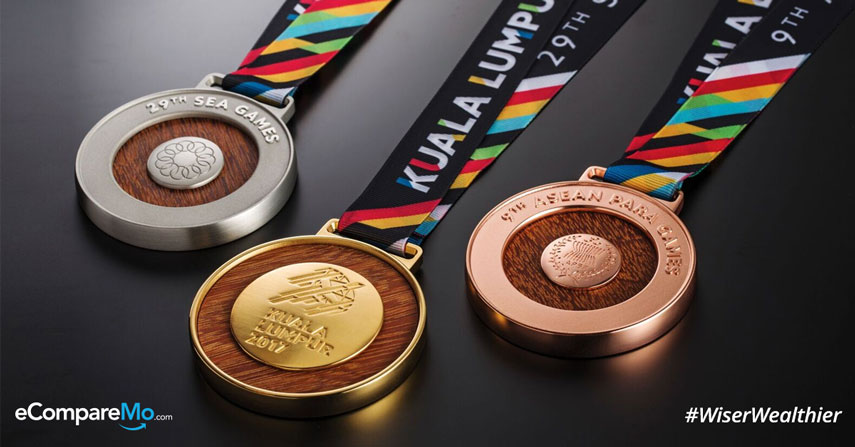 Funded by the government's gaming and amusement agency, Singapore is more than willing to give SGD1 million (P37.59 million) to athletes who can bring home an Olympic gold medal.
While only one person from Singapore has claimed the million-dollar reward thus far, the country is competitive in winning medals in the SEA Games. SG athletes can earn the following prizes when they get home:
Individual
Gold – SGD10,000 (P375,797)
Second gold – SGD5,000 (P187,898)
Third gold – SGD5,000 (P187,898)
Group sport
Gold – SGD30,000 (P1.128 million)
Team event
Gold – SGD15,000 (P768,285)
Meanwhile, 2017 SEA Games host country Malaysia has no news regarding the incentives its athletes will receive should they scoop any medals this year. However, during the 2015 SEA Games, Malaysian news outfit New Strait Times reported that individual athletes who won gold medals received MYR1,000 each (P11,971). Meanwhile, athletes that won doubles sporting events will split the same amount. Various teams received monetary rewards in different amounts for group events.
Not just for glory
Philippine athletes aren't just winning sporting events left and right for fame and country pride. The government has their back once they arrive home from international competition, as Congress made sure players get their due for all their hard work.
Under Republic Act No. 9064, or the Sports Benefits and Incentives Act of 2001, athletes who brought recognition to the country in various international sporting events shall receive a monetary compensation from the government. For the SEA Games, the following cash prizes will be given for these corresponding achievers:
Individual events:
Gold medalists – P100,000
Silver medalists – P50,000
Bronze medalists – P10,000
For group events, teams with less than five members shall receive and divide the same amount amongst themselves. Meanwhile, groups with five or more participants will receive double the amount of the medal achieved, with the bounty divided equally among all members.
How will the government fund these cash incentives? The Philippine Sports Commission will receive monetary reward under a special account called the National Sports Development Fund. This account will be garnered from income generated by the Philippine Amusement and Gaming Corporation.
This is reassuring news, since Filipino athletes can be sure they won't need to pawn off their medals once they get home. After all, prevailing against better-funded, better-equipped competitors is an achievement that deserves a just reward.