How Much Are You Paying For The Packaging?
2 min read
There is more to the price of an item than meets the eye. You're not only paying for the product itself, but also the raw materials, manpower, manufacturing…and yes, even the packaging.
Notice how the pricier brands are often the ones able to come up with more unique packaging designs and materials? Think perfume bottles, liquors, branded paper bags, and fancy containers.
The visual elements in packaging design significantly contribute to consumer behavior. For instance, earth green and brown colors promote a healthy product. The color black with a hint of silver or gold connotes luxury and sophistication.
White, on the other hand, is the color of packaging used for cleaning and cleansing products. Some food and beverage products nowadays even design their packaging in a way that makes their product easier to consume.
For manufacturers carrying products geared towards the environmentally conscious, using recycled and biodegradable materials in packaging allows them to promote sustainability.
Some people may not even be aware that sometimes they are buying a product for the container, not until they realize they are keeping the box or paper bag instead of disposing of it. Good packaging can even boost profits by making a cheap product look pricey and appealing. Just look at how the Pringles can stands out among other potato chips just in foil packs.
More important, packaging also affects a consumer's experience by assuring them that the product is secure. Secured packaging means it will be able to withstand damage, which results in fewer returns and boosts a products reputation for quality.
Because of how packaging can affect consumers perceptions and guide their buying behavior, brands are willing to spend on their products package. However, this also means that packaging can take up a big chunk of the overall price of a product. Have a look at the infographic below: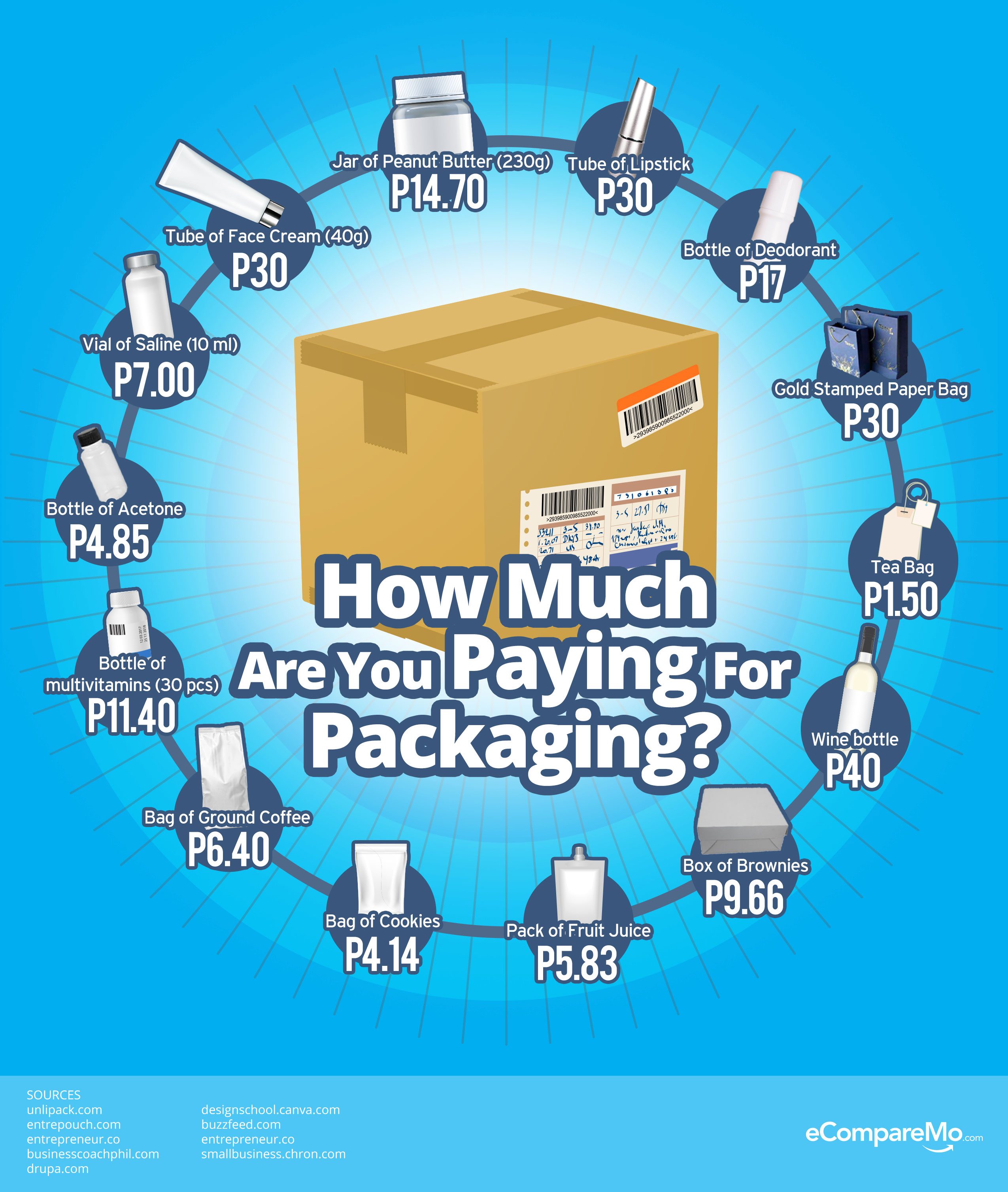 A fancy paper bag that's matte laminated and gold stamped, a manufacturer costs around P30. Not bad if you're buying a P3,000 shirt. Or is it?
For a much clearer look, check out the table below for more estimates of how much packaging cost adds to the overall cost of what you buy.
| | | | | |
| --- | --- | --- | --- | --- |
| Product | Packaging Type | Total Cost | Cost of Packaging | Cost without Packaging |
| Peanut Butter | PET clear jar (230 grams) | P130 | P14.70 | P115.30 |
| Face Cream | Opaque tube bottle (40 grams) | P120 | P30 | P90 |
| Saline Solution | Clear glass vial with rubber stopper and aluminum seal (10 milligrams) | P15.40 | P7 | P8.40 |
| Acetone | Plastic round Boston bottle (30 milligrams) | P80 | P4.85 | P75.15 |
| Multivitamins (30 pieces) | Screw cap medicine bottle (75ml) | P220 | P 11.40 | P208.60 |
| Ground Coffee | Aluminum composite with PET pouch, gusseted, 9x5x26cm | P250 | P6.40 | P243.60 |
| Bag of cookies/chips | Zip Lock Standing Aluminum Composite with PET 12×20 cm | P150 | P4.14 | P145.86 |
| Fruit Juice | Pouch with Spout (250 milligrams) | P70 | P5.83 | P64.17 |
| Brownies | Lock and Tab Box Set 10x10x2 | P230 | P9.66 | P220.34 |
| Wine | Liquor Bottle with Screw Cap 750 ml | P300 | P40 | P260 |
| Bag of Tea | Tea Bag 53mm x 64mm | P4 | P1.50 | P2.50 |
| Deodorant | White Roll-on Bottle | P80 | P17 | P63 |
| Lipstick | Aluminum Lipstick Case | P250 | P30 | P220 |
So the next time you feel like throwing away that jar, or bottle of wine, take the figures above into consideration. Reuse, reduce, and recycle containers and bags if you can–that's serious money you're letting go.