Holiday Travel Tips 2018: Your Guide To The Ninoy Aquino International Airport
5 min read
According to the numbers published by the Manila International Airport Authority (MIAA), Christmas season has always the time of year when they see with the highest passenger traffic, both for domestic and international flights.
Last year, around 3.78 million flyers used the Ninoy Aquino International Airport (NAIA) as their gateway. This is significantly higher than 2016's 3.55 million users.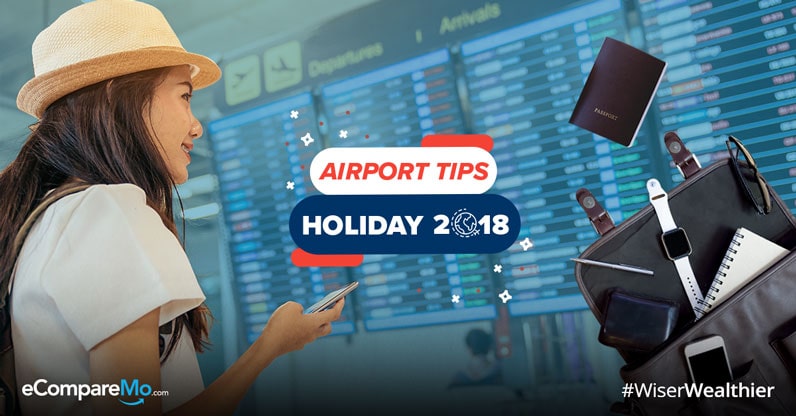 No predictions regarding the arrivals for Christmas 2018 have been released by the agency yet, but if past figures are anything to go for, NAIA will be quite busy this holiday season as well.
If you're one of the millions of people flying this Christmas season, how can you make your Christmas flight as smooth as possible even with the massive crowd?
Work in progress
To keep up with international airport standards, NAIA has been upgrading its facilities.
This year, the MIAA has been busy with numerous repairs and upgrades that would make future flights better. Unfortunately, they have the side effect of making current flights a little more inconvenient.
As you may recall, both Cebu Pacific and Philippine Airlines canceled several flights this November. Both air carriers stated that they were doing so to enable various renovation efforts at NAIA to push forward.
One of the main projects being undertaken in the airport is the replacement of the asphalt overlay on NAIA's runways.
According to MIAA General Manager Ed Monreal, our runways have been needing a new layer of asphalt since 2016, especially that the airport has potholes that can cause further delays and even accidents on the runway. He told the Philippine News Agency that rehabilitation of the runway will be completed by early next year.
NAIA's X-ray scanners are also due for replacement as part of the airport's realignment program. The current machines need to be replaced with dual view X-ray machines which are now the international standard in aviation security.
Currently, 21 machines have already been replaced and the rest of the scanners will be swapped with newer ones before 2022.
Other NAIA facilities that will undergo maintenance are the airport's restrooms and the expansion of Terminal 2 to allow it to accommodate more international flights.
(Read: Are Excessive Flight Delays Covered by Travel Insurance?)
Better flight experience
MIAA has also finished some major repairs and overhauls this year that should make flights much smoother, thus allowing the airport to accommodate more airline movements in an hour.
Currently, our primary airline can support 42 airline movements per hour, which was higher by two movements than earlier this year. Due to the construction of more of rapid exit taxiways, the NAIA can make flights more convenient for up to 500 passengers per hour.
In addition to the runway upgrades, the airport also unveiled its new air traffic system that will reduce travel times due to more accurate airspace capacity. The Communications, Navigation, Surveillance/Air Traffic Management was completed last January through a P10.8-billion loan agreement with the Japan International Cooperation Agency.
Preparing for the surge
With our airports undergoing a vast transformation, people should expect some facilities to be temporarily unavailable. While delays and crowd surges are inevitable, you can reduce the inconvenience these things will bring you. If you want to make headway, better do these necessary preparations for the holiday rush.
1. Prepare your payments
Flyers who will depart from NAIA must be ready to pay for two fees: airport tax and terminal fee. Most major airlines now include the airport tax in the price of the ticket.
We still have to pay travel tax, however, so you'll have to go up at the Tourism Infrastructure and Enterprise Zone Authority (TIEZA) booth.
To avoid delays and save time, prepare the following amount for the Philippine travel tax:
| | | |
| --- | --- | --- |
| Travel tax rates | First-class passage | Economy-class passage |
| Full travel tax | P2,700 | P1,620 |
| Standard reduced travel tax | P1,350 | P810 |
| Reduced tax for OFW dependents | P400 | P300 |
Pro tip: You can pay your travel tax online. You can go to TIEZA's online travel tax payment system website and pay your tax way before your scheduled departure. To pay for your travel tax online, you can use Visa credit and debit cards, EasyPay terminals, and TouchPay kiosks.
2. Pack intelligently
We all have our own tricks to maximize the number of clothes we pack into our luggage. However, you shouldn't forget that you need to abide by certain airport rules to avoid getting flagged by the airport security.
If you want to make your packing awesome and convenient, don't forget the following rules:
Do not carry prohibited items like corrosive liquids, gas, flammable liquids, oxidizing materials, organic peroxides, toxic substances, radioactive materials, infectious substances, explosives, petroleum, flammable solids, and magnetic materials.
Weapons of any kind and their ammunition are definitely not allowed. You don't want to become a victim of "tanim–bala" by your own device. Items that are not weapons per se but can be used as one such as stunning devices, any contraption that releases projectile, sharp objects, blunt instruments are not allowed.
Bring only small bottles of liquids, aerosols, and gels. Remember that the volume should not exceed 100 mL each and they must be placed inside resealable transparent bags.
(Read: UBE Express P2P Bus Guide: Travel From The Airport To Almost Anywhere In Manila With This Cheat Sheet)
3. Invest in a good travel journal
A travel organizer might be too bulky for your taste, however, getting one can save you troubles by ensuring that you put all your important travel documents in one place.
Make your passport, airline ticket, cash, pen, paper, and other essentials more accessible with one. This will save you precious minutes from rummaging through your belongings just to find a pen!
This holiday season, you must contend with fellow passengers for a good spot at the departure lounge.
If you're either not good with crowds or you just want a place where you can enjoy a little R&R prior to boarding, then a lounge access is for you.
Fortunately, airport lounges are free if you have the right credit card in your wallet. If you still don't have a credit card with complimentary lounge passes, it's the perfect time to shop for one now.