A Quick Guide To The DTI Microloan Program
5 min read
For those who dream of starting their own business, the biggest block often comes at trying to get together enough funds for their starting capital. A personal loan or a business loan can help but many people who want to do business hesitate to apply for bank loans because of the high interest rates, or lots of document requirements.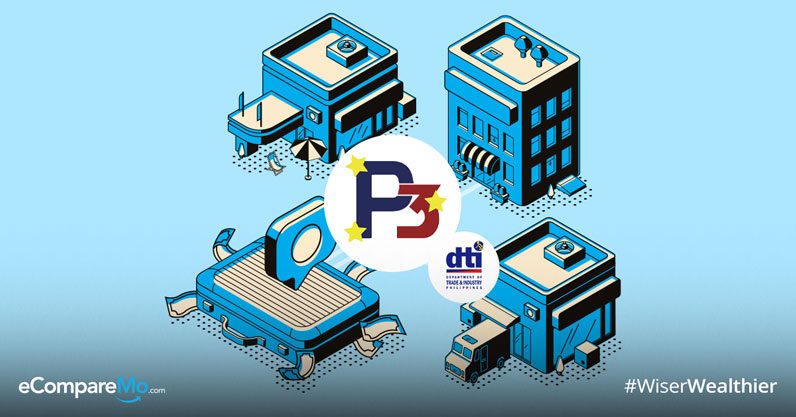 Because of their fear of banks, some people then go the other way—approaching loan sharks to finally start that business. However, looking closely at the terms of these types of loans will reveal that they are not as favorable as they seem. Many who go this route find themselves barely keeping afloat because of 5-6 pautang (lending) and their high interest rates.
So where can the average Filipino turn to if they need capital to get their business off the ground? One option is the Department of Trade and Industry's (DTI) Micro Loan program.
The DTI releases these loans with the goal of helping Micro Small & Medium Enterprises (MSMEs) but in the city and in the provinces.
If you want to start a business but don't have the capital yet, then you fit DTI's MSME Microloan program. Read on to know more about the DTI microloan and their Pondo sa Pagbabago at Pag-Asenso (P3) program.
How the DTI P3 Program Works
Last March 27, for International Women's Month, eCompareMo hosted a media roundtable called #SHERules: Filipinas Who Change The Way We Do Business.
One of the guest speakers, DTI Assistant Secretary for Regional Operations Group (ROG) Blesila Lantayona, was able to show us the importance of women's role in the economy. She also shared some of the many programs of DTI to support the growth of microbusinesses.
One program that really stood out was the DTI P3 program, which, among other things, aims to eradicate 5-6 lenders.
One reason many people turn toward 5-6 lenders is because they think that these are the only type of loans available to them. The 5-6 lenders tend to grant loans to the poorest in the community, most of whom simply want to start a business to better their lives.
The DTI P3 Program aims to provide these people with a better option. The P3 program aims to be just as accessible as these 5-6 lending schemes by offering really low interest rates.
Though the loan process may take a little bit longer than that of the 5-6 scheme, it will surely help those who need it most, as according to DTI, borrowers for 5-6 incur 20% monthly per month, while the DTI alternative lending program provides only 2% of interest rate per month.
(Read: How To Get Approved For A Business Loan)
P3 Interest Rates vs. 5-6 Interest Rates
Let's take a closer look at how the interest rates of the P3 loan stacks up against a 5-6 loan.
The Pondo sa Pagbabago at Pag-Asenso (P3) program in partnership with Center for Agriculture and Rural Development, Inc. (CARD) provides loan amounts from P5000 up to P100,000, with a monthly interest rate not higher than 2.5%.
To show the difference between interests incurred between P3 and 5-6:
| | |
| --- | --- |
| P3 | 5-6 |
| P20,000 loan amount = P500 of total interest per month | P20,000 loan amount = up to P4000 or more interest per month |
P3 Loan Requirements
The DTI P3 Loan Program simplifies the loan processing and opens up SME owners to more business learning opportunities. You only need to visit the DTI office near you, and make sure that you meet the following requirements:
The P3 Loan applicant must be a Filipino citizen
The business must be operating for not less than one year
Valid Government IDs with photo
The business must be registered with DTI, the municipality, or barangay
The business asset must not exceed P3 million
The business must be near the DTI lending area or credit delivery partner
(Read: Most Common Types Of Loans In The Philippines)
Other DTI Small Business programs
Last October 2018, the DTI announced that they would add P100 million of funds for MSME successful applications under the P3 program.
People who want to learn more on business management can also go to DTI and enroll in their other programs for SMEs such as the following:
Kapatid Mentor ME (Micro Entrepreneurs) program
This is also known as KMME. According to ASec Lantayona, the KMME program aims to "reach and help more and thousands of MSMEs from different and far-flung areas of Luzon, Visayas, and Mindanao to become smarter entrepreneurs and ignite the entrepreneurial spirit of every Filipinos."
Shared Service Facilities (SSFs)
This DTI MSME Development (MSMED) program "aims to improve the competitiveness of MSMEs by providing them with machinery, equipment, tools, systems, skills and knowledge under a shared system." Not only does this equip its members to have more knowledge for their business, but this also prepares them for global work standards.
"Negosyo Serbisyo sa Barangay"
This is set up by DTI in accordance with the Go Negosyo Act (RA 10644), to provide a much "wider reach of business development services, through partnerships between Barangay officials and Negosyo Center coordinators." The Negosyo Centers are extensions of the DTI to reach further barangays, and promote business education, as well as provide "business registration assistance, business advisory services, business information, and advocacy as well as access to market linkages."
You might have already seen this in malls across the country. With the goal of opening new market for local products and to improve quality of original and sustainable local products, Go Lokal! Is a "marketing avenue provided for free by the DTI and its retail partners for MSME incubation, marketing, and branding."
Through this program, local businesses are given space by local retailers to sell their products. The retailers also provide feedback to the SMEs and allow them to learn more about branding, how to market their products properly in line with modern marketing demands and how to sell or popularize them for global reach.
The possibilities to grow your small business are endless. To learn more about the DTI P3 Loan program, visit the nearest DTI office or credit delivery partner near you.