#GoalGetter: How This 24-Year-Old Gets To Travel The World For A Living
5 min read
Editor's note: eCompareMo's #GoalGetter series features successful young individuals in their chosen fields. More than sharing their stories, it aims to inspire everyone to pursue their own dreams by getting to know their journey and insights on what it really takes to live a fulfilling life.
——————————————————————————————————————————————–
Paolo Cuarteron, 24, is a photographer by profession. He is also a managing partner of an events organizing firm, and on the side, helps manage his family's business.
He has done a great job of documenting his travels on social media, which landed him an exchange deal from an airline company for his flights abroad.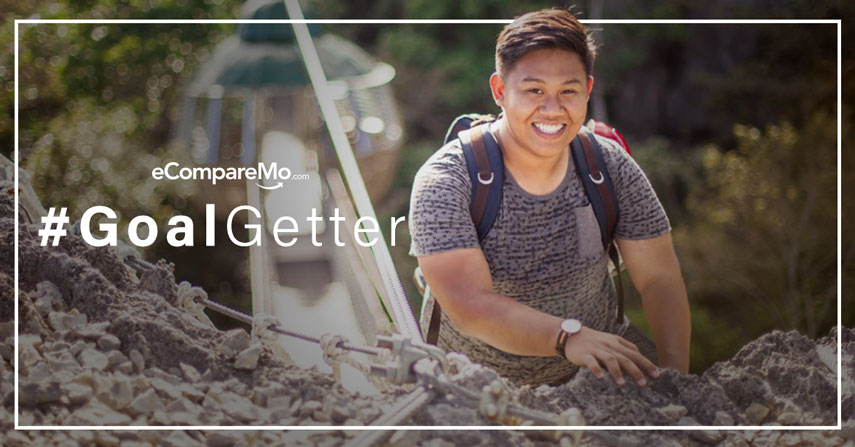 Bringing some of his friends to share the fun and adventure, his recent travels involved hiking to the Himalayas at Nepal's Annapurna Sanctuary, and a month-long Eurotrip that started with Iceland, and ended in London.
His story is proof that by setting specific goals and remaining undeterred despite all challenges, you'll be able to find your niche and do the things you've always dreamed of.
More and more people are now realizing their passion, and with it, sharing the dream of living the life they've always wanted. For Pao, it all started with his love for photography and traveling.
How was it like looking for a job when you were a fresh grad?
It was hard. You'll be competing with hundreds of applicants fighting over one position—not to mention trying to one up one another. It took me a little over two years, but with persistence and self-confidence, I landed a job.
What got you started with photography, traveling, and curating awesome photos and travel videos on social media?
I've had interest in photography since I was little. I'd toy with film cameras my mom used to own, and loved receiving films and other cameras as presents during Christmas!
I remember shooting the most random of things, from chasing and taking the photo of the lizard I found on the tree to me trying to take a photo of my eye.
Things got a bit serious when I started traveling weekly. Taking snaps from my phone was alright, but I wasn't happy with it. I'd like to have a decent photo and/or video for keepsakes. Soon, I brought my DSLR with me and started printing and posting them on social media.
Curating is my way of sharing stories. I believe that not every story is meant to be shared, but rather to be experienced firsthand.
What were some of the biggest challenges that you had to go through in pursuit of your passion?
Financially. Of course, you have to invest in equipment, not just to have quality photos but to also keep up with your needs to achieve your vision. Another one would be time—I had to miss a couple of birthdays and gatherings to pursue my passion.
On the other hand, what would you say is your biggest achievement so far?
After my recent trip to the Himalayas, I was reminded by the Sherpas and a friend to be thankful for even the littlest of things—beyond living a simple life and being contented. Since then, I've always said thank you before I turn in.
How long do you think you will be doing traveling and photography?
It's an endless pursuit of passion. Every day I learn new things from other people, that every person has his or her own story to share, that every culture is something to be given importance and respect, that these experiences are meant to be experienced. So I really don't know! Ha ha!
Most people see traveling, especially abroad, as expensive and that it can't be done until you're older, maybe 30 or so. Having traveled to many places  what's your take on this?
It is a matter of allocating your funds. Set a goal and start saving up for it; soon you'll have the means to travel to that dream destination of yours!
How do you prepare for your travels? Especially when it comes to finances and planning your itinerary?
Research is key. Looking for a strategic location on where to stay is one thing. It can save you money on transport and time! Another would be researching on possible entrance fees for tourists.
Lastly, bring your school ID (if you're still in school)! You can save a lot on transport and entrance fees—especially in museums!
Do you have any savings? If so, how did you start saving money? What are the things that you're saving up for?
Yes, and I think everybody should. I started saving all my aguinaldos/Christmas money since I was little. Most of my savings go directly to the bank–leaving me with just enough money on hand. After paying for the loans and other payables, I'll start saving up for a house!
What advice would you give people when it comes to earning more income and money management?
1. Allocate your money.
2. If you have a credit card, it doesn't mean you have to max it out. Zero is the new status!
3. Even if you don't see yourself traveling for the next few months, still allocate a portion of your savings for it; you'll never know when the next seat sale will be.
4. Lastly, don't spend for the sake of spending!
What advice would you give to millennials who feel lost, or are not yet sure about themselves, or the path they want to take?
Stay curious. Even if you can't find your passion in life, at least you tried.
You can follow Paolo's travels on Instagram via @paocua.
Got an inspiring #GoalGetter story to tell? Email us at support@ecomparemo.com.