Get To Know Forbes' New Richest Billionaires In The Philippines And In The World
4 min read
Just hot off the press, Forbes released the latest update to one of their longest-running features, The World's Billionaires.
This year, there are winners, losers, and everything in between. Is Bill Gates still the world's top billionaire? What happened to Donald Trump after he won the 2016 US presidential elections? Are there Filipinos that made it to the top 100 billionaires? Let's dive deep into the world of real-life Uncle Scrooges.
The richest of the rich
The list is still topped by none other than Microsoft cofounder Bill Gates. The software company head, who has long been out of his company's board, Gates sits atop of his $86-billion empire as a benevolent king.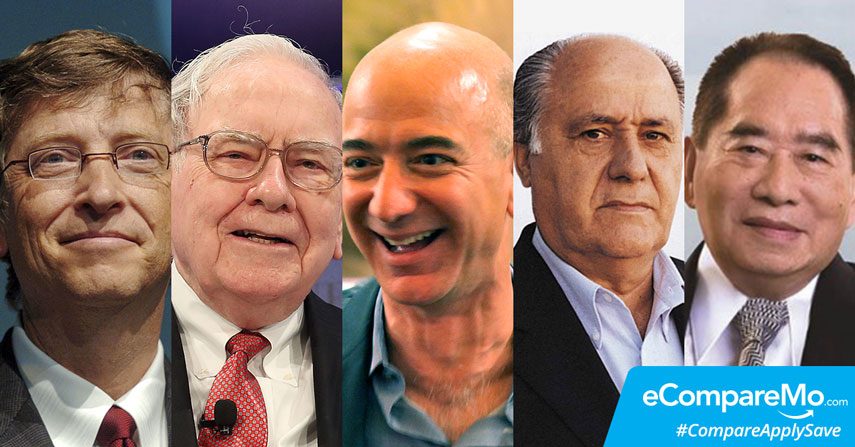 He's currently busy saving lives through efforts to find cure for polio, malaria, and other diseases that affect children worldwide, especially those who live in impoverished areas.
However, not far from Gates trails successful investor Warren Buffett, the famous investor who heads the American multinational holding company Berkshire Hathaway.
Under Buffett's belts are companies in industries like apparel, aviation, insurance, food and beverage, tech, finance, and so much more. Despite having a net worth of $75.6 billion, the "Oracle of Omaha" already told people that he would give 99 percent of his fortune to charity.
Buffett is followed by Amazon head honcho Jeff Bezos, who Forbes noted as the billionaire who saw the highest gains last year of $27 billion.
With Amazon's stocks climbing 67 percent last year due to the release of his company's cloud-computing services, his net worth skyrocketed to $72.8 billion.
Impressed? You'll be in awe when you realize that a decade ago, his net worth was just a fraction of what his valued now at $4.4 billion.
The rest of the 2017's top 10 richest billionaires in the world are as follows:
4. Amancio Ortega, who is the wealthiest man in Europe at $71.3 billion, is the cofounder of Inditex, the parent company of clothing company Zara.
5. Mark Zuckerberg is the youngest billionaire to ever reach the top 10 at $56 billion. The Facebook cofounder, along with his wife Priscilla Chan, promised to give away 99 percent of their company shares over the years.
6. Carlos Slim, Mexico's richest Juan, owns one of the largest telcos in the world: America Movil. His $54.5-billion net worth isn't just a product of connecting people: he also has stakes in manufacturing, media, energy, transportation, and more.
7. Like Gates, Zuckerberg, and the late Steve Jobs, Oracle cofounder Larry Ellison never got a college diploma, but that didn't stop him from amassing a net worth of $52.2 billion. While he is no longer the CEO of the company, he still has his hands full as the chairman and chief technology officer.
8. It's hard to imagine someone building a multi-billion dollar company on top of carpets, disposable cups, and paper towels, but American businessman Charles Koch did just that. Other than the household products mentioned, his net worth of $48.3 billion also came from petroleum, chemicals, and pipelines.
9. If Charles Koch can do it, then so can his brother. David Koch, his brother's second-in-command, saw an increase in his fortune from $44.2 billion last year to this year's $48.3 billion. Aside from his roles at Koch Industries, the younger Koch also donated a lot find ways to cure cancer.
10. Michael Bloomberg is more than just the former mayor of New York City. His name is plastered in many finance-related ventures like high-speed proprietary trading software, media channels, and so much more. Currently, he's worth $47.5 billion.
Where the Philippines stands
Browsing through Forbes' top 100 billionaires will make you come across names both famous and relatively unknown: Tesla's Elon Musk, Alibaba's Jack Ma, media mogul Rupert Murdoch, among others.
And right at the tail end of is a familiar name and the undisputed richest Filipino: Henry Sy Sr.
The 92-year-old head of SM Investments may have seen a drop in his net worth—$14.2 billion in 2015, $12.9 billion in 2016, and $12.7 billion for this year—but his net worth landed him at the 94th spot on the World's Billionaires list.
The next Filipino to be featured on the World's Billionaires is JG Summit Holdings chairman John Gokongwei, who also happens to be the second richest person in the country. His net worth is currently at $5.8 billion, placing him on the 250th spot in the list.
Aside from Sy and Gokongwei, the rest of the top 10 Filipinos who made it to the World's Billionaires list are the following:
501. Lucio Tan: $3.7 billion
544. George Ty: $3.5 billion
564. Enrique Razon Jr.: $3.4 billion
564. Tony Tan Caktiong: $3.4 billion
630. David Consunji: $3.1 billion
814. Andrew Tan: $2.5 billion
1376. Robert Coyuito Jr.: $1.5 billion
1376. Manuel Villar: $1.5 billion
1468. Ramon Ang: $1.4 billion
1678. Eduardo Cojuangco: $1.2 billion
1795. Roberto Ongpin: $1.1 billion
1940. Edgar Sia: $1 billion
What do you think of the list? Share your thoughts in the comments.