GMA Affordabox And Other TV Box Alternatives
7 min read
With the ABS-CBN TV Plus shutting down on June 30, 2020, we look at the features of the GMA Affordabox and other options if you're looking for a digital TV box for your home.
Prices of digital TV boxes in the Philippines go for as low as ₱650 for unbranded ones and as high as ₱2,750 for prepaid digiboxes.
We also look at more expensive video streaming devices from the likes of Amazon, Google, and Apple.
After two months of being in limbo, the National Telecommunications Commission (NTC) ordered media giant ABS-CBN to shut down the broadcast of its own channels through their TV Plus digital receiver as well as Sky Direct, Sky Cable's direct-broadcast arm.
According to the government agency, Sky Cable's congressional franchise to operate expired on May 4, which lapsed at the same time as ABS-CBN's. The government ordered the shutdown of ABS-CBN's broadcasts one day after its provisional authority expired.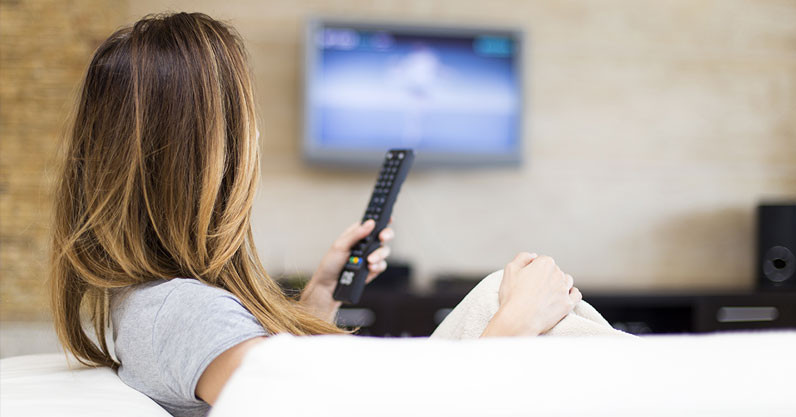 "Upon the expiration of R.A. No. 7969, Sky Cable Corporation no longer has a valid and subsisting congressional franchise to install, operate, or maintain a Direct Broadcast Satellite Service," said the order from the NTC.
Aside from asking Sky Direct to cease their operations, the NBC also told the Lopez-owned media company to comply with the ABS-CBN TV Plus shutdown of their channel 43 broadcasts.
The digital receiver, which buys airtime from AMCARA Broadcasting Network, uses the said channels to show CineMO!, Yey!, DZMM TeleRadyio, and its pay-per-view entertainment channel KBO.
The NTC said that the stations using channel 43 were among the broadcasts ordered by the government to stop transmissions.
Is it time for the people to look into other digital TV receivers and video streaming devices in the Philippines? Let's do a quick scan of your options.
(Read: Comparing Internet Service Providers And Plans In The Philippines)
What is a digital TV box?
A digital TV box is a television device that receives digital signals from broadcast stations.
Since the dawn of the 21st century, countries all over the world have been trying to make the switch (AKA "digital switchover") from analog-based transmissions to digital ones.
The Philippines started its step toward digitizing television signals in 2010 after the NTC announced it would use the Integrated Service Digital Broadcasting-Terrestrial (ISDB-T) technology by Japan.
Over time, channels started to migrate to digital signals using ultra-high frequency channels.
Why should you get a digital TV box?
Why are Filipinos switching to analog antennas to digital TV boxes? Here are just some of the main reasons why you need to get "black box" today.
First, the country plans to halt all analog services by 2023 as more households embrace digital TV boxes in their homes.
Once all analog signals have been freed up, these frequencies can now be used for other means such as radio communication for public safety, wireless services, and others.
Second, digital TV channels rarely experience a drop in the quality of signal due to the high frequency they use. This can translate to better picture quality, high-quality audio, and little to no static interference.
By using H.264/MPEG-4 AVC to compress their TV transmissions, they can send better quality broadcasts without the strain on the bandwidth.
Next, network-made TV boxes like the ABS-CBN TV Plus have their own exclusive channels that can only be decrypted using their own devices.
Before the ABS-CBN shutdown, their digital TV box came with channels like CineMO!, Yey!, KBO, and others that can only be accessed with using the said receiver.
Meanwhile, those who still rely on analog televisions—especially the ones who live in far-flung areas where access to cheap and better appliances is difficult—they can plug in the digital receiver to their TVs via the RCA slots and enjoy the same privileges as others.
Finally, digital TV receivers can also be used for other purposes like multimedia playback, emergency broadcast systems, digital video recorder, and other features that are not available with your TV alone.
You can stick your USB thumb drive to your TV box and you can browse movies, pictures, and shows you've saved for later viewing. Never miss your favorite shows again.
(Read: 'Netflix Tax' In the Philippines? Congressman Pushes For Digital Economy Taxation)
GMA's TV box and other ABS-CBN TV Plus shutdown alternatives
Since 2015, ABS-CBN has been leading the digital receiver race with its TV Plus. Its success can be attributed to a few things: heavy advertising, affordability, use even in public transportation, and a handful of exclusive channels.
In addition, the network made their digital TV box more premium by opening up a pay-per-view model for some of their most recent movies, making Filipinos spend a little extra just to be able to catch their local shows.
Now that the NTC snapped them all out of existence (for now, at least), are there other digital TV boxes that can go toe-to-toe with ABS-CBN TV Plus? We rounded up some of the best digital receivers available at the moment and what their features are.
1. GMA Affordabox
Price: ₱888
With network rivalry still going strong even during quarantine, it's no surprise that fans of ABS-CBN will find the timing of GMA releasing its digital receiver to be questionable. Regardless, GMA Network's foray into the digital black box business is worth looking into.
What makes the Affordabox a good alternative to TV Plus? Aside from receiving digital channels, you can see your Kapuso channels like GMA and GMA News TV in higher definition.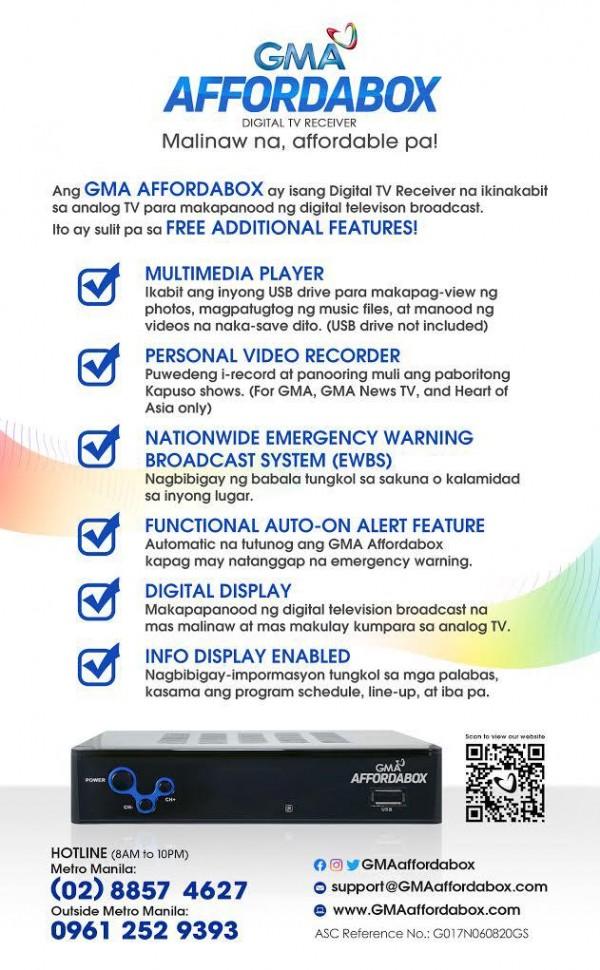 In addition, part of the GMA Affordabox channel list is a free one called Heart of Asia, which will serve as their platform for all your favorite Tagalized Asian dramas.
Although it has fewer exclusive channels than TV Plus, the GMA TV box is available at a very competitive price of ₱888. Now that's hard to beat.
2. RCA Digital TV Box
Price: ₱1,395 to ₱1,595
RCA, one of the biggest electronics manufacturing company in the world, also wants its fair share of digibox clients with its Digital TV Box.
The American company released two models, namely the DV1402 at ₱1,395 and the DV1501 at ₱1,595, through its official distributors in the Philippines.
So what can the RCA digital receiver do? Unlike the TV Plus or the GMA Affordabox, the RCA Digital TV Box functions more as a universal black box for all digital TV signals.
Since it doesn't have any ties to any network, it can only receive free terrestrial TV channels using its device and decrypting signals from exclusive channels is impossible.
Like other digital TV boxes, RCA's models can capture TV channels and show them in high quality, record shows for later viewing, and play media from an external drive.
It also features Dolby sound support so you can connect your great speaker systems and enjoy better sound quality of your favorite shows.
3. Cignal Prepaid Digibox
Price: ₱2,790 (Cignal HD kit only), monthly subscription varies depending on prepaid plan availed
Those who want a better way to spend their quarantine days entertained with a lot of premium channels can take advantage of Cignal's prepaid plans.
Unlike postpaid plans that require commitment, you only need to pay ₱2,790 for the Cignal TV kit and additional ₱1,000 for the installation fee.
So what makes this better than others? First, compared to the TV Plus and GMA Affordabox that only offer free TV channels and a handful of exclusives, Cignal can offer you tons of channels at a very affordable price.
For its prepaid plans, the lowest monthly rate you can pay for is ₱100 with 30 SD channels, which is good for one month.
Additional stations you can get include PBA Rush, Hits Movies, PBO, Al Jazeera One News, and others.
Meanwhile, those who prefer HD channels can pay as low as ₱100 for a few HD channels (along with dozens of SD channels), with their most expensive plan only at ₱1,000 per month.
(Read: How To Set Up Automatic Bills Payment On Your Debit/Credit Card)
4. Amazon Fire TV Stick, Google Chromecast, Apple TV, Xiaomi Mi Box 4K, and other video streaming devices
Prices: Amazon Fire TV Stick (starts at ₱2,300), Google Chromecast (around ₱2,400), Apple TV (starts at ₱8,990), Mi Box (around ₱2,800)
If you have the budget to spare (and are willing to ditch local programming), it might be worth your while to consider getting a video streaming device for yourself.
These come with pre-installed apps (except for Google Chromecast, which basically casts the apps on your smartphone, tablet, or laptop) and offer app and game download options from the Google Play Store or App Store.
This especially works for those who don't non-Smart TVs that nevertheless have HDMI and USB 2.0 ports.
The catch? You'll still have to pay individual subscription fees for streaming apps like Netflix, iFlix, and the like. And of course, you need a stable WiFi connection.
5. Other digital receivers
Is the GMA Affordabox over your budget? Aside from the ones we mentioned, you can also get generic universal TV receivers that also do the same job as branded ones sans the perks.
Upon checking famous e-commerce platforms, you can get a unit for as low as ₱650. However, keep in mind that by going for unbranded digital TV boxes, you also let go of some perks such as exclusive channels, pay-per-view shows, and other advantages.
As always, buy at your own risk and be a smart consumer.