Free J.CO Treats With Maybank Credit Cards
4 min read
Enjoy sweet treats with your Maybank Credit Card. Get an instant redemption of free J.CO donuts when you spend a minimum amount of P3,000 anywhere with this promo.
The promo runs until May 31, 2016. You may redeem your treat from J.Co donuts until July 31, 2016.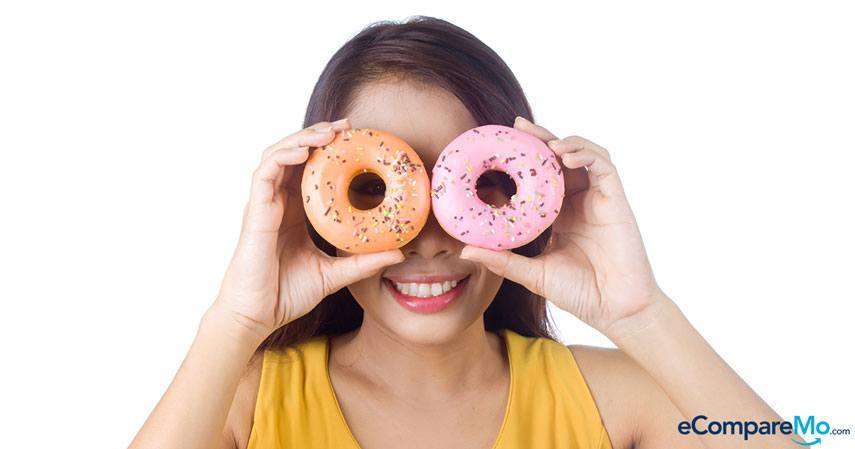 Promo mechanics
1. The Maybank Credit Cards J.CO Instant Promotion is open to all Maybank primary and supplementary credit cardholders in the Philippines.
2. The promo runs until May 31, 2016. Redemption period is from April 2016 to July 31, 2016.
3. To qualify, cardholders should use their Maybank Credit Cards within the promo period for a minimum single receipt purchase of P3,000, P6,000 or P12,000 at any merchant. The following transaction types are included in this promo:
a. Local retail
b. Overseas
c. Online
4. Cardholder shall claim free regular donuts at any J.CO Donuts and Coffee store nationwide.
| | |
| --- | --- |
| Required minimum single-receipt amount* | Treats |
| P3,000 | 3 J.CO Regular Donuts |
| P6,000 | 6 J.CO Regular Donuts |
| P12,000 | 12 J.CO Regular Donuts |
*A single-receipt purchase is a transaction covered by a single official receipt/sales invoice and a single credit card charge slip. Only straight retail transactions, local and overseas, as well as online transactions are included in the promo. Non-straight and non-retail transactions such as, but not limited to EzyPay transactions, fees and charges, etc. are not included in the promo. Casino/gambling transactions, EzyTransfer, EzyConvert, EzyCash, and cancelled transactions are also not included in the promo.
5. Splitting of a single transaction to generate multiple charge slips is not allowed.
Per DTI-FTEB SPD No. 2558 Series of 2016
Instant Redemption SMS Codes
1. For successful registration, Cardholder will automatically receive his/her SMS code(s) for all qualified and posted transactions starting April 2016 until registration date.
Example registration date: April 14, 2016
2. First Batch of SMS codes: April 15, 2016 for qualified and posted transactions from April 1, 2016 to April 15, 2016.
3. Succeeding SMS Codes: After one (1) banking day from posting date, cardholder will receive the SMS codes for succeeding qualified transactions until May 31, 2016.
4. Cardholder is allowed to receive a maximum of eight (8) SMS codes within the promo period.
5. Cardholder who reached the maximum limit will be notified via SMS.
6. SMS codes earned by a supplementary cardholder will be awarded to the primary cardholder. This shall form part of the eight maximum SMS codes a cardholder can receive during the promo period.
How to register
1. Once qualified, the cardholder will receive an Instant Treats SMS code for redemption of treat.
2. To receive the SMS code, the cardholder must first register from April 2016 to June 30, 2016. The cardholder only needs to register once during the promo period.
3. The Cardholder may register his/her mobile number through web registration or by calling customer service:
Via web registration
1. Go to Instant Treats Promo Registration Webpage
2. Complete all necessary fields:
• Name
• Mobile Number
• Email Address
3. Click Submit
Via call
1. Call Maybank Customer Service at (02) 588-3888
2. Register mobile number
The mobile number used for registration must match that of Maybank Credit Card's system records as the SMS code(s) will be sent to this number. In case the mobile number does not match, the cardholder is required to update his/her contact information by calling Maybank Customer Service at (02) 588-3888.
How to redeem
1. Cardholder must present the SMS code(s) at any participating J.CO Donuts and Coffee store nationwide to claim his/her Treat(s) within the Redemption Period. Redemptions without the SMS code will not be accepted.
2. One (1) SMS code is equivalent to one (1) Treat. Each SMS code is only valid for one use. Redemption is valid for dine-in and takeout only.
3. The SMS code can be transferred to any person provided that it can only be used once. J.CO Donuts and Coffee will advise the cardholder if the SMS code has already been used.
4. All unredeemed SMS codes after July 31, 2016 will be forfeited.
5. In case the SMS code is deleted, the Cardholder must call Maybank Customer Service at (02) 588-3888 to request for the SMS code. The SMS code can only be resent once, succeeding requests will not be honored and the SMS code will be declared void.
6. In cases of disputed and later reversed transactions after redemption is made, the Cardholder shall be charged the cost of the redeemed treat.
7. Any fraudulent action performed by the cardholder in order to be eligible in claiming a treat shall be investigated. If proven, the Cardholder will be charged the actual cost of the treat.
8. The Promo cannot be used in combination with other promotions, discounts and privileges offered by J.CO Donuts and Coffee.
9. In case of a dispute, the decision of Maybank Philippines Inc. with the concurrence of DTI shall be considered final.
10. Maybank Philippines Inc. is authorized to give necessary information to its third party contractor or agent to perform or complete the redemption process of J.CO Donuts and Coffee Treats.