4 Smart Tricks To Earn Up To 4X The Rewards During The Christmas Season
2 min read
Make the most of your credit card during the holidays by using the accelerated rewards available with your HSBC credit card to make your Christmas shopping experience merry, jolly and easy. Simply follow the infographic below: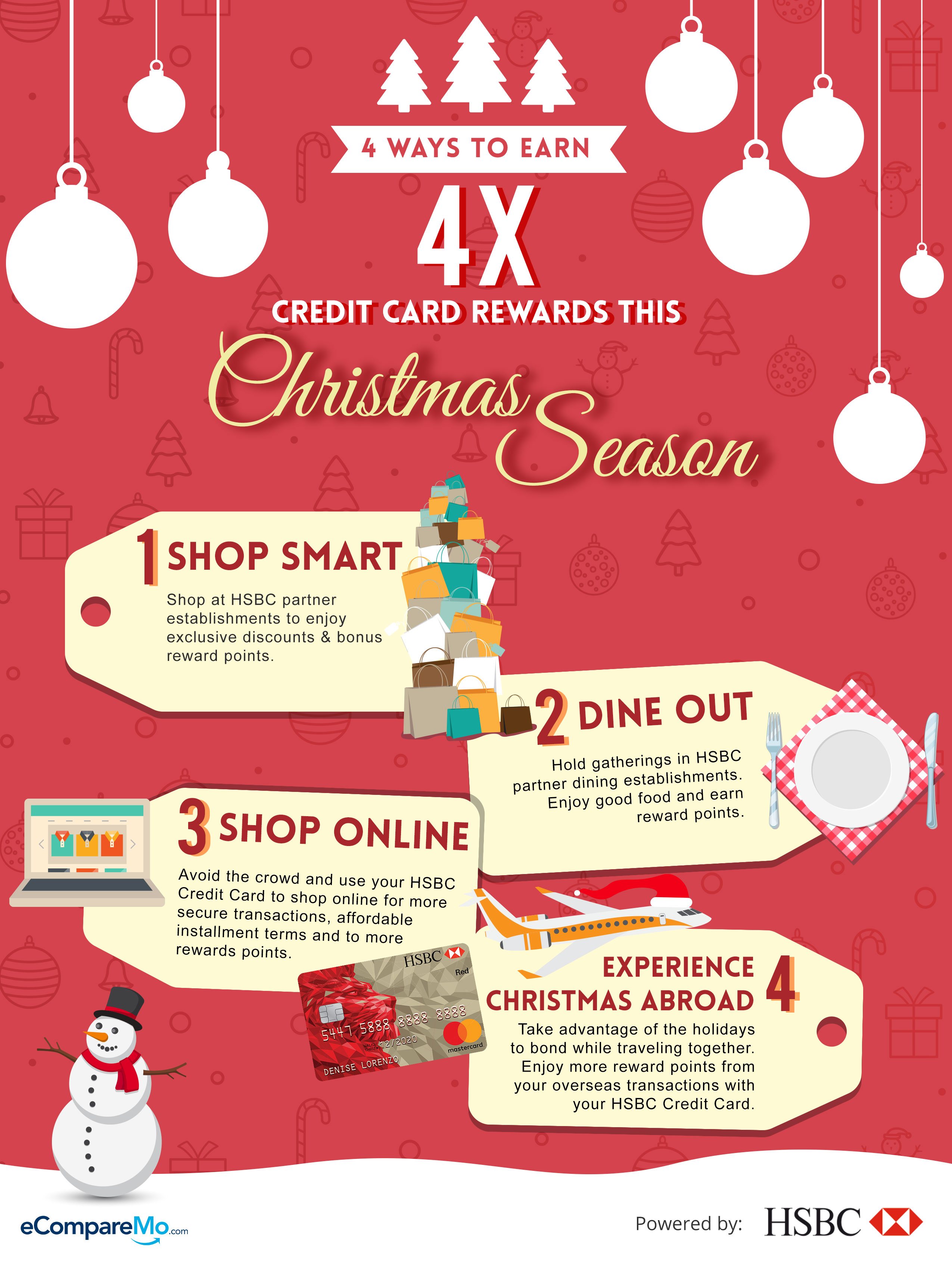 1. Shop smart with HSBC
No need to wait for mall sales and holiday bazaars to get the most out of your shopping.  Just shop at your convenience and away from the crowds at your credit card's partner establishments anytime and enjoy accelerated bonus points every time you swipe.
With HSBC, you can earn 3X the bonus points with your Gold Mastercard, Platinum Visa, and Premier Mastercard Credit Card—and 4X the bonus points with your HSBC Red Mastercard Credit Card—when you buy from partner establishments such as stores from the Rustan Group of Companies. You can also avail of 0% installment plans with all HSBC partner establishments. For a full list of participating establishments, click here.
2. Be prepared to dine out…a lot
Expect friends and loved ones to invite you to more lunch and dinner get-togethers this holiday season. Get the most out of these gatherings by hosting them at HSBC partner establishments. Enjoy good food, great company, and accelerated rewards! If you have an HSBC Gold Cash Back Visa Credit Card, you can also get a 5% cash back reward every time you dine.
3. Pressed for time? Shop online
As the big day draws near and the Christmas rush makes its presence felt, online shopping will be your best friend. Using your HSBC Credit Card, you don't only get to enjoy affordable installment terms and secured transaction, you also earn up to 4x rewards. Even in the comfort of your home!
For every P20 you spend online, you get 4 bonus points with your HSBC Red Mastercard Credit Card or Platinum Visa Credit Card. This way, you don't only get to save money on transportation costs, you also accelerate your rewards. Happy holidays indeed!
4. Experience Christmas abroad
The Christmas Holiday's are one of the few times in the year where everyone's schedule is aligned. The kids don't have school, the adults don't have to go to work. Take advantage of this to enjoy some family bonding time by taking that long-dreamed trip abroad.
Enjoy up to 4x bonus points when you use your HSBC Red Mastercard, Platinum Visa, or Premier Mastercard Credit Card for your overseas vacation expenses!
Get accelerated rewards and more with your HSBC Credit Card this holiday season. No HSBC Credit Card yet? Apply online today.
*Terms and conditions apply