Flight Delays And Cancellations Continue As Taal Volcano Reaches Alert Level 4
7 min read
Reports from the Philippine Institute of Volcanology and Seismology (PHIVOLCS) state that the alert over Taal Volcano remain at Alert Level 4 after the eruption on January 12.
Taal being at Alert Level 4 means that it was still observed to be showing signs of unrest, thus indicating a possibility of generating a hazardous explosive eruption soon.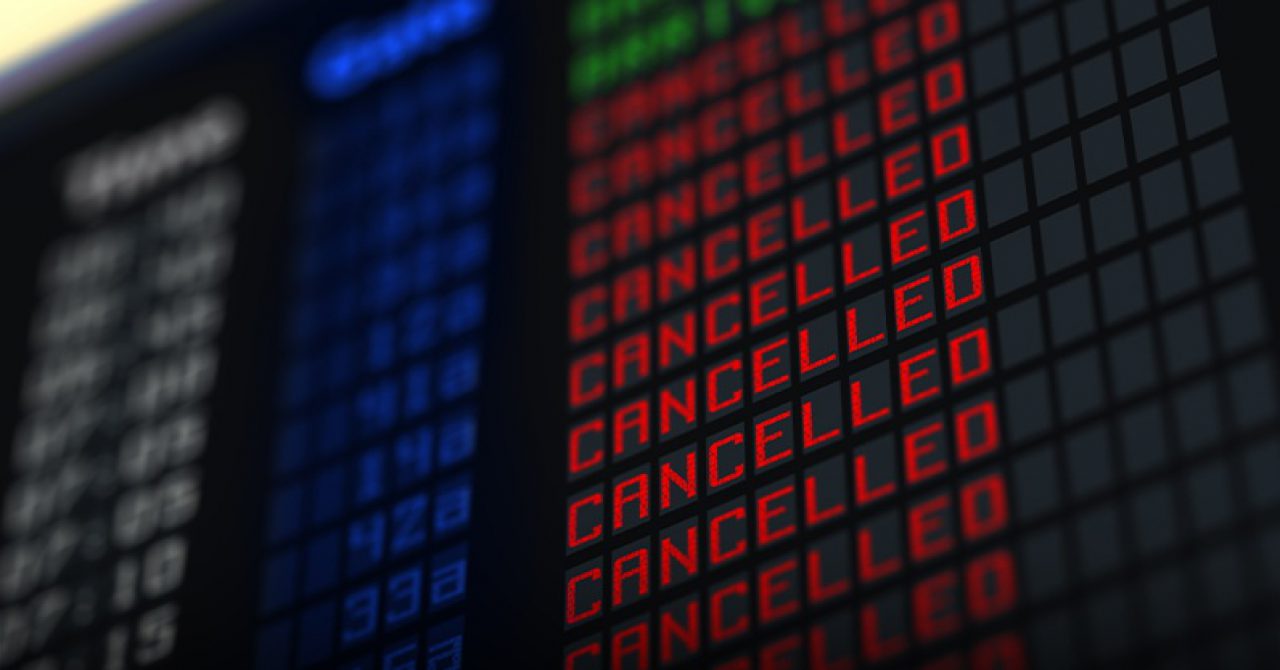 In view of this, the Manila International Airport Authority (MIAA) announced flight cancellations and delays even after the Ninoy Aquino Internatonal Airport (NAIA) confirmed that it will resume operations today.
Here are the lists of cancelled, delayed, or diverted flights, as of 1 PM today:
International flights (CANCELLED)
Domestic flights (CANCELLED)
5J 050 MEL – MNL
5J 617 MNL – TAG – MNL
5J 619 MNL – TAG -MNL
5J 272 MNL – HKG – MNL
5J 273 MNL – HKG – MNL
5J 895 MNL – MPH – MNL
5J 896 MNL – MPH – MNL
5J 312 MNL – TPE – MNL
5J 313 MNL – TPE – MNL
5J 849 MNL – ZAM – MNL
5J 850 MNL – ZAM – MNL
5J 5054 MNL – NRT – MNL
5J 5055 MNL – NRT – MNL
5J 637 MNL – PPS – MNL
5J 638 MNL – PPS – MNL
5J 279 MNL – DPS – MNL
5J 280 MNL – DPS – MNL
5J 565 MNL – CEB – MNL
5J 566 MNL – CEB – MNL
5J 813 MNL – SIN – MNL
5J 814 MNL – SIN – MNL
5J 997 MNL – GES – MNL
5J 998 MNL – GES – MNL
5J 110 MNL – HKG – MNL
5J 111 MNL – HKG – MNL
5J 447 MNL – ILO – MNL
5J 448 MNL – ILO – MNL
5J 744 MNL – HAN – MNL
5J 745 MNL – HAN – MNL
5J 473 MNL – BCD – MNL
5J 474 MNL – BCD – MNL
5J 5057 NRT – MNL
5J 383 MNL – CGY – MNL
5J 834 MNL – CGY – MNL
5J 5039 NGO – MNL
5J 563 MNL – CEB – MNL
5J 564 MNL – CEB – MNL
5J 827 KIX – MNL
5J 963 MNL – DVO – MNL
5J 964 MNL – DVO – MNL
5J 115 HKG – MNL
5J 451 MNL – GES – MNL
5J 452 MNL – GES – MNL
5J 804 SIN – MNL
5J 991 MNL – GES – MNL
5J 992 MNL – GES – MNL
5J 673 PEK – MNL
5J 567 MNL – CEB – MNL
5J 568 MNL – CEB – MNL
5J 679 – PVG – MNL
5J 635 MNL – PPS – MNL
5J 636 MNL – PPS – MNL
5J 502 KUL – MNL
5J 551 MNL – CEB
5J 734 BKI – MNL
5J 891 MNL – MPH – MNL
5J 892 MNL – MPH – MNL
5J 760 CGK – MNL
5J 785 MNL – BXU – MNL
5J 786 MNL – BXU – MNL
5J 931 MNL – BKK – MNL
5J 932 MNL – BKK – MNL
5J 821 MNL – VRC – MNL
5J 822 MNL – VRC – MNL
5J 311 TPE – MNL
5J 373 MNL – RXS – MNL
5J 374 MNL – RXS – MNL
5J 187 ICN – MNL
5J 321 MNL – LGP – MNL
5J 322 MNL – LGP – MNL
5J 929 MNL – BKK – MNL
5J 930 MNL – BKK – MNL
5J 961 MNL – DVO – MNL
5J 962 MNL – DVO – MNL
5J 287 CAN – MNL
5J 649 MNL – TAC – MNL
5J 650 MNL – TAC – MNL
5J 363 MFM – MNL
5J 561 MNL – CEB – MNL
5J 562 MNL – CEB – MNL
5J 752 SGN – MNL
5J 771 MNL – PAG – MNL
5J 772 MNL – PAG – MNL
5J 367 MFM – MNL
5J 381 MNL – CGY – MNL
5J 382 MNL – CGY – MNL
5J 627 MNL – DGT – MNL
5J 628 MNL – DGT – MNL
5J 475 MNL – BCS – MNL
5J 476 MNL – BCS – MNL
5J 196 MNL – CYZ – MNL
5J 197 MNL – CYZ – MNL
5J 885 MNL – CBO – MNL
5J 886 MNL – CBO – MNL
5J 982 DVO – MNL
5J 556 CEB – MNL
5J 590 CEB – MNL
5J 378 CGY – MNL
5J 468 ILO – MNL
5J 580 CEB – MNL
5J 472 BCD – MNL
5J 462 ILO – MNL
(Read: Are Excessive Flight Delays Covered by Travel Insurance?)
Philippine Airlines
International flights (DELAYED)
Domestic flights (CANCELLED)
PR 684 Manila – Doha; departing Manila at 5PM
PR 2545 MNL – DGT – MNL
PR 2546 MNL – DGT – MNL
PR 118 Manila – Toronto; departing Manila at 6PM
PR 2521 MNL – CGY – MNL
PR 2522 MNL – CGY – MNL
PR 469 Incheon – Manila; departing Incheon at 10PM local time
PR 2959 MNL – CBO – MNL
PR 2960 MNL – CBO – MNL
PR 423 Tokyo Haneda – Manila; departing Haneda at 4:05PM local time
PR 2969 MNL – KLO – MNL
PR 2970 MNL – KLO – MNL
PR 411 Osaka Kansai – Manila; departing Osaka Kansai at 4:20PM local time
PR 281 MNL – DVO
PR 213 Manila – Sydney; departing Manila at 6:30PM
PR 2773 MNL – TAG – MNL
PR 2774 MNL – TAG – MNL
PR 425 Fukuoka – Manila; departing Fukuoka at 4PM local time
PR 2141 MNL – ILO – MNL
PR 731 Bangkok – Manila; departing Bangkok at 4:05PM local time
PR 2131 MNL – BCD
International flights (DIVERTED)
PR 117 Vancouver – Manila (diverted to Haneda); departing Haneda at 11:50AM local time
PR 127 JFK New York – Manila (diverted to Hongkong); departing Hongkong at 10:18AM local time
PR 115 San Francisco – Manila (diverted to Cebu); departing Cebu at 3PM
PR 105 San Francisco – Manila (diverted to Cebu); departing Cebu at 3:20PM
PR 103 Los Angeles – Manila (diverted to Cebu); departing Cebu at 3PM
Air Asia
International flights (DELAYED)
Domestic flights (CANCELLED)
Z2 288 DMK – MNL
Z2 318 ILO – MNL
Z2 232 DPS – MNL
Z2 757 MNL – CEB – MNL
Z2 758MNL – CEB – MNL
AK 584 KUL – MNL – KUL
AK 585 KUL – MNL – KUL
Z2 762 CEB – MNL
Z2 889 ICN – MNL
Z2 625 MNL – DVO – MNL
Z2 626MNL – DVO – MNL
Z2 129 TPE – MNL
Z2 616 DVO – MNL
Z2 139 CAN – MNL
Z2 8788 MNL – CEB – MNL
Z2 8789MNL – CEB – MNL
Z2 019 PVG – MNL
Z2 774 CEB – MNL
Z2 285 CMK – MNL – CMK
Z2 286CMK – MNL – CMK
Z2 622 DVO – MNL
Z2 1264 MNL – HKG – MNL
Z2 1265MNL – HKG – MNL
Z2 318 ILO – MNL
Z2 884 MNL – ICN – MNL
Z2 885MNL – ICN – MNL
Z2 689 MNL – CGY – MNL
Z2 690MNL – CGY – MNL
Z2 942 MNL – KUL – MNL
Z2 943MNL – KUL – MNL
Z2 755 MNL – CEB – MNL
Z2 756MNL – CEB – MNL
Z2 188 MNL – KIX – MNL
Z2 189 MNL – KIX – MNL
Z2 306 MNL – ILO – MNL
Z2 307MNL – ILO – MNL
Z2 124 MNL – TPE – MNL
Z2 125 MNL – TPE – MNL
Z2 322 MNL – TAC MNL
Z2 323MNL – TAC MNL
Z2 432 MNL – PPS – MNL
Z2 433MNL – PPS – MNL
Z2 780 CEB – MNL – CEB
Z2 781CEB – MNL – CEB
Z2 782CEB – MNL – CEB
Z2 783CEB – MNL – CEB
Z2 426 MNL – PPS – MNL
Z2 427 MNL – PPS – MNL
Z2 763 MNL – CEB – MNL
Z2 764 MNL – CEB – MNL
Z2 611 MNL – DVO – MNL
Z2 612 MNL – DVO – MNL
Z2 320 MNL – TAC – MNL
Z2 321 MNL – TAC – MNL
Z2 350 MNL – TAG – MNL
Z2 351 MNL – TAG – MNL
Z2 691 MNL – CGY – MNL
Z2 692 MNL – CGY – MNL
Z2 603 MNL – BCD – MNL
Z2 604 MNL – BCD – MNL
Z2 219 MNL – MPH – MNL
Z2 220 MNL – MPH – MNL
Z2 331 MNL – TAC – MNL
Z2 332 MNL – TAC – MNL
Z2 711 MNL – KLO – MNL
Z2 712 MNL – KLO – MNL
Z2 775 MNL – CEB – MNL
Z2 776 MNL – CEB –
Z2 221 MNL – MPH – MNL
Z2 222 MNL – MPH – MNL
Z2 358 MNL – TAG – MNL
Z2 359MNL – TAG – M
(Read: Know Your Rights As An Airline Passenger When Traveling Here And Abroad)
All Nippon Airways
CANCELLED
NH 820 MNL – NARITA
Air China
CANCELLED
CA 179 PEK – MNL
Cathay Pacific
CANCELLED
CX 939 HKG – MNL
CX 979 MNL – HKG
CK 918/919 – MNL – HKG – MNL
CX 934/935 – MNL – HKG – MNL
China Airlines
CANCELLED
CI 701/702 ICN – MNL – ICN
China Eastern Airlines
CANCELLED
MU 211/212 PVG – MNL – PVG
China Southern Airlines
CANCELLED
CZ 8493/8494 CAN – MNL – CAN
CZ 3091/3092 CAN – MNL – CAN
Delta Airlines
CANCELLED
DL 180 MNL – NRT
Eva Air
CANCELLED
BR 262 MNL – TPE
Malaysian Airlines
CANCELLED
MH 805 MNL – KUL
MH 806/807 KUL – MNL – KUL
MH 704/705 KUL – MNL – KUL
Oman Air
CANCELLED
WY 844 MNL – MCT
Source: CNN