Fire Prevention Month: Fire Safety and Prevention Tips To Keep In Mind
4 min read
As per Proclamation No. 360, s. 1989, and Proclamation No. 115-A, s. 1966, March is Fire Prevention Month and Burn Prevention Month.
As the month when, according to Philippine Atmospheric, Geophysical and Astronomical Services Administration (PAGASA), temperature and humidity start to rise. March is also the month where the risk of fire becomes a very real concern.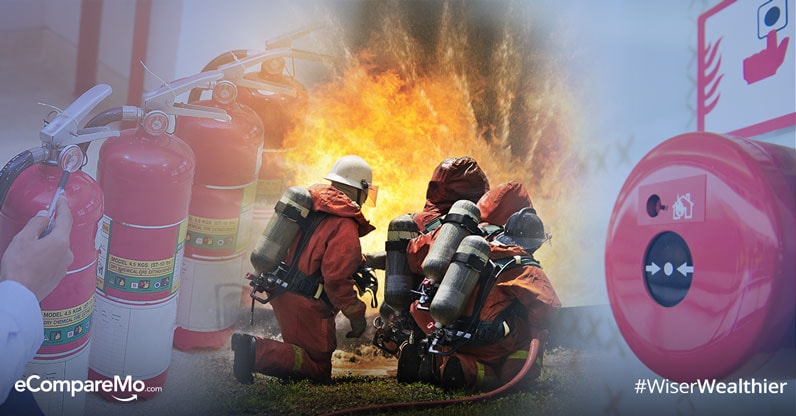 As a precautionary measure, The Bureau of Fire Protection advises the public every March to remember that fire is a preventable risk. They are recommending the installation of smoke alarms and sprinklers, the storing an accessible fire extinguisher, and the posting emergency exit plans in both commercial establishments and residential buildings.
Below are a few more important tips that might come in handy and can save you, and your loved ones in cases of fire.
1. Conduct a maintenance check on smoke alarms.
Smoke alarms are life-savers but to maintain its efficiency, a smoke alarm system has to be safe and functional. Replace the batteries yearly and have the electrical wirings checked. Smoke alarms expire after 10 years, so make sure to keep track of how old your alarm is and change it when needed.
2. Schedule a check-up for electrical wirings.
Faulty electrical wirings can cause fire incidents. If you notice flickering light bulbs and sparking switches, have the lines checked by an expert as it might be high time for replacement and repair. Breakers should also be inspected by a professional for corrosion or hot spots.
Keep foot traffic away from electrical cords to avoid wiring damage. You should also limit the use of extension cords as they may overheat the sockets. Big appliances such as refrigerators should have their own outlet.
3. Keep flammable items away from children
Candles, matches, lighters, butane, gasoline and items alike should be stored away from children.
4. Be alert in the kitchen.
Stay mindful when cooking and don't leave ovens, broilers, and stoves unattended. Keep towels or anything that can catch fire away from your stovetop. Always make sure the lid is available to cover the pan in case the pan catches fire.
5. Avoid smoking indoors.
If you have a smoking room, place several deep and stable ashtrays on a sturdy surface. When emptying the ashtrays or throwing away cigarette buts and ashes, make sure that they have cooled and there are no remaining embers.
6. Check LPG tanks.
Inspect the tank's safety cap and seal and see that the hose is intact. The regulator should also be securely attached to the cylinder valve. As rule of thumb, replace the hose every two years and regulators after five years of manufacturing date.
7. Keep emergency numbers visible and easily on hand.
Aside from saving important emergency numbers on your phone, it's best to write them down and place them in a visible location.
Aside from the universal emergency hotline 911, here are the digits to dial in cases of fire:
Bureau of Fire Protection (NCR): (02) 426-0219 or 426-3812
Red Cross: 143 or (02) 527-8385 to 95
8. Create and practice a fire escape plan at home and at work and conduct a fire drill.
Teach the technique "get low and go" when making an exit. Practice feeling the door and walls using the back of your hand for a hint from the next room. Designate a person to get children out safely. Pick a meeting place to assemble afterward and call emergency hotlines.
What to do when a fire breaks out?
A well-rehearsed emergency exit plan greatly alleviates panic during an outbreak of fire. It takes two minutes for your house to be filled with toxic fumes from a fire.
Try to close the door of the burning area to deter the spread of fire and smoke.
Hot air and smoke rise up so it's best to stay low for better breathing. Wet a piece of cloth to cover your mouth and crawl to the exit.
If your clothes catch fire: Stop, Drop, and Roll.
Get everyone out first and think about material possession last.
Do not rush back into a burning building even after flames have been put out as debris are still falling and collapsing.
Pull the fire alarm on your way to emergency exits
Evacuate to designated assembly area
What do I do if I'm trapped in a fire?
The Bureau of Fire Protection recommends the following tips:
Go to a room with windows leading outdoors.
Shout for help or wave a cloth outside the window to alert people.
Close the doors and patch gaps to stop smoke from spreading in.
Try to collect bedsheets and mattresses to help you escape through the window if trapped in the upper floor.
Other Sources: Red Cross, Safe Kids.org, Drexel, Today, Zipmatch, Rappler