Why Women Are Better At Saving Money Than Men
3 min read
Today's modern woman is strong, independent, and infinitely capable of taking care of herself and those she cares about.
Many women today are financially empowered to become the best version of themselves. And in many cases, the best version of themselves is a savvy investor who knows how to maximize their savings.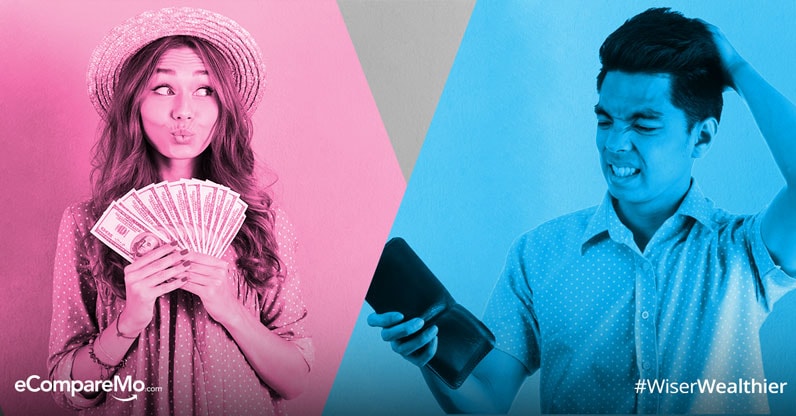 In this post, we're going to point out five truths as to why women today are better savers than the men in their lives.
1. Women are less likely to have credit card debt
A study by personal finance website ValuePenguin released in 2017 found that men have more credit card debt then women. The average credit card debt held by men was $7,407 to women's $5,245, 22 percent less.
The site also found that men tended to be big credit card spenders, with 19 percent of the men surveyed racking up monthly credit card bills of $2,000 or more. The women surveyed tended to be more prudent, with only eight percent racking up the same bill.
2. Women are better at managing debt
In 2015, credit score company Experian found that women had slightly higher credit scores than men. Women's average credit scores were 675, compared to 670 for men. The company also found that men had move average debt then women with $27,627 for men and $26,610 for women.
3. Women save more than men
According to a study conducted by Halifax, female savers across England and Wales usually have about £500 more in their savings account then men. This was because women save more of their annual wages then men do. Women were said to save 41 percent of their annual wages as opposed to men's 23 percent.
US-based financial services company Fidelity conducted their own study in 2017 and got similar results. They found that women save nine percent of their annual paycheck while men saved 8.6 percent.
4. They leave their savings alone
A 2013 report from HSBC found the 31 percent of men in the US would think about dipping into their retirement funds if faced with hard times. Only 23 percent of the women surveyed would do the same things.
5. Women are better at investing their savings – even if they don't think so
Fidelity conducted a survey just last year among their eight million clients to see whether men or women had better success in investing. They found that, even though women have doubts on their ability to invest effectively and thought they needed to learn more about how to invest and make the most of their money, women were outperforming the men.
Only nine percent of the women surveyed believed that they were better investors them men, but Fidelity analyzed their client data and found that women performed better than men when investing by 40 basis points or 0.4 percent.
"The results of Fidelity's latest analysis reinforces that women too often underestimate their strengths as savers and investors," added Alexandra Taussig, senior vice president of women investors at Fidelity. "It's time to celebrate our abilities and maximize them by making a commitment to get more involved with our money."
Fidelity identified four skills and strengths that their women investors showed that helped them see strong returns in their investments.
They plan with purpose and think holistically.
Women were seen as building their financial plans in terms of life goals for themselves and their families. They hold a long-term, conservative view with their investments, and buy and hold onto stocks and are less apt to act impulsively in the face of market fluctuations.
They take on less risk.
Women are more likely to have a more age-based allocation of investments. Few women invest all their savings in equities, which represent to much risk and diversification. Instead, they prefer targeted date funds, which ensure their savings are well diversified.
They practice patience.
Fidelity client data revised that men are 35 percent more likely to make trades than women. This means that trading fees affect men's portfolios more than women's. These findings echo a 2001 study by Berkeley researchers which found that men trade 45% more than women. According to the Berkeley study, this propensity to trade reduces men's net returns by 2.65 percentage points, compared to jut 1.72 percentage points for women.
They respond to – and seek – financial education.
Fidelity saw a 25 percent increase year-over-year in guidance interactions. Over 90 percent of women surveyed want to learn more about financial planning and financial skills and 88 percent said more financial education would give their more confidence to invest and manage their money.